Sightseeing in NYC
When tourists travel to New York City, or people from local areas come to NYC for a weekend getaway, they expect to see New York City attractions on their vacation, or staycations. Top of the Rock, the Empire State Building, and the Statue of Liberty are just a few of the sightseeing attractions that welcome vacationers to New York. Find out more about these, and other, NYC landmarks here.
SEE ALL LISTINGS
Featured Attraction
National September 11 Memorial & Museum 180 Greenwich St., enter at Liberty & Greenwich or West & Liberty or Vesey | 212-266-5211 | Official Web Site The 9/11 Memorial honors the nearly 3,000 people killed in the terrorist attacks of September 11, 2001 and February 26, 1993..
search cityguideny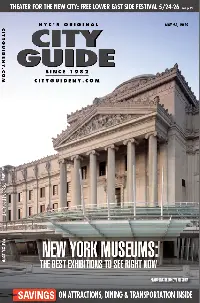 This Week in New York City
(5/15-5/22) Looking for what to do in New York? We've got the latest on all the goings-on in NYC this week, from concerts to museum exhibitions to comedy to the best in city sightseeing. Read on for our picks for the best of this week in New York City.
click here