From the sprawling urban greenspace of Central Park to the crowning heights of the Chrysler Building and the Empire State, it's no secret that New York is the architectural darling of North America. To truly appreciate the metropolis, you have to see it from lots of different viewpoints. In this article, we list five of our favorite ways to get around the city and see what it has to offer.
By Air
Photo by Trent Szmolnik on Unsplash.
What better way to witness the iconic New York City skyline than from an aerial vantage? These start at $200 upwards, but with a crowded field of helicopter tour operators in the city, there's no shortage of bargains to be found. You can choose from fifteen minute photo hops to more lengthy rotations around the big city. Whichever operator you choose, make sure they are safety compliant and have a comprehensive commercial insurance package like that offered by Hiscox.
By River
Offering a scintillating perspective on the island city and its magnificent riverways, boat tours are a great way of getting your bearings in the city. Choose from comprehensive cruise tours, dining boats, speedboats, party yachts, inter-island ferries and sunset sailing adventures.
By Car
New York isn't exactly renowned as a car-friendly city. With its long list of special traffic rules (no right turn on a red light) and vehicle-choked highways, most people who visit will stick to walking and taking the subway. Still, to truly experience New York, you have to get into the back of one of the city's iconic yellow taxis and holler "follow that car!". There's also a host of VIP vehicle experiences including chauffeured limousine tours. If you can get a temporary hire vehicle, people also recommend driving during sunrise in summer months.
Underground
Underground New York is literally layered with history. There are some great off-the-path trails you can take to discover the secret past of a New York institution. Ride through ghost stations, check out defunct tunnels, and find out about the hidden spaces of the world's biggest rapid transit system. From the heavily graffitied Freedom Tunnel to the hidden cow tunnels of the early 19th century, exploring New York's hidden subterranean byways and haunted underground labyrinths is a must for anyone obsessed with the paranormal and supernatural.
On Foot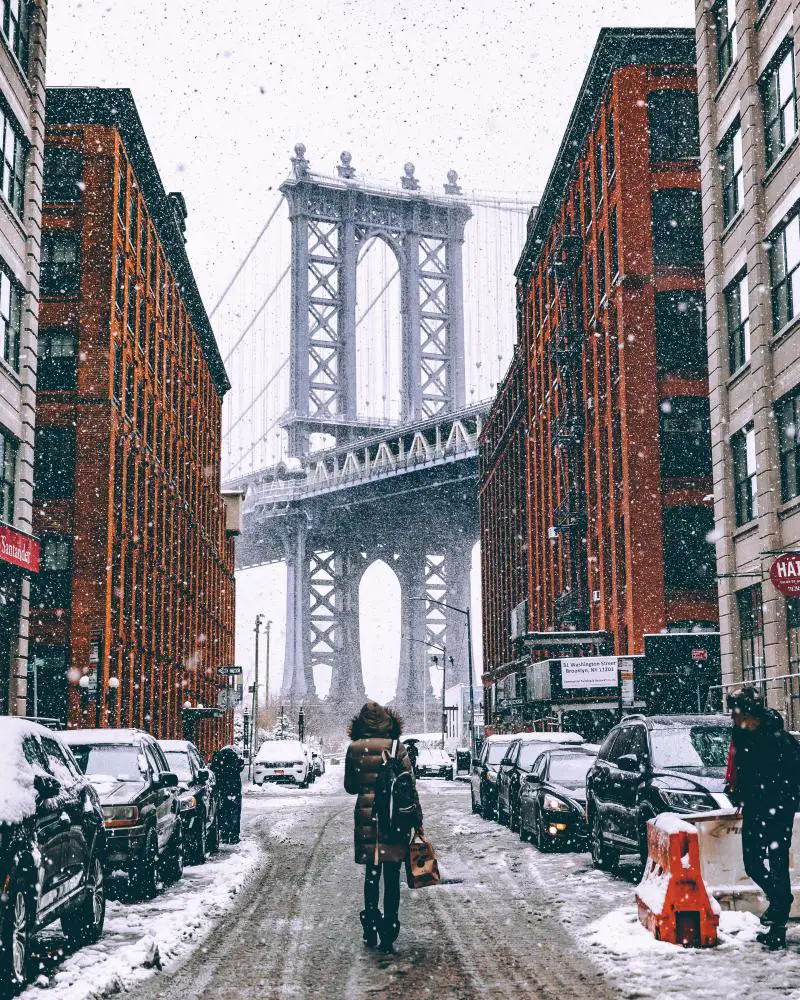 Photo by Andre Benz on Unsplash.
Compact New York is undoubtedly one of the most walkable cities in the world, regularly topping the list of pedestrian surveys. You have to walk it to experience it. From Uptown to Midtown to Downtown, the city's scenic walkways are a dream to stroll through and easy to navigate with everything laid out on a highly rational grid system.
There's nothing quite like ambling over the Brooklyn Bridge to cross to and from Manhattan. Or walking through the storied stretch of Fifth Avenue between the Rockefeller Center and Central Park, lined with upmarket brands and stunning seasonal displays. Or ambling along New York's ambitious elevated High Line walkway, a 30-foot high reclaimed train trestle that spans 1.5 miles through West Side Manhattan.