Where to Eat in Harlem
July 27, 2015 - by City Guide
The historic neighborhood of Harlem has long been the go-to area to sample some of the city's best soul food, Caribbean and Latin restaurants. But the last few years has seen the dining scene swell with a host of new places worth checking out.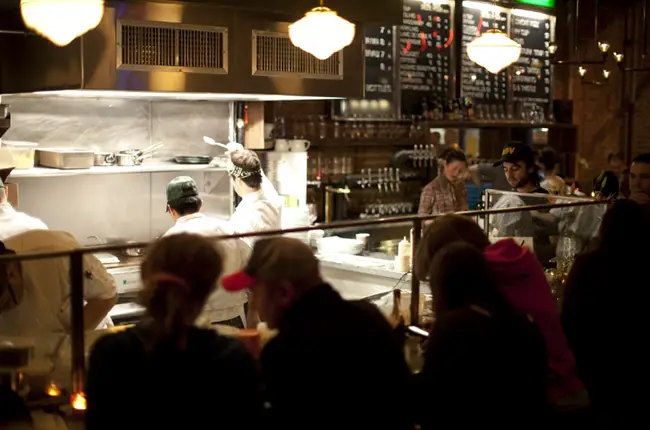 ABV
Foie Gras fluffernutter is a thing that compliments the vast wine menu at this Carnegie Hill spot. For a more downtown feel in Harlem, this is the place.
1504 Lexington Ave., 212-722-8959, abvny.com
Abyssinia
A New York favorite among devotees of the spicy, diverse fare of Ethiopia. Soak up your chicken and beef stews with huge slabs of injera (a spongy Ethiopian flatbread).
268 W. 135th St., 212-281-2673, harlemethiopianfood.com
Amor Cubano
For Cuban sandwiches the size of your head in a civilized dining situation, check this spot out. Also check it out if you're into bottomless-sangria brunches.
2018 3rd Ave., 212-996-1220, amorcubanonyc.com
Amy Ruth's Restaurant
An established soul food spot that's a favorite among the hyper-locals. Come here for chicken and waffles, and spare ribs, in a bright, homey atmosphere.
113 W. 116th St., 212-280-8779, amyruths.com
Barawine
As the name suggests, you've got more than 200 bottles to choose from, with a notably friendly crowd, an excellent branzino and an outdoor bistro vibe.
200 Malcolm X Blvd, 646-756-4154, barawine.com
BLVD
A French cottage in the middle of Harlem. Come for lunch to enjoy the natural light, grab a turkey and gouda Panini and say yes to wine.
239 Lenox Ave., 212-678-6200, boulevardbistrony.com
Camaradas El Barrio
Part Puerto Rican restaurant, part dive-bar, you can score everything from Mofongo and skirt steak to a surprisingly solid list of bottled beers.
2241 1st Ave., 212-348-2703, camaradaselbarrio.com
The Cecil
Adjacent to the revival of the legendary jazz club Minton's, this wildly popular neighborhood trailblazer is doing Afro-American-Asian fusion. Think kimchi-topped shrimp burgers.
210 W. 118th St., 212-866-1262, thececilharlem.com
Charles' Country Pan Fried Chicken
An all-you-can-eat neighborhood soul food spot that brings people in from all over the city and the world to try fried chicken that takes three loving stages to come to completion.
2841 Frederick Douglass Blvd., 212-281-1800, No website
Chéri
If your dinner checklist includes a patio, a piano and a fireplace, look no further. If your checklist also includes a brie-topped burger, bonus.
231 Malcolm X Blvd, 212-662-4374, cheriharlem.com
Chez Lucienne
The rare authentic Provençal spot in the neighborhood. Here's where you'll pick out a patio seat, have some steamed mussels, and urge your companion try out the surprisingly excellent burger.
308 Malcolm X Blvd, 212-289-5555, chezlucienne.com
Corner Social
A neighborhood gastropub you'll come to for craft beers, short rib grilled cheese and having it all outside. A great spot for a hot night.
321 Malcolm X Blvd, 212-510-8552, cornersocialnyc.com
Dinosaur Bar-B-Que
Home of the gargantuan beef rib, along with some superior versions of chicken wings, hot links and brisket, all wrapped up in a massive roadhouse vibe. This is what every suburban bbq spot is aiming for and missing.
700 W. 125th St., 212-694-1777, dinosaurbarbque.com
El Aguila
For tacos, tortas and other Mexican basics, you'll want to stop in here. It's open all night, expanding on the food-truck-as-restaurant vibe.
137 E. 116th St., 212-410-2450, elaguilanewyorkrestaurant.com
El Nuevo Caridad
A simple corner neighborhood favorite for Dominican hanger steak and chicken.
2257 2nd Ave., 212-860-8187, No website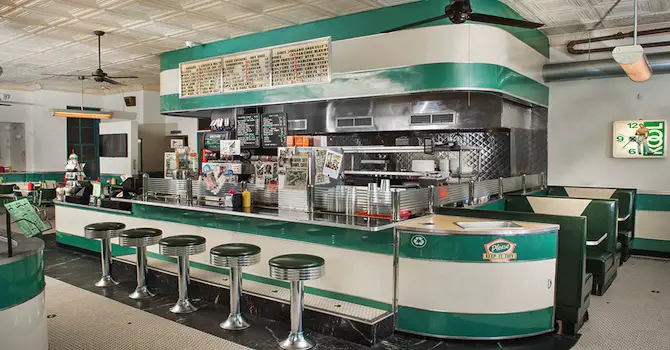 Harlem Shake
With every gentrification movement comes a flagship burger spot. In Harlem, it's this, with a jerk-fries-topped burger and an organic chocolate-bacon shake.
100 W. 124th St., 212-222-8300, harlemshakenyc.com
Jacob Soul Food and Salad Bar
Half the space here is dedicated to the salad bar. So if you're looking to mix pasta, mozzarella, corn salad and potato salad with your chicken and biscuits, here's the spot.
373 Malcolm X Blvd, 212-866-3663, jacobrestaurant.com
Jin Ramen
Columbia kids and neighborhood folks congregate at this under-the-subway ramen favorite. Get some pork buns to accompany your soup.
3183 Broadway, 646-559-2862, jinramen.com
Judy's Spanish Restaurant
A humble neighborhood bar and restaurant space for Dominican stews and rice dishes.
1505 Lexington Ave., 212-831-0193, judysspanishrestaurant.com
Lido
An unexpectedly charming corner Italian spot with expertly presented Mediterranean seafood dishes and a bottomless-mimosa brunch.
2168 Frederick Douglass Blvd, 646-490-8575, lidoharlem.com
Londel's Supper Club
Cajun + great jazz = this.
2620 Frederick Douglass Blvd., 212-234-6114, londelsrestaurant.com
Moustache Pitza
Yes, "pitza," which is basically just a different way of spelling the thing you think it's spelling. Oddly enough, this is paired with a menu otherwise comprised entirely of Middle-Eastern favorites.
1621 Lexington Ave., 212-828-0030, moustachepitza.com
Nick's Pizza
A basic wood-and-bricks sit-down pizza spot whose simplicity belies the goodness of its charred thin crust pies. This is a spot where you have some wine with your pizza.
1814 2nd Ave., 212-987-5700, nicksnyc.com
Paola's Restaurant
A friendly, traditional Italian spot for superb Bolognese and ricotta cheesecake. Watch out though, you may end up spending more than you'd think.
1295 Madison Ave., 212-794-1890, paolasrestaurant.com
Patsy's Pizzeria
The original location of the favorite local pizza chain, open since 1933. Keep it simple with a margherita pie.
2287 1st Ave., 212-534-9783, thepatsyspizza.com
Pio Pio
You're coming here for just one thing: Peruvian rotisserie chicken. For the uninitiated, that's a bird roasted in garlic, cumin, beer and secrets.
1746 1st Ave., 212-426-5800, piopio.com
Pisticci
A bookish, subterranean Italian spot for pastas drenched in red sauce and classic Caprese salads.
125 La Salle St., 212-932-3500, pisticcinyc.com
Rao's
If you know someone and manage to score a table at this uptown institution (the wait for a reservation can literally reach two years), you'll want to go for the ziti.
455 E. 114th St., 212-722-6709, raosrestaurants.com
Ricardo Steak House
One of the many fine spots in the neighborhood for live Latin music. Only at this one, you can get a serious spiced skirt steak as well.
2145 2nd Ave., 212-289-5895, ricardosteakhouse.com
Sfoglia
Authentic Italian in a tiny rustic farmhouse setting. Which is to say, you'll feel like you stepped out of the neighborhood and into a place where the family-style pappardelle is excellent.
1402 Lexington Ave., 212-831-1402, sfogliarestaurant.com
Looking for Free Group Planning Services?
Get free advice on planning your group's trip to New York.
RESTAURANTS

Multi-concept restaurant offering modern Japanese cuisine, a...

THEATER

In a heartbeat, 38 planes with 6,579 passengers were strand...

SHOPPING

Specializing in the great vineyards of California, France, A...

SIGHTSEEING

The 9/11 Memorial honors the nearly 3,000 people killed in t...