Here is everything you need to know about the Broadway and Off-Broadway shows in NYC in 2022. Big Apple stages are alive with new plays and musicals, so it's not surprising that theatre lovers are busy plotting their Broadway and Off-Broadway adventures. Even the most jaded theatregoer can't help but be impressed by the elevated star stats rocking New York's theatre scene right now. Not only are Broadway notables out in full force, but Hollywood has unleashed several of its A-listers onto Big Apple stages. So get ready for some serious celeb spotting, both under the lights and out and about in Manhattan!
BROADWAY SHOWS IN NYC 2022
DECEMBER BROADWAY SHOWS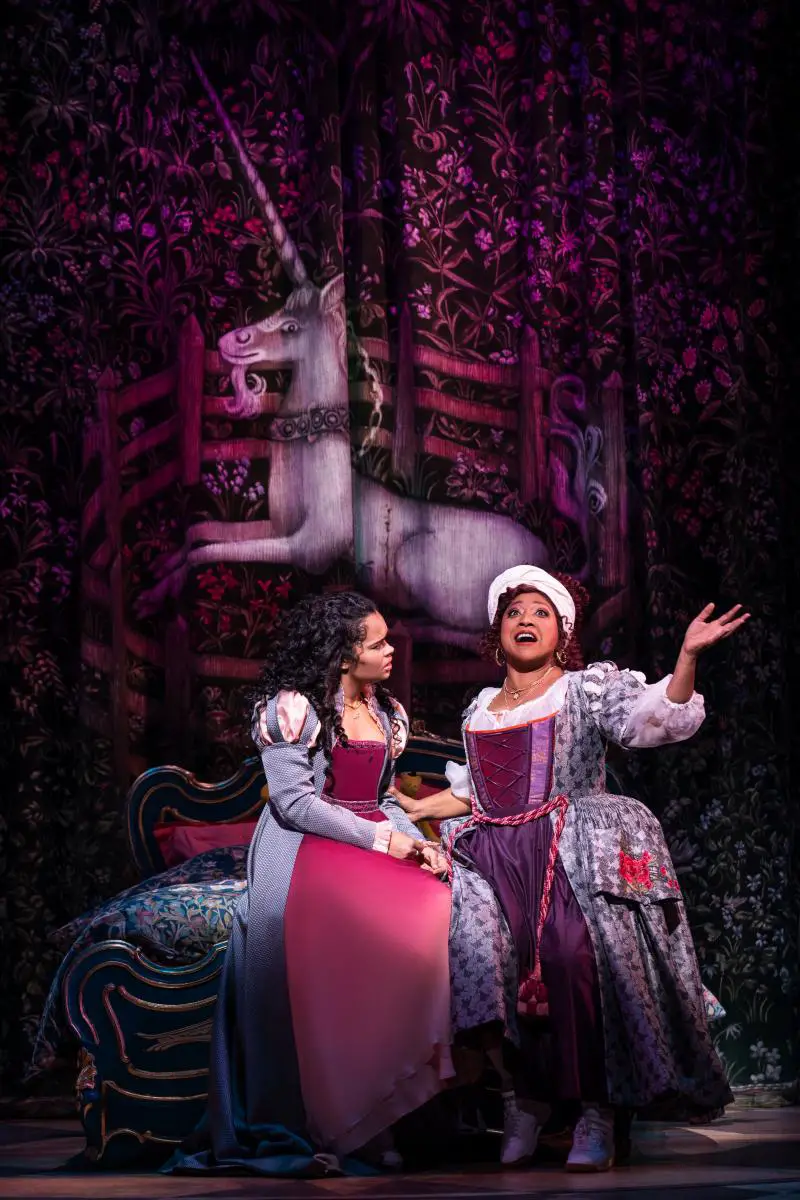 Lorna Courtney and Melanie La Barrie in & Juliet, photo credit Matthew Murphy.
& Juliet (Stephen Sondheim Theatre, 124 W. 43rd St.) (Opened 11/17/22) (2 hrs., 30 mins.) This new jukebox musical comedy asks: what would happen next if Juliet ditched her famous ending for a fresh beginning and a second chance at life and love—her way? Featuring a playlist of pop anthems including "Baby One More Time," "Roar," and "Can't Stop the Feeling." (andjulietbroadway.com)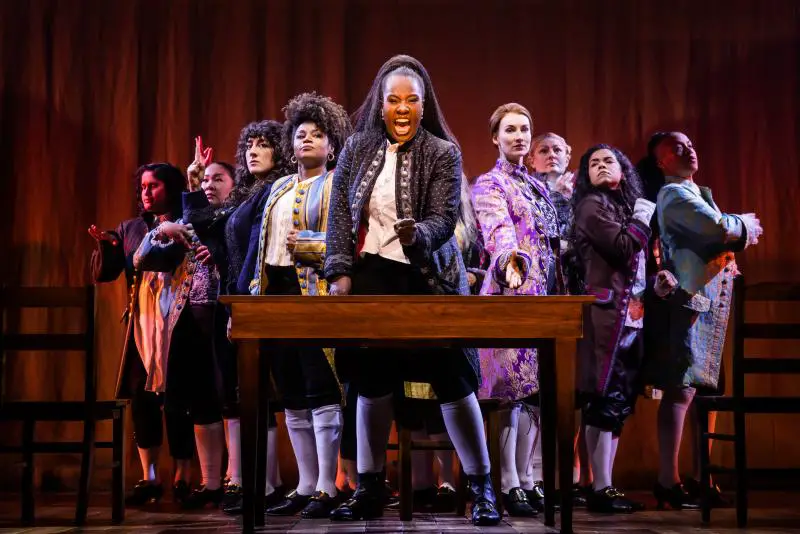 Photo by Evan Zimmerman for Murphy Made.
1776 (American Airlines Theatre, 227 W. 42nd St.) (Opened 10/6/22) (2 hrs., 45 mins.) What will it take to get two dozen powerfully passionate, exceedingly complicated, and all-too-human individuals to settle their differences while they hold the future in their hands? With this "revolutionary" revival of the Tony-winning musical you may never think about our country—who we are and why—the same way again. Limited run thru 1/8/23. (roundabouttheatre.org)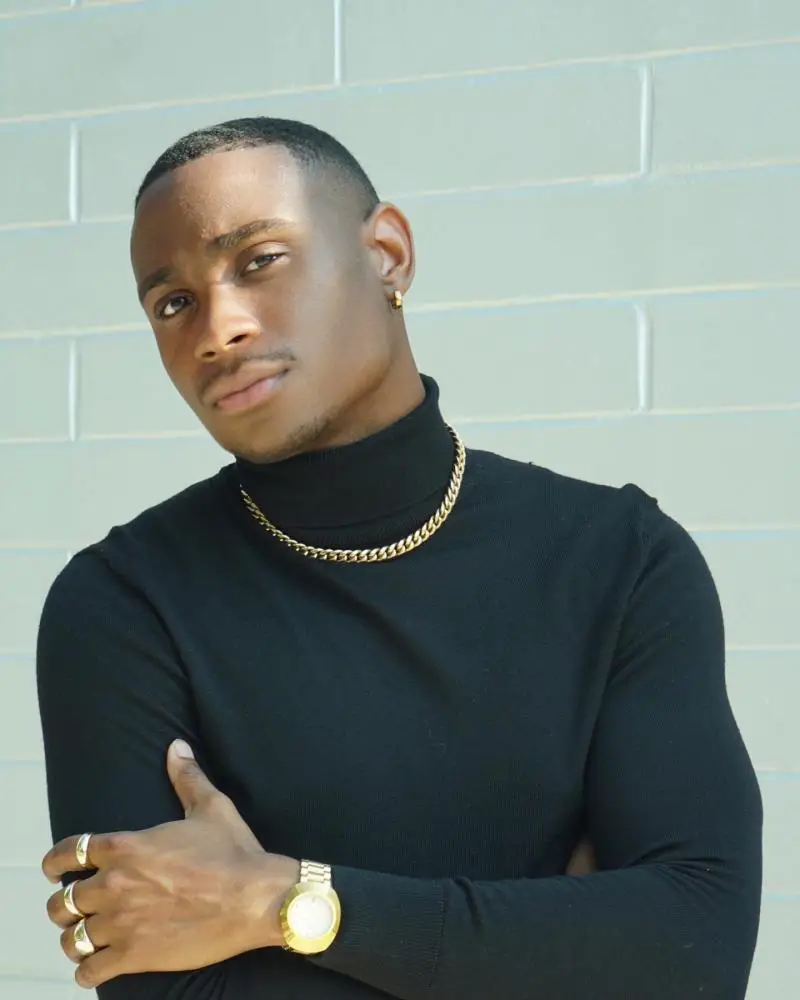 Ain't No Mo'  (Official opening is December 1st at The Belasco Theatre, 111 W. 44th St.) (2 hrs., no intermission) Jordan E. Cooper's acclaimed comedy about being Black in today's America seamlessly blends sketch comedy, satire, and avant-garde theatre as it asks the incendiary question, What if the U.S. government offered Black Americans one-way plane tickets to Africa? (aintnomobway.com)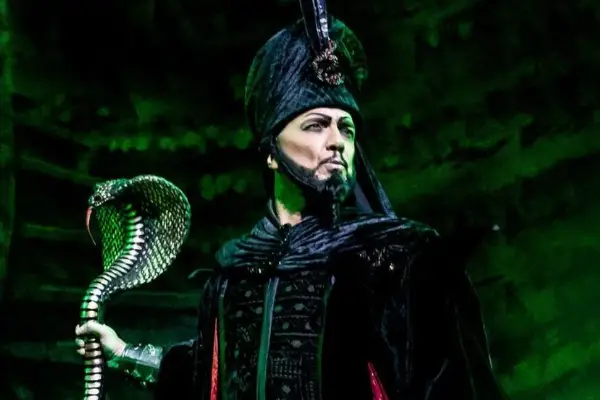 New to the Aladdin cast: Dennis Stowe takes on the role of Jafar.
Aladdin (New Amsterdam Theatre, 214 W. 42nd St.) (Opened 3/20/14) (2 hrs., 30 mins.) Like The Lion King, this Disney musical developed from animated origins has been a total crowd-pleaser since it arrived in 2014. This family-friendly magic carpet thrill ride flies onto the stage teeming with romance, mischief, and, of course, a wildly madcap Genie! The end result is a not-to-be-missed Broadway spectacular! (aladdinthemusical.com)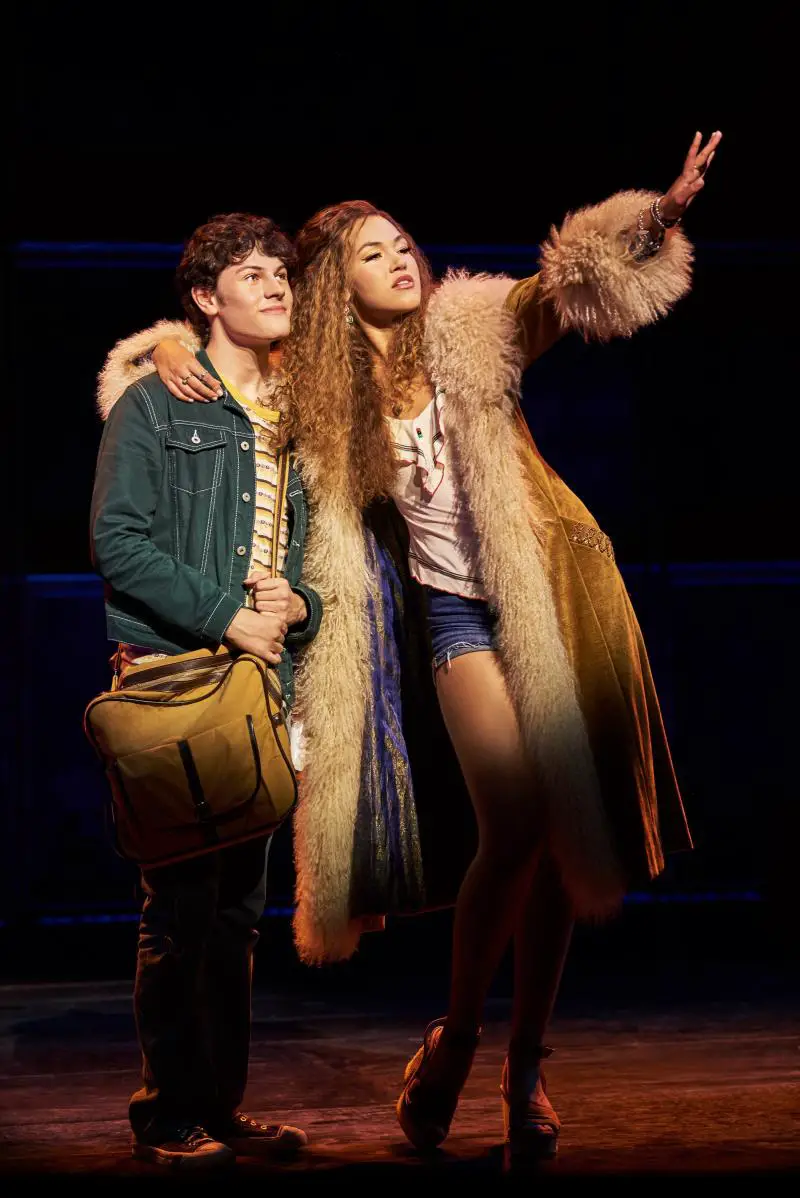 Casey Likes and Solea Pfeiffer in Almost Famous. Photo by Neal Preston.
Almost Famous (Bernard B. Jacobs Theatre, 242 W. 45th St.) (Opened 11/3/22) (2 hrs., 30 mins.) In 1973, idealistic 15-year-old William Miller is an aspiring music journalist, when Rolling Stone magazine hires him to go on the road with an up-and-coming band. Thrust into a rock 'n roll circus, his love of music, longing for friendship, and integrity as a writer collide. The musical, based on Cameron Crowe's iconic film, is a celebration of community, family, fandom, and the power of music. (almostfamousthemusical.com)
A Beautiful Noise, the Neil Diamond Musical (Official opening is December 4th at the Broadhurst Theatre 235 W. 44th St.) (2 hrs., 15 mins.) With his break into songwriting in the 1960s and meteoric rise in the 1970s—and plenty of crushing disappointments and mega-triumphs along the way—Neil Diamond has been a superstar for 5 decades. How did a poor Jewish kid from Brooklyn become one of the most universally adored showmen of all time? The answer awaits in this electrifying musical set to his era-defining smash hits. (abeautifulnoisethemusical.com)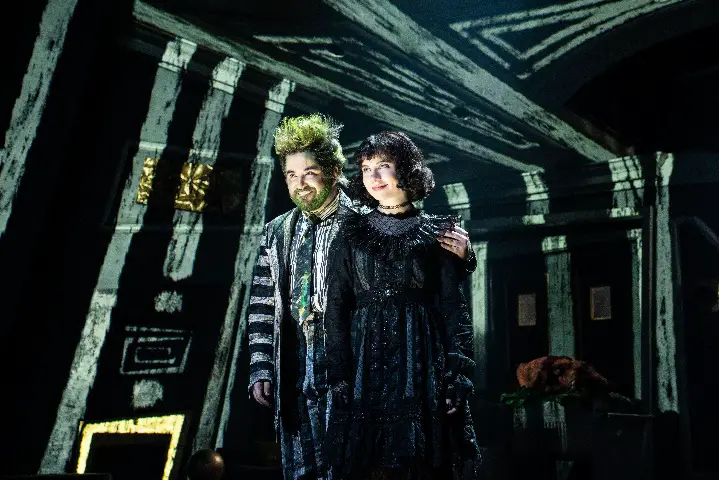 Beetlejuice (Marriott Marquis Theatre, 210 W. 46th St.) (Reopened 4/8/22) (2 hrs., 30 mins.) This wild ride of a musical returns to Broadway bringing with it an edgy and madcap take on life—and afterlife, once the gloriously irreverent and unapologetically scruffy title ghost insinuates himself into the life of "a strange and unusual" teen who has befriended the deceased former owners of her family's new home. Thru 1/8/23. (beetlejuicebroadway.com)
Between Riverside and Crazy (Official opening is December 19th at the Helen Hayes Theatre, 240 W. 44th St.) (2 hrs.) In this Pulitzer Prize-winning dark comedy, City Hall is demanding more than his signature, the landlord wants him out, and the church won't leave him alone. For ex-cop Walter "Pops" Washington and his recently paroled son, holding on to one of the last rent stabilized apartments on Riverside Drive collides with old wounds, new houseguests, and a final ultimatum. (2st.com)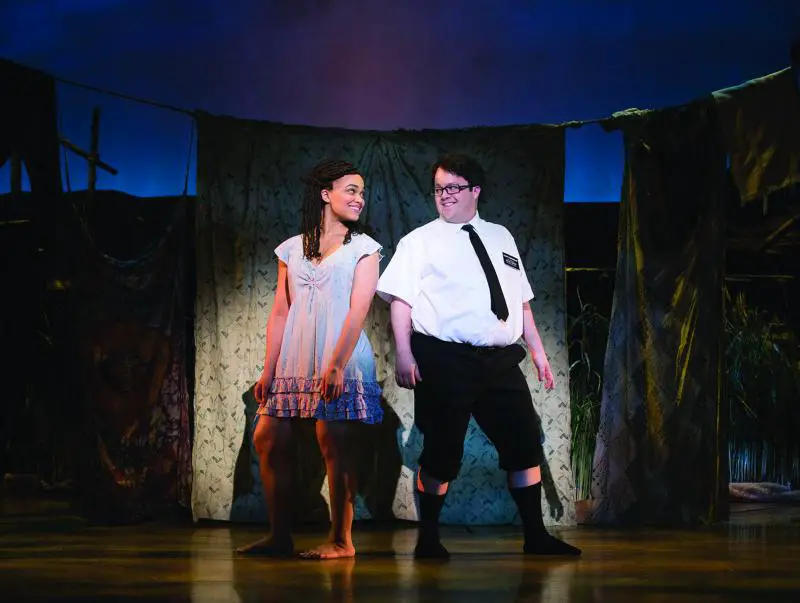 Kim Exum and Cody Jamison Strand in The Book of Mormon, photo by Julieta Cervantes.
The Book of Mormon (Eugene O'Neill Theatre, 230 W. 49th St.) 2011 Tony, Best Musical (Opened 3/24/11) (2 hrs., 30 mins.) One of Broadway's most successful, Tony-winning (nine in 2011!) musicals, from Trey Parker and Matt Stone—the duo behind South Park—follows a couple of wide-eyed Mormon missionaries whose first official assignment takes them to a remote village in Uganda. Divinely profane in all the right places! (bookofmormonbroadway.com)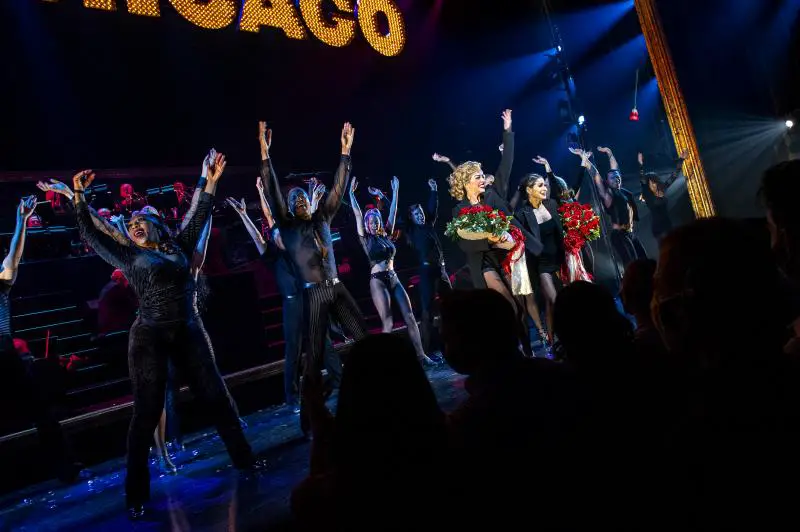 Chicago reopening night, 2021. Photo: Daniel Rader.
Chicago (Ambassador Theatre, 219 W. 49th St.) 1997 Tony, Best Musical Revival (Opened 11/14/96) (2 hrs., 30 mins.) Kander and Ebb's musical vaudeville about those murderous tootsies Roxie Hart and Velma Kelly picked up a Tony for Best Musical Revival back in 1997 and has reigned as one of Broadway's fiercest hits ever since. Sparkling with Bob Fosse's choreographic legacy, the show's cavalcade of colorful characters includes everyone from Billy Flynn and Mamma Morton to Amos Hart and Mary Sunshine. (chicagothemusical.com)
A Christmas Carol (Nederlander Theatre, 208 W. 41st St.) (Opened 11/21/22) (90 mins., no intermission) Tony winner Jefferson Mays brings his acclaimed virtuoso performance in his adaptation of the Charles Dickens classic to Broadway. Taking on more than 50 roles (including a potato), Mr. Mays offers a staggeringly unique/must-see take on Scrooge's redemptive evolution from bitter miser to humanitarian thanks to ghostly intervention. Thru 1/1/23. (achristmascarollive.com)
The Collaboration (Official opening is December 20th at the Samuel J. Friedman Theatre, 261 W. 47th St.) In the summer of 1984, Andy Warhol and art scene wunderkind Jean-Michel Basquiat agree to work together on what may be the most talked about exhibition in the history of modern art. But can they co-exist, or even thrive? Paul Bettany and Jeremy Pope star in the U.S. premiere of the London sensation. (manhattantheatreclub.com)
Death of a Salesman (Hudson Theatre, 141 W. 44th St.) (Opened 10/9/22) (3 hrs., 10 mins.) Wendell Pierce and Sharon D Clarke reprise their roles as Willy and Linda Loman from the Old Vic revival of Arthur Miller's classic, told from the perspective of an African American family. A powerful interpretation, it illuminates the dark underbelly of the American Dream and its elusive promise of equality and opportunity for all. Thru 1/15/23. (salesmanonbroadway.com)
Ramin Karimloo (Nick Arnstein) and the cast of Funny Girl. Photo: Matthew Murphy, 2022.
Funny Girl (August Wilson Theatre, 245 W. 52nd St.) (Opened 4/24/22) (2 hrs., 50 mins.) This long-awaited first Broadway revival of the celebrated Fanny Brice musical bio comes to life with a revised book by Tony winner Harvey Fierstein. (funnygirlonbroadway.com)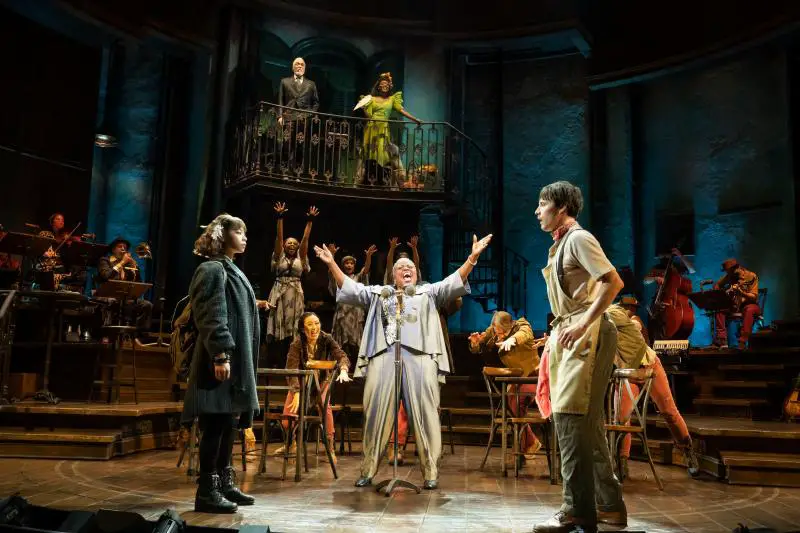 Matthew Murphy.
Hadestown (Walter Kerr Theatre, 219 W. 48th St.) 2019 Tony, Best Musical (Opened 4/17/19) (2 hrs., 30 mins.) This unique and stunning musical by singer-songwriter Anaïs Mitchell and director Rachel Chavkin follows musical follows the overlapping love stories of Orpheus & Eurydice and Hades & Persephone. The action unfolds in both a stylized New Orleans setting and Hades' stomping ground, The Underworld. As for the score, think New Orleans jazz melded with American folk music. (hadestown.com)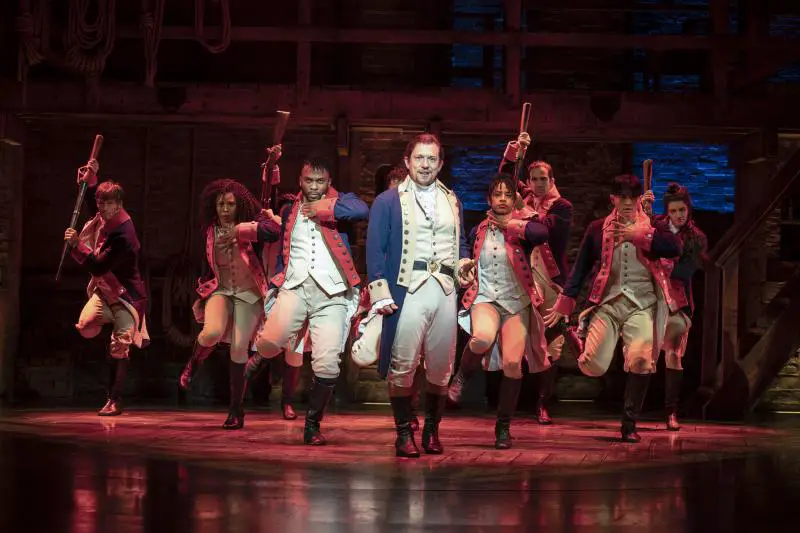 Miguel Cervantes and the ensemble of  Hamilton, (c) Joan Marcus 2021.
Hamilton (Richard Rodgers Theatre, 226 W. 46th St.) 2016 Tony, Best Musical (Opened 8/6/15) (2 hrs., 55 mins.) Visionary Lin-Manuel Miranda's white-hot historical musical that redefined Broadway. Told through a score of musical theatre, hip-hop, jazz, and R&B, the Pulitzer Prize-winning show has also scooped up Tony, Olivier, and Grammy awards. Act fast. (hamiltonmusical.com)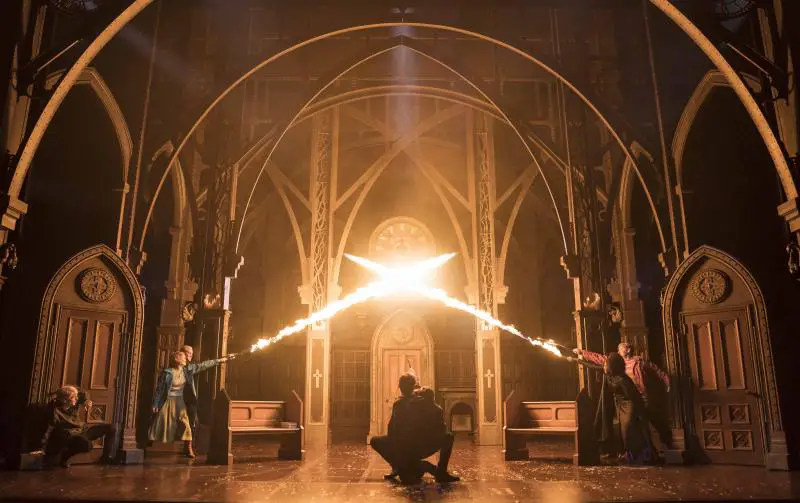 The cast of Harry Potter and the Cursed Child, photo by Matthew Murphy.
Harry Potter and the Cursed Child (Lyric Theatre, 214 W. 43rd St.) 2018 Tony, Best Play (Opened 4/22/18) (3 hrs., 30 mins.) Now a single night of exciting theatre, this visually spectacular production begins where the film series ends and follows the friendship between Harry's son Albus and Draco's son, Scorpius—BFFs whose magical misadventures involve Time-turner shenanigans and a mysterious friend. Familiar characters plus a new generation of Hogwarts students make this a must-see for fans of the books and movies. (harrypottertheplay.com)
Into the Woods (St. James Theatre, 246 W. 44th St.) (Opened 6/28/22) (2 hrs., 45 mins.) Direct from its sold-out New York City Center Encores! run, this latest revival of Stephen Sondheim and James Lapine's Tony-winning musical weaves together some of the Brothers Grimm's most beloved fairy tales and characters for a show that enchants. Limited run thru 1/8/23. (intothewoodsbway.com)
Kimberly Akimbo (Booth Theatre, 222 W. 45th St.) (Opened 11/10/22) (2 hrs., 20 mins.) In this new musical Kim is a bright and funny Jersey teen who happens to look like a 72-year-old lady. And yet her aging disease may be the least of her problems. Forced to maneuver family secrets, borderline personalities, and possible felony charges, Kim is determined to find happiness in a world where not even time is on her side. (kimberlyakimbothemusical.com)
KPOP (Circle in the Square Theatre, 235 W. 50th St.) (Opened 11/27/22) (2 hrs., 10 mins.) Starring K-POP superstar Luna, this new musical follows global pop sensations putting everything on the line for a one-night only concert, when one singer's inner struggle threatens to dismantle a mega industry label. The multimedia production explores the discipline, talent, and ambition behind the international phenomenon. (kpopbroadway.com)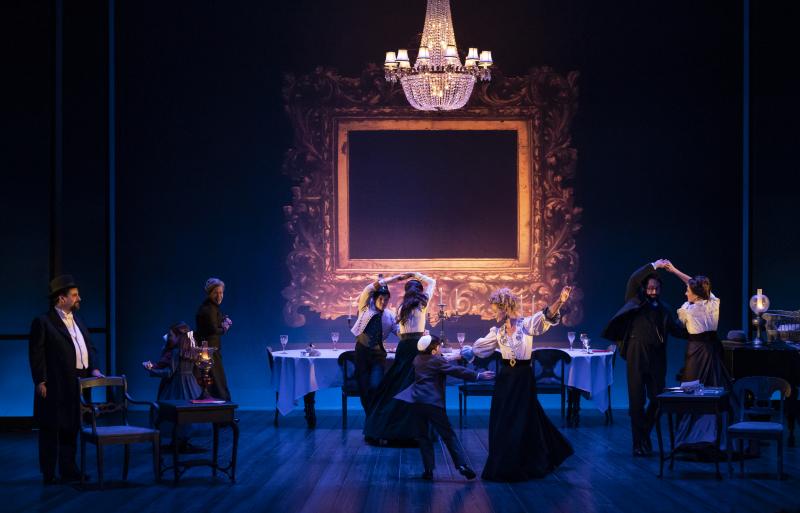 The Broadway Company of Leopoldstadt. Photo by Joan Marcus (2022).
Leopoldstadt (Longacre Theatre, 220 W. 48th St.) (2 hrs., 10 min., no intermission) Set in Vienna, Tom Stoppard's latest work takes its title from the Jewish quarter. A passionate drama of love and endurance begins in the last days of 1899 and follows one extended family deep into the heart of the 20th-century. Full of wit and beauty, this Olivier Award-winning play spans 50 years of time over two hours. Thru 3/15/22. (leopoldstadtplay.com)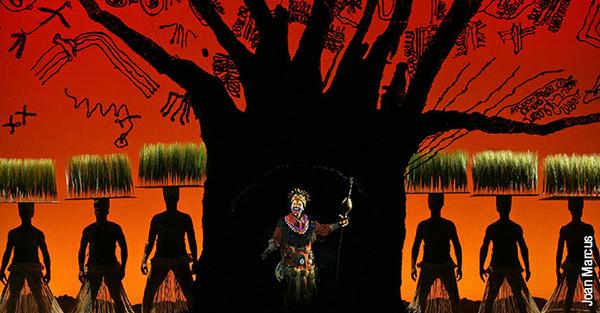 The Lion King (Minskoff Theatre, 200 W. 45th St.) 1998 Tony, Best Musical (Opened 11/13/97) (2 hrs., 30 mins.) The longest-running Disney production to grace Broadway—it arrived in November of 1997—this Tony-winning stage adaptation of the animated classic is a musical and visual treasure-trove to be savored. Set in the flourishing African Pride Land, the story follows lion prince Simba as grows from cub to king. Along the way, he makes friends, falls in love, and is subject to the machinations of his power-hungry uncle, Scar. (lionking.com)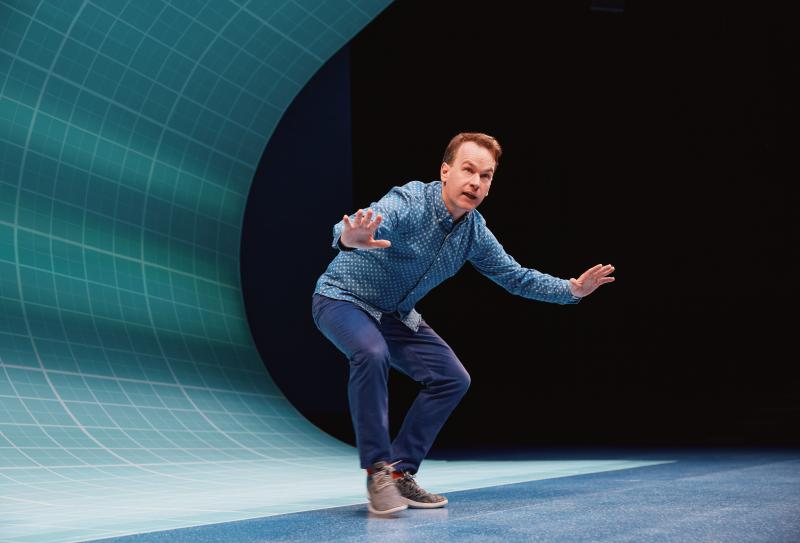 Photo: Emilio Madrid.
Mike Birbiglia: The Old Man & The Pool (Lincoln Center Theater's Vivian Beaumont Theater, 150 W. 65th St.) (85 mins., no intermission) Comedic storyteller Mike Birbiglia returns to Broadway with a coming-of-middle-age story about when life takes a dive—into a highly chlorinated YMCA pool. Propelled by his singular, insightful voice and everyman style, Birbiglia's latest solo show is both wildly hilarious and deeply moving. Limited run thru 1/15/23. mikebirbigliabroadway.com)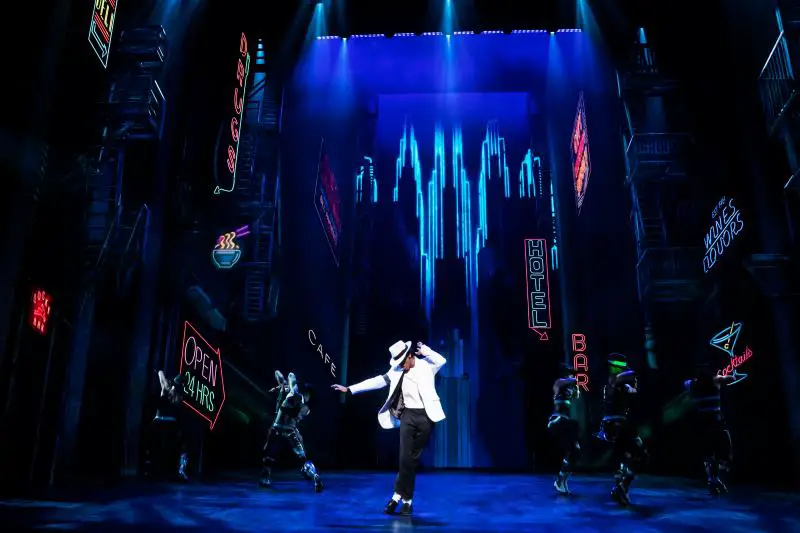 Myles Frost as Michael Jackson, photo by Matthew Murphy.
MJ the Musical (Neil Simon Theatre, 250 W. 52nd St.) (Opened 2/1/22) (2 hrs., 35 mins.) The new musical bio featuring over 25 Michael Jackson hits comes with a staggeringly impressive pedigree: book by two-time Pulitzer Prize winner Lynn Nottage and direction/choreography by Tony-winner Christopher Wheeldon. (mjthemusical.com)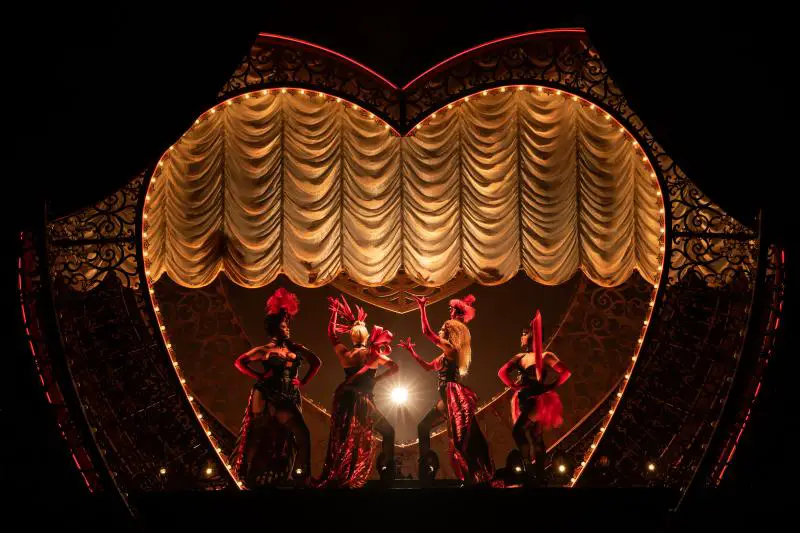 Moulin Rouge! The Musical (Al Hirschfeld Theatre, 302 W. 45th St.) 2020 Tony, Best Musical (Opened 7/25/19) (2 hrs., 35 mins.) A gleefully flamboyant stage adaptation of Baz Luhrmann's 2001 cinematic jukebox mashup, this Tony-winning musical from the 2019/2020 season takes place in a world where Bohemians and aristocrats rub elbows, reveling in the decadence and high kicks in the legendary Parisian night spot once upon a retro time. Add a love triangle, Toulouse-Lautrec, and a score of over 70 songs!(moulinrougemusical.com)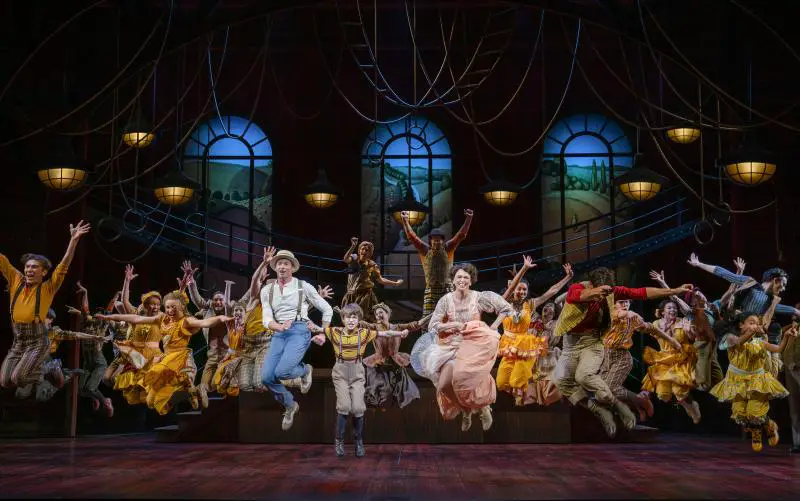 Photo by Joan Marcus.
The Music Man (Winter Garden Theatre, 1634 Broadway) (Opened 2/10/22) (2 hrs., 25 mins.) Meredith Willson's beloved musical comedy is back on Broadway with an all-star cast led by Hugh Jackman and Sutton Foster. When con man Harold Hill arrives in River City to sell the townspeople the promise of a marching band, he gets more than he bargained for—including romance with Marian the librarian. Thru 1/15/23. (musicmanonbroadway.com)
Ohio State Murders (Official opening is December 8th at The James Earl Jones Theatre, 138 W. 48th St.) (2 hrs.) When writer Suzanne Alexander (Audra McDonald) returns to her alma mater as a guest speaker, in which she explores the violence in her works, a dark mystery unravels. Adrienne Kennedy's intriguing and unusual suspense play is also a pertinent look at the destructiveness of racism in our society. (ohiostatemurdersbroadway.com)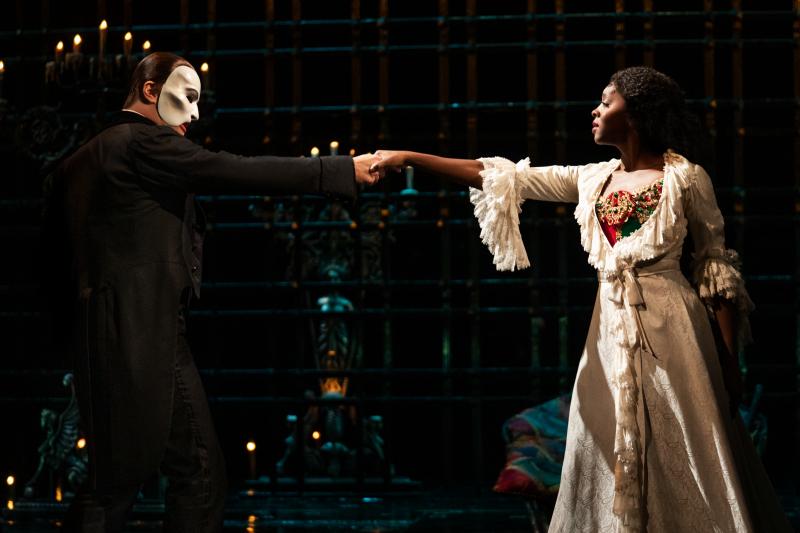 Emilie Kouatchou as Christine with Ben Crawford as The Phantom. Photo by Matthew Murphy.
The Phantom of the Opera (Majestic Theatre, 247 W. 44th St.) 1988 Tony, Best Musical (Opened 1/26/88) (2 hrs., 30 mins.) This long-running record breaker opened in January, 1988 and picked up a Tony a few months later. Based on the Gaston Leroux thriller, Phantom centers on a beautiful young soprano and the mysterious masked figure who adores her. Featuring Andrew Lloyd Webber's "Music of the Night," the musical is as iconic as it is a visual masterpiece. Thru 4/16/23. (us.thephantomoftheopera.com)
The Piano Lesson (Ethel Barrymore Theatre, 243 W. 47th St.) (Opened 10/13/22) (2 hrs., 45 mins.)  August Wilson's Tony- and Pulitzer Prize-winning masterpiece stars Samuel L. Jackson in the story of a brother and sister locked in a war over the fate of a family heirloom: a piano carved with the faces of their ancestors. Only by revisiting history can the siblings move forward. Thru 1/29/23. (pianolessonplay.com)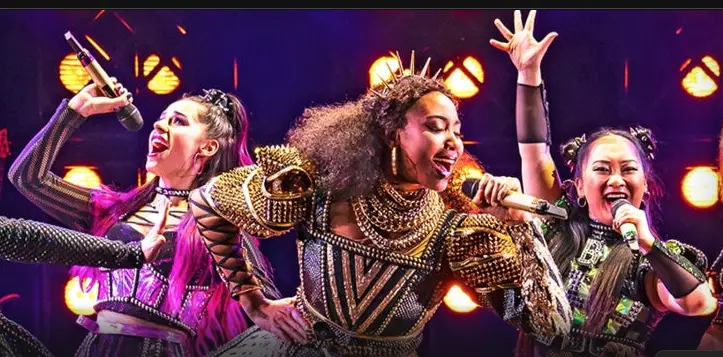 SIX (Brooks Atkinson Theatre, 256 W. 47th St.) (Opened 3/12/20) (80 mins., no intermission) Divorced, beheaded, died, divorced, beheaded, survived. From Tudor Queens to Pop Princesses, the six wives of Henry XIII take the mic to remix 500 years of historical heartbreak into an exuberant celebration of 21st-century girl power. This new original musical is the global sensation that everyone is losing their heads over! (sixonbroadway.com)
Christian Borle and J. Harrison Ghee. Photo: Marc J. Franklin.
Some Like It Hot (Official opening is December 11th at the Shubert Theatre, 225 W. 44th St.) (2 hrs., 20 mins.) Starring Tony winner Christian Borle and Kinky Boots alum J. Harrison Ghee, this new musical comedy based on the classic film follows two musicians fleeing Chicago after witnessing a mob hit. With gangsters in pursuit, they join in an all-girl band, but can they hide in plain sight, or will the mob and/or love be their undoing?(somelikeithotmusical.com)
Photo by Marc J. Franklin.
A Strange Loop (Lyceum Theatre, 149 W. 45th St.) 2022 Tony, Best Musical (Opened 4/26/22) (100 mins., no intermission) Michael R. Jackson's Pulitzer Prize-winning, blisteringly funny musical exposes the heart and soul of Usher, a young gay artist grappling with desires, identity, and instincts he both loves and loathes. Hell-bent on breaking free of his own self-perception, he wrestles with the thoughts in his head, brought to life on stage by a hilarious ensemble. Thru 1/15/23. (strangeloopmusical.com)
Take Me Out (Bernard Schoenfeld Theatre, 236 W 45th St.) (Reopened 10/27/22) (2 hrs., 15 mins.) The Tony-winning revival of Richard Greenberg's hit play—centering on what happens when a star baseball player of color exits the closet at the same time his team is struggling toward a championship season—returns to Broadway with Tony winner Jesse Tyler Ferguson and Tony nominee Jesse Williams reprising their roles. Thru 2/5/23. (takemeoutbway.com)
Photo credit: Marc J. Franklin.
Topdog/Underdog (John Golden Theatre, 252 W. 45th St.) (Opened 10/20/22) (2 hrs., 20 mins.)  Susan-Lori Parks' Pulitzer Prize-winning play is a darkly comic fable of brotherly love and family identity, centering on two brothers, Lincoln and Booth—names given to them as a joke by their father. Haunted by the past and their obsession with three-card monte, the two come to learn the true nature of their history. Limited run. (topdogunderdog.com)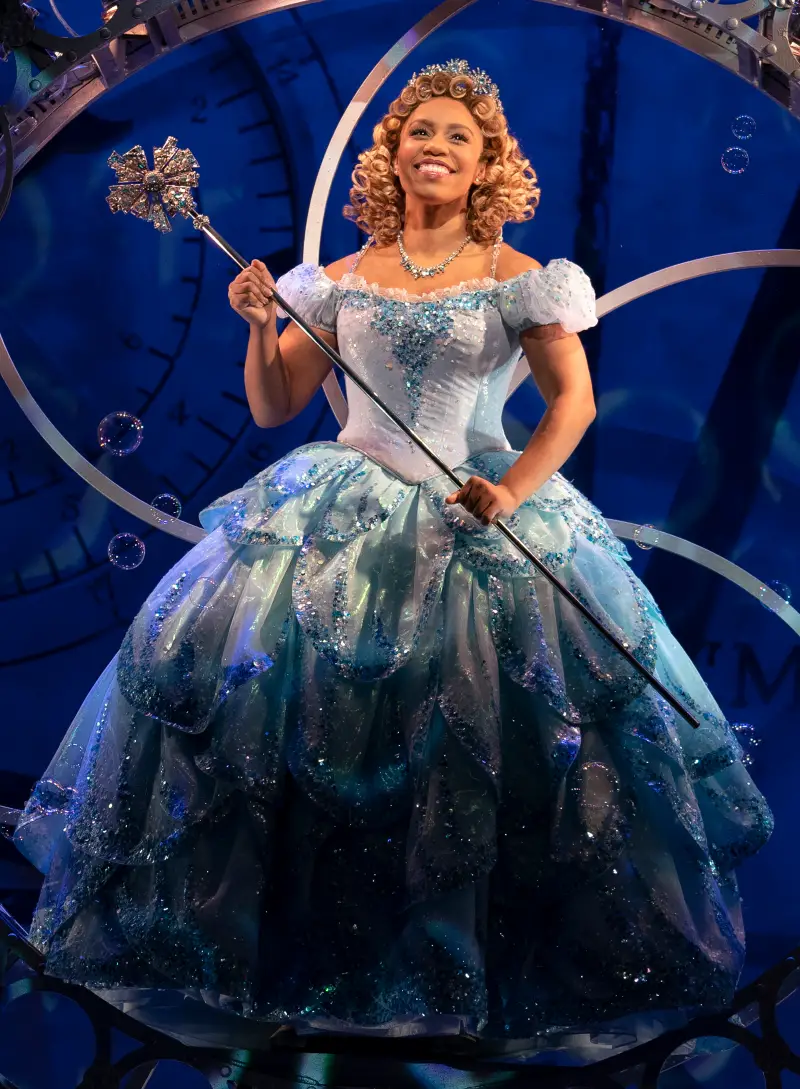 Brittney Johnson makes history as the first Black actor cast full-time as Glinda in Broadway's Wicked.  Photo by Joan Marcus.
Wicked (Gershwin Theatre, 222 W. 51st St.) (Opened 6/10/03) (2 hrs., 45 mins.) One of Broadway's biggest success stories, this fantasy musical, based on the best-selling novel by Gregory Maguire, follows the friendship between two young girls—one smart, misunderstood, and green-hued; the other beautiful, ambitious, and popular. Wicked takes the world of Oz's fairy tale roots and replants them into an eye-popping production that turns the original story spectacularly upside down. (wickedthemusical.com)
COMING SOON TO BROADWAY
COMING TO BROADWAY IN 2023
January 10th: Pictures From Home (Official opening is February 9th at Studio 54, 254 W. 54th St.) This Broadway premiere starring Nathan Lane, Danny Burstein, and Zoë Wanamaker brings to vivid theatrical life a comic and dramatic portrait of a mother, a father, and the son who photographed their lives. Based on the photo memoir by Larry Sultan, the play has been adapted to the stage by Sharr White (The Other Place). Limited engagement. (picturesfromhomebroadway.com)
February 13th: A Doll's House (Official opening is March 9th at the Hudson Theatre, 141 W. 44th St.) When Henrik Ibsen's drama about a married woman who defies tradition in the most profound way debuted in 1879 it shocked audiences and triggered a new era of theatre. Playwright Amy Herzog's re-energized version, starring Oscar winner Jessica Chastain, makes relevant the story for a whole new generation. Limited 16-week engagement. (adollshousebroadway.com)
February 17th: Bad Cinderella (Official opening is March 23rd at the Imperial Theatre, 249 W. 45th St.) Andrew Lloyd Webber's contemporary take on the classic fairy tale is set in the kingdom of Belleville, where the fields are idyllic, the prince is charming, and the townsfolk are ravishing. Only one stubborn peasant stands in the way of absolute perfection: Cinderella. To the flawless residents and royals, this damsel IS the distress. (badcinderellabroadway.com)
February 26th: Sweeney Todd: The Demon Barber of Fleet Street (Official opening is March 26th at the Lunt-Fontanne Theatre, 205 W. 46th St.) Josh Groban and Annaleigh Ashford star in this revival of the Stephen Sondheim-Hugh Wheeler musical about a resourceful pie shop owner and a vengeful barber out for blood. Together, they wreak havoc on Fleet Street and serve up the hottest—and most unsettling—pies in London. (sweeneytoddbroadway.com)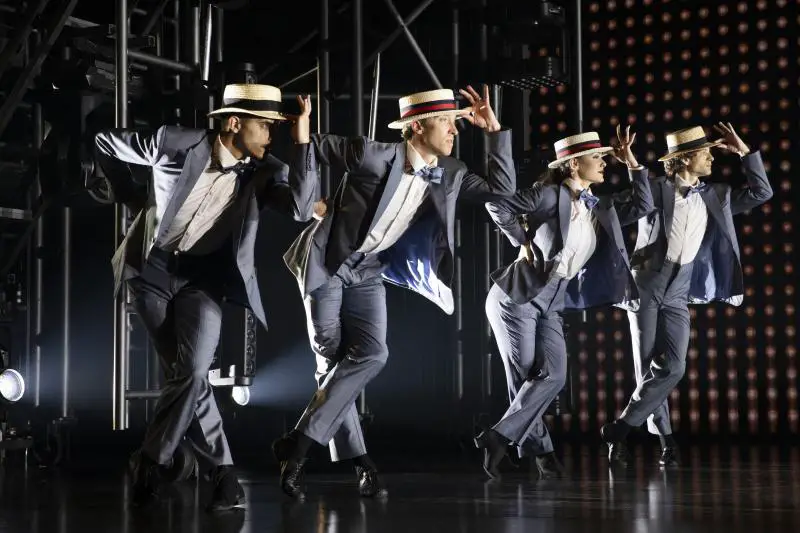 Photo by Julieta Cervantes,
March 2nd: Bob Fosse's DANCIN' (Official opening is March 19th at the Music Box Theatre, 249 W. 45th St.) (2 hrs., 15 mins.) A celebration of the art form Bob Fosse loved, perfected, and changed forever. Reimagined for the 21st century by Wayne Cilento, who starred in the original Broadway production, the show features some of Fosse's most inventive and seldom performed choreography. (adollshousebroadway.com)
(Left to Right): SHUCKED cast members John Behlmann ("Gordy"), Alex Newell ("Lulu"), Caroline Innerbichler ("Maizy") and Andrew Durand ("Beau").  Photo by Emilio Madrid for SHUCKED on Broadway. 
March 8th: Shucked (Official opening is April 4th at the Nederlander Theatre, 208 W. 41st St.) What do you get when you pair a semi-neurotic New York comedy writer with two Nashville superstars? A hilarious farm-to-fable musical about, well, corn. Shucked is the new musical comedy that proves sometimes tearing down a few walls, rather than growing them, is the only way to preserve our way of life. (shuckedmusical.com)
March 9th: Lerner & Loewe's CAMELOT (Official opening is April 13th at Lincoln Center Theaters' Vivian Beaumont Theater, 150 W. 65th St.) This new version of the classic musical has been reimagined for the 21st-century by award-winning writer Aaron Sorkin. Based on the original book by Alan Jay Lerner, the epic tale, centering on King Arthur, Queen Guinevere, and Sir Lancelot, features an iconic score that includes "If Ever I Would Leave You" and "Camelot." (lct.org)
March 9th: Life of Pi (Official opening is March 30th at the Gerald Schoenfeld Theatre, 236 W. 45th St.) In Lolita Chakrabarti's Olivier-winning adaptation of Yann Martel's best-seller of an epic journey of endurance and hope, a cargo ship sinks in the middle of the Pacific Ocean, leaving 16-year-old Pi stranded on a lifeboat with four other survivors: a hyena, zebra, orangutan, and Royal Bengal tiger. Time is against them, nature is harsh, who will survive? (lifeofpibway.com)
March 24th: New York, New York (Official opening is April 26th at the St. James Theatre, 246 W. 44th St.) It's 1946, the war is over, and in a resurgent New York, a collection of artists has dreams as big and diverse as the city itself. But do these singers, dancers, musicians, and makers have what it takes to survive the city, let alone to succeed? Featuring a score by John Kander and the late Fed Ebb, with additional lyrics by Lin-Manuel Miranda. (newyorknewyorkbroadway.com)
April 4th: Summer, 1976 (Official opening TBA at the Samuel J. Friedman Theatre, 261 W. 47th St.) As the country celebrates its Bicentennial, two young women—Diana, an iconoclastic artist and single mom, and Alice, a free-spirited yet naive housewife—navigate motherhood, ambition, and intimacy, and help each other discover their own independence. This new work by Pulitzer Prize-winner David Auburn (Proof) stars Emmy-winner Laura Linney (The C Word; Ozark). (manhattanheatreclub.com)
April 7th: Good Night, Oscar (Official opening April 24th at the Belasco Theatre, 111 W. 44th St.) (90 mins., no intermission) It's 1958 and host of The Tonight Show, Jack Paar, has booked actor, concert pianist, and subversive wit Oscar Levant. His appearance has audiences howling, censors scrambling, and—when it's all over—America is just a little less innocent than she was before. Starring Sean Hayes. Limited run thru 8/27/23. (goodnightoscar.com)
April 11th: Prima Facie (Official opening is April 23rd at the Golden Theatre, 252 W. 45th St.) Tessa (Jodie Comer) is a young, brilliant barrister. She has worked her way up from working class origins to be at the top of her game—defending; cross examining, and winning—until an unexpected event forces her to confront the lines where the patriarchal power of the law, burden of proof, and morals diverge. Limited 10 week run. (primafacieplay.com)
June 30th: Back to the Future: The Musical (Official opening is August 3rd at the Winter Garden Theatre, 1634 Broadway) Based on the classic Michael J. Fox film, the show centers on teen Marty McFly who's sent back to 1955 in a DeLorean that's been transformed into a time machine by his friend Doc Brown. But before returning to 1985, he has to make sure his teenaged parents fall in love – or he'll cease to exist.(backtothefuturemusical.com/newyork.com)
OFF-BROADWAY
25th Anniversary MATA Festival (Roulette Intermedium, 509 Atlantic Ave., Brooklyn) Featuring small ensemble works performed by the Found Sound Nation Ensemble, a selection of hand-picked musicians that specialize in genres ranging from contemporary classical and experimental music to hip-hop, jazz, folk, and other traditional music from cultures around the world. 5/31 thru 6/3/23. (matafestival.org)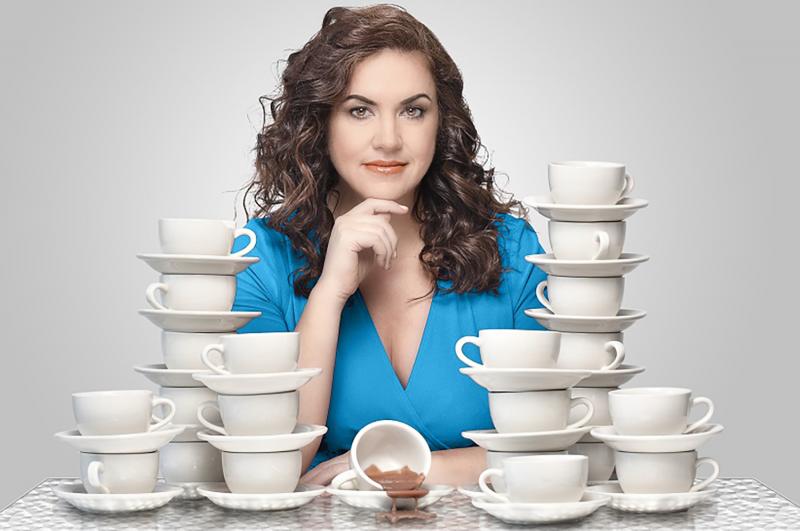 45 Coffee Dates, In search of my soulmate through cyberspace & beyond (ATM Theater, 354 W. 45th St.) Challenged by her sister to meet 50 men in 90 days through online dating, Rachel finds herself speed dating at Starbucks, questioning her choices in ex-boyfriends, issues with her father, and why the only unconditional love she has ever known is with her dog. 12/15 thru 12/17. (qiktix.com)
Afghanistan Is Not Funny (SoHo Playhouse, 15 Vandam St.) UK comedian Henry Naylor went to Afghan's warzone with photographer Sam Maynard to research Naylor's Finding Bin Laden. They were threatened by a war criminal, captured by the Mujhadeen, and almost blown up by the Taliban. Now, as the Taliban return to power, Naylor asks: what has been lost in the ruins of Kabul? 12/1 thru 12/11. (sohoplayhouse.com)
Alice in Wonderland (92nd Street Y, 1395 Lexington Ave.) Featuring a new score, this exclusive 92NY adaptation of the Lewis Carroll classic follows Alice down the rabbit hole into the wild and whimsical world of the Cheshire Cat, Mad Hatter, Dormouse, Queen of Hearts, White Rabbit, chatty flowers, and cards who paint roses red. 2/12 thru 2/26/23. (92ny.org)
Amahl and the Night Visitors (Church of Holy Apostles Soup Kitchen, 296 Ninth Ave.) A modern production that connects this timeless story of charity and miracles with the prevalent issue of homelessness in NYC. Performances include a chorus of community members who have experienced homelessness performing alongside renowned opera soloists and musicians. 12/8 thru 12/10 (osopera.org)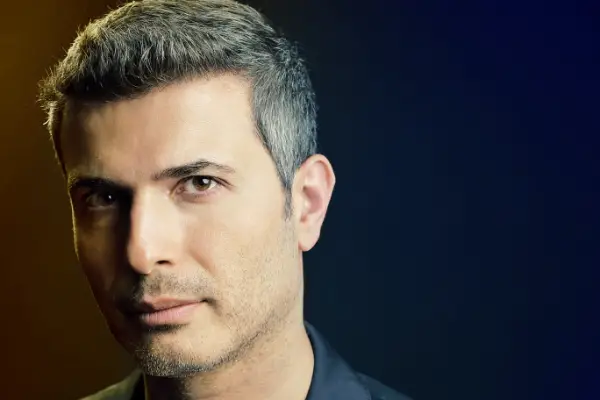 Asi Wind's Inner Circle (The Gym at Judson, 243 Thompson St.) (75 mins.) The moment audiences enter the intimate theatre space, they become a part of acclaimed magician Asi Wind's exhilarating, mysterious, and hilarious show. The unique setting intensifies the performance and creates a logic-defying experience: theatregoers not only witness the magic, they become the magic itself. Thru 4/2/23. (asiwind.com)
At The Illusionist's Table (The Hideout at Gallow Green, McKittrick Hotel, 530 W. 27th St.) Created and hosted by internationally acclaimed illusionist Scott Silven, this show features an evening of culinary delight interwoven with illusion, mentalism, and storytelling. Senses will appear to deceive as candles flicker, whisky pours, and conversation stirs throughout a three-course dinner filled with unbelievable illusions. 12/4 thru 1/30/23. (mckittrickhotel.com)
Autophages (Self-Eaters) (The Invisible Dog Art Center, 51 Bergen St., Brooklyn) Subtitled "stories of bananas, rice, tomatoes, peanuts, palm trees. And fruit, sugar, chocolate," this show falls halfway between theatre and group tasting session. Writer Eva Doumbia plays the role of a master of ceremonies who invites the audience to a "documentary eucharist" orchestrated by the chef Alexandre Bella Ola. 2/23 thru 2/26/23. (theinvisibledog.org)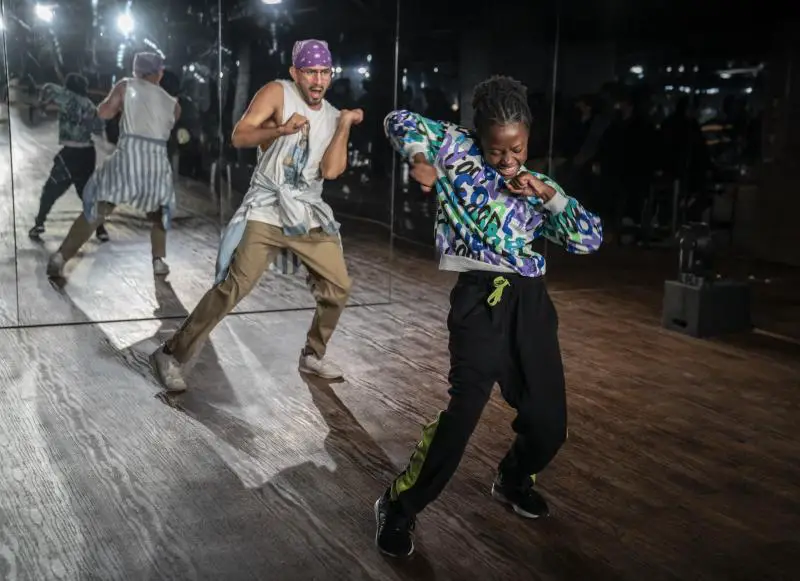 Jake Ryan Lozano (Sam Yates) and Sasha Manuel (Ella Irby) in the Roundabout Underground production of the bandaged place.  Photo by Joan Marcus, 2022.
the bandaged place (Black Box Theatre, Harold and Miriam Steinberg Center for Theatre, 111 W. 46th St.) Struggling to recover after an assault, Jonah realizes the only way to heal is by mending the relationships with his family. This world-premiere production offers a humane statement about the scars we inherit—and the beauty they create. 10/20 thru 12/18. (roundabouttheatre.org)
Baobab (New Victory Theater, 209 W. 42nd St.) A tale passed down from generation to generation about a water-stealing sun and a baobab tree bearing an unexpected and unusual gift. Featuring music from Mali and Senegal, puppets large and small, one naughty monkey and a witch with an itch to dance, Baobab is a percussion-filled fable about a boy's heroic quest to save his village from drought. 3/11 thru 3/19/23. (newvictory.org)
Becky Nurse of Salem (Official opening is 11/21 at Lincoln Center Theaters' Mitzi E. Newhouse Theater, 150 W. 65th St.) In Sarah Ruhl's dark comedy, Becky (Tony winner Dierdre O'Connell), descendant of accused witch Rebecca Nurse, is dogged by bad luck. Is it a curse from her past or her inability to navigate the present? A play about the legacy of misogyny, witchcraft, and even Arthur Miller, Becky Nurse is a truth-teller for our times. From 10/27. (lct.org)
Becomes a Woman (New York City Center Stage II, 131 W. 55th St.) Nineteen-year-old Francie lives with her family in Brooklyn while working at the sheet music counter of a five & dime store. Her co-workers describe her as afraid of her family, the boss, and dating. Still, she gets involved in a relationship that goes south, leaving her to pick up the pieces with a shocking display of independence and courage. 2/7 thru 3/18/2023. (minttheater.org)
the best we could (a family tragedy) (Manhattan Theatre Club at New York City Center—Stage I, 131 W. 55th St.) A daughter's road trip with her father becomes a theatrical journey across more than just state lines. This funny, wise, and heartbreaking debut from playwright Emily Feldman is directed by Daniel Aukin. (manhattantheatreclub.com)
Big Shot (Theatre Row, 410 W. 42nd St.) The latest dance theater work from The Chase Brock Experience is inspired by Brock's own family's iconic drive-in restaurant (1949-1972) that serves as the central meeting point for this danced story set to a new jukebox score of 19 evocative pop songs. 12/9 thru 12/12. (theatrerow.org)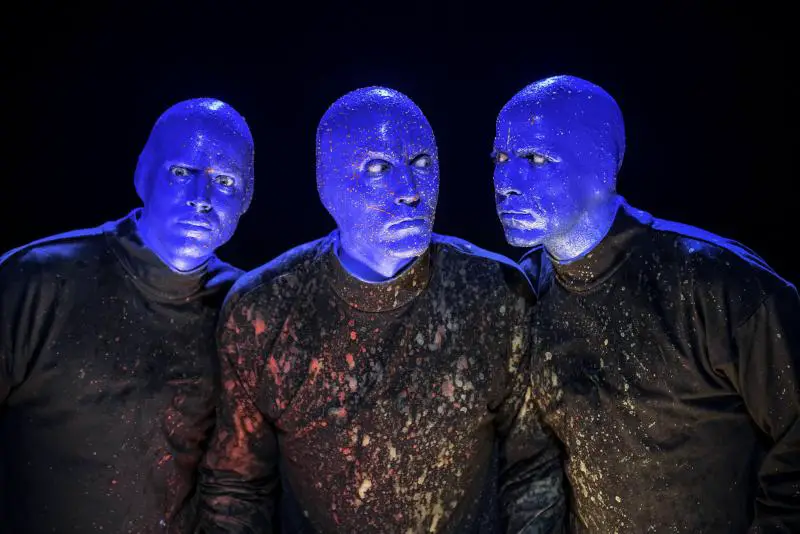 Blue Man Group (Astor Place Theatre, 434 Lafayette St.) (105 mins., no intermission) No plot, dialogue, or ripped from headlines drama, just a romp and a half orchestrated by three blue-hued alien dudes. This long-running Off-Broadway show and international sensation combines music, paint drums, snacks, high-tech hijinks, and unpredictable physical comedy. (blueman.com)
The Brooklyn Nutcracker (Kings Theatre, 1027 Flatbush Ave., Brooklyn) This re-imagined holiday classic fuses ballet, hip-hop and myriad dance genres for a culturally inclusive production in which familiar Nutcracker characters and scenes now represent the diverse traditions and vibrant culture of melting pot Brooklyn. Thru 12/17. (brooklynballet.org)
Chamber Magic (Lotte New York Palace, 455 Madison Ave.) Theatregoers, dressed to impress in cocktail attire, experience the mystifying artistry of Steve Cohen in an elegant and intimate salon within the legendary New York Palace. Recreating the up-close parlor entertainment of Manhattan in the early 20th century, Cohen conjures, mind-reads, and performs sleight of hand, along with a trick called Think-A-Drink. (chambermagic.com)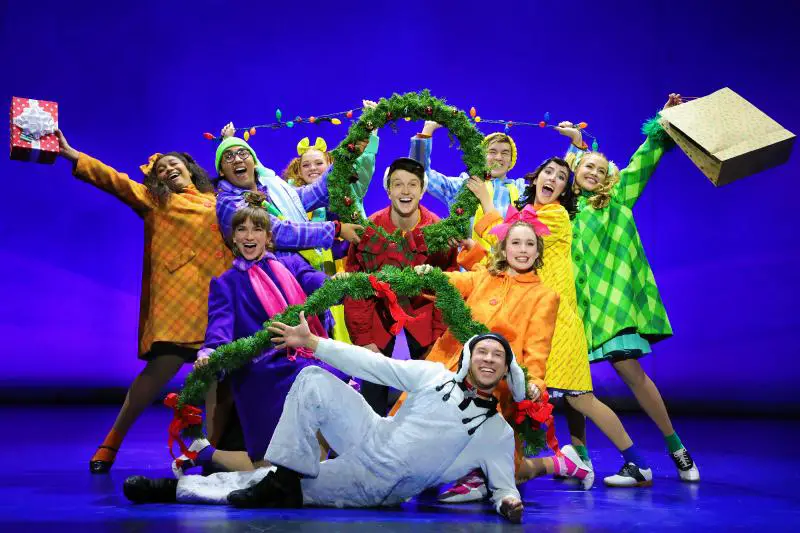 A Charlie Brown Christmas: Live on Stage (The Palladium Theatre, 1515 Broadway) Adapted from Charles M. Schulz's timeless story, and featuring the classic music of Vince Guaraldi, everyone's favorite holiday classic comes to life in a new production. Join Charlie Brown, Snoopy, Lucy, Linus, and the whole Peanuts gang as they sing, dance, and learn the true meaning of Christmas. Limited engagement—only seven performances. 12.22-12.24. (acharliebrownchristmaslive.com)
A Child's Christmas in Wales (Irish Rep Theatre, 132 W. 22nd St.) Dylan Thomas's iconic holiday story of a snowy day in Wales is brought to joyous, heartwarming life through Charlotte Moore's musical adaptation of this "never to be forgotten day at the end of the unremembered year." Featuring contemporary and traditional Christmas music. 12/1 thru 12/31. (irishrep.org)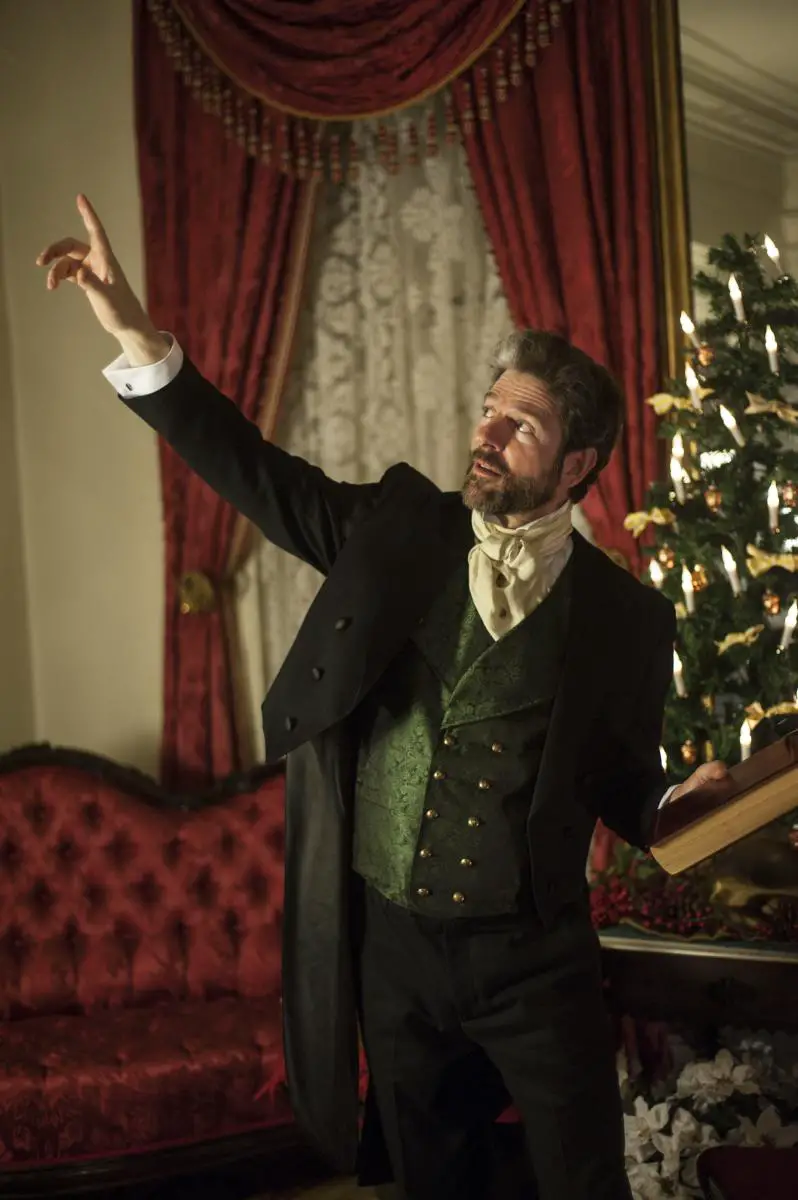 A Christmas Carol at the Merchant's House (Merchant's House Museum, 29 E. 4th St.) It's December 1867 and Charles Dickens has arrived in New York City for a month of sold-out performances of his Christmas classic. Actor John Kevin Jones as Dickens spins the iconic tale in the Greek Revival parlor of the landmark Merchant's House Museum. Note: "A Holiday Reception with Mr. Dickens" is offered at select performances, check website for details. 11/23 thru 12/23. (merchantshouse.org)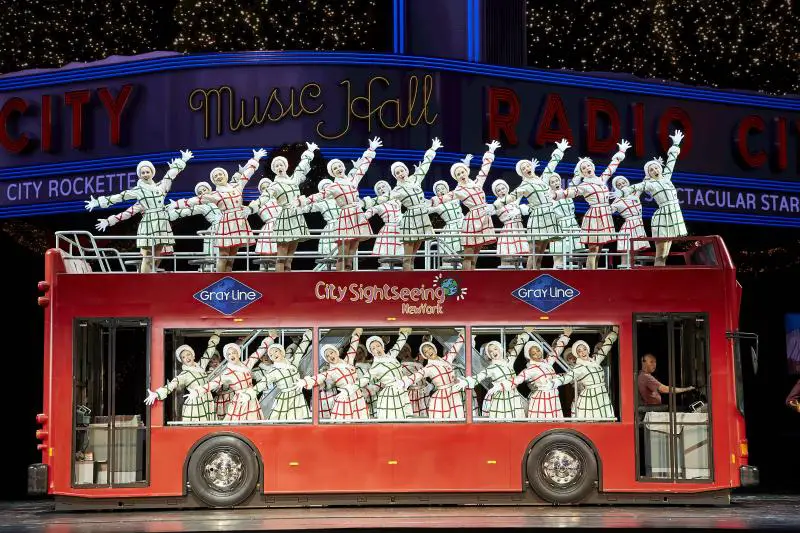 Christmas Spectacular Starring The Radio City Rockettes  (Radio City Music Hall, 1260 Sixth Ave., btw. 50th & 51st Streets) (90 min., no intermission) America's #1 holiday show is back with all the sparkle and joy that has made it a New York tradition since 1933. Dazzling choreography and show-stopping numbers by the world-famous Radio City Rockettes—including their trademark Parade of the Wooden Soldiers and newly reimagined "Dance of the Frost Fairies"—guarantee this breathtaking show will be the highlight of your holidays in New York! 11/18 thru 1/2/23. (rockettes.com)
Circus Abyssinia (New Victory Theater, 209 W. 42nd St.) Celebrating Ethiopian runner Derartu Tulu's trailblazing 1992 gold medal win, the production excites with juggling flags and flames to the sounds of '70s funk and modern-day Ethio-pop. This tribute to teamwork showcases the incredible athleticism and artistry of Ethiopian circus and the pride that Tulu's triumph inspired. 12/9 thru 1/1/23. (newvictory.org)
Cocoon (Gene Frankel Theatre, 24 Bond St.) Four vignettes explore various phases of romantic relationships, delving into the bonds of human connection. The storylines tie together with concepts of reincarnation and love's transcendent power over time and corporality. 11/16 thru 12/10. (cocoonplay.com)
Colin Quinn: Small Talk (Lucille Lortel Theatre, 121 Christopher St.) In his latest attempt at humor, Colin breaks down the one area he's actually gifted in: personality. Mr. Quinn has been chatting it up with friends, family, municipal employees, and counter people for his whole life and now he can teach you how to stop sucking the energy out of the room. 1/6 thru 2/11/23. (colinquinnshow.com)
Cornelia Street (Atlantic Stage 2, 330 w. 16th St.) In a back street in the west village, Jacob Towney tries to save the restaurant that has been his home for longer than he can remember and release his daughter to the life he dreams she can have. His place is a home for the odd ghosts of the village. It is out of place and out of time and running out of luck. 1/14 thru 2/19/23. (atlantictheater.org)
The Culture (The Producer's Club, 358 W. 44th St.) Katie and Will are best friends, podcast hosts, woke and very single. The search for love in the modern world can be dangerous for a gay man and a woman. Is their friendship enough to keep them safe? Set in Sydney Australia, the show tackles heavy issues with a light touch, using the warmth and intimate banter between two best friends. 11/25 thru 12/17. (powersuitproductions.com)
Dead + Alive (Connelly Theater, 220 E. 4th St.) A dark and whimsical show about partnership and loss with clowning, juggling, and live music inspired equally by vaudeville and personal loss. In a two-person clown act, one clown dies and the show—just like life after death—must go on. 11/29 thru 12/10. (connellytheater.org)
demons. (Connelly Theater, 220 E. 4th St.) In this new Afro-surrealist dark comedy, when the death of their patriarch draws family members home, they must reckon with grief and the haunting realities that death often brings to the surface. A meditation on getting older, losing a parent, and the elusive quest to exorcize the trauma passed down through the generations. 5/10 thru 6/13/23. (connellytheater.org)
Desaparecidas (Jack, 20 Putnam Ave., Brooklyn) Told through Mexican folklore, this new musical explores the systematic oppression of women in the fight to end gender-based violence and the killing of women and girls in Ciudad Juárez, Mexico. The production captures the challenge between embracing honored cultural customs while fighting for autonomy in a dangerous world filled with machismo. 12/2 thru 12/17. (jackny.org/desaparecidas)
Dick Rivington & The Cat (Abrons Arts Center, 466 Grand St.) This radical, joyful holiday family show celebrates the resilience, open-mindedness, and beauty of the Lower East Side in a rags-to-riches story about a young immigrant and his feline friend who overcome enormous hardships to make their dreams come true. 11/30 thru 12/18. (abronsartscenter.org)
Elyria (Atlantic Stage 2, 330 w. 16th St.) 1982. Elyria, Ohio: Two mothers collide 20 years, two continents, and two oceans after making a deal of a lifetime, forcing them to face the knots of the past and the uncertainty of their inextricably linked future. 2/9 thru 3/26/23. (atlantictheater.org)
Endgame (Irish Repertory Theatre's Francis J. Greenburger Mainstage, 132 W. 22nd St.) Playwright Samuel Beckett's favorite play tells the story of blind and chair-bound Hamm, whose existence is reduced to one room that he shares with his aging, legless parents, who live in garbage bins. His shuffling servant, Clov (Bill Irwin), comes when whistled for, like a dog. The only thing left for Hamm is to wait for the inevitable end. 1/25 thru 3/12/23. (atlantictheater.org)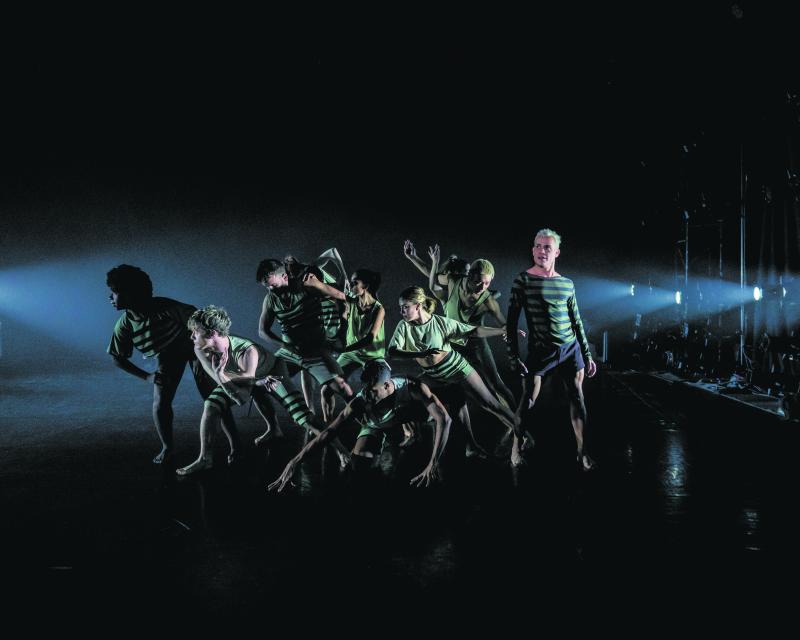 Photo credit: Teresa Castracane.
English with an Accent (Lincoln Center's Clark Studio Theater, Rose Building, 7th Fl.,165 W. 65th St.) This original musical production helmed by Migguel Anggelo combines original music with dance and theatre as it explores the intersections of his queer, Latino, and immigrant identities. 12/1 thru 12/3. (lincolncenter.org)
EstroGenius Festival (Kraine Theater, 85 E. 4th St. & UNDER St. Marks, 94 St. Marks Place) The longest running festival celebrating the work of women and gender non-conforming artists in NYC. 3/19 thru 4/2, 2023. (frigid.nyc/events)
Events (The Brick, 579 Metropolitan Ave., Brooklyn) Alternating between wild hilarity and quiet devastation, the play investigates the impossibility of living and working without confusing the two, shifting from the heroine's perspective to the office of a high-end events design and production company and back again until all boundaries of dissolve. 12/1 thru 12/18. (bricktheater.com)
Fancy Nancy Splendiferous Christmas (AMT Theater, 354 W. 45th St.) What could be fancier than Christmas? After all, there is no such thing as too much tinsel. Ooh la la! This year, Nancy is especially excited. She bought a brand-new sparkly tree topper with her own money and can't wait to decorate the Christmas tree. But when things don't turn out the way she planned, will Christmas still be splendiferous? 11/19 thru 12/31. (vitaltheatre.org)
The Far Country (Atlantic Theater Company's Linda Gross Theater, 336 W. 20th St.) This Atlantic commissioned play by Guggenheim fellow Lloyd Suh is an intimate epic that follows an unlikely family's journey from rural Taishan to the wild west of California in the wake of the Chinese Exclusion Act. 11/17 thru 1/1/23. (atlantictheater.org)
Fiddler on the Roof in Yiddish (New World Stages, 340 W. 50th St.) Featuring English supertitles, the acclaimed production is back, once again directed by the legendary Oscar and Tony Award winner Joel Grey. Also returning to recreate his award-winning performance is Steven Skybell as Tevye, a milkman navigating family, faith, upheaval, and changing traditions in the little Russian shtetl of Anatevka. 11/13 thru 1/1/23. (nytf.org/fiddler)
Field of Mars (NYU Skirball, 566 LaGuardia Place) Act I: Creation, a chain restaurant in Chapel Hill. Adam and Eve are introduced after a brief exploration into color and light. At the restaurant, workers and customers interact to make a fast-casual dining experience. Act II moves between past, present and future as the animal instincts of coupling and destruction move through generations. Back in Chapel Hill, the staff continue their work. 1/19 thru 1/29/23. (nyuskirball.org)
The Fire This Time Festival (Kraine Theater, 85 E. 4th St.) The 14th annual Obie Award-winning festival featuring plays by early career playwrights of African and African American descent. This year the festival will also be broadcast on the All Arts Network. Visit website for performance dates & times. 1/16 thru 1/29/23. (frigid.nyc/events)
Frankenstein's Monster is Drunk and the Sheep have all Jumped the Fences (59E59 Theaters, 59 E. 59th St., Theater C) It's 1946 when villagers dig Frankenstein's monster out of the glacier he'd crawled into after his Hollywood career gave up the ghost. Fully defrosted, he meets "The One," igniting a love story of monstrous proportions. Together they set out to forge their own beautiful brand of domestic bliss with their 67 (Italian) blue sheep. 1/11 thru 1/28/23. (59e59.org)
Friends! The Musical Parody (Jerry Orbach Theater, 210 W. 50th St.) The unauthorized comedic musical that lovingly pokes fun at TV's Friends celebrates the adventures of Ross, Monica, Rachel, Phoebe, Joey, and Chandler as they navigate the pitfalls of work, life, and love in 1990s Manhattan. The show recreates favorite moments from all 10 seasons of the iconic sitcom through an uncensored, fast-paced, music-filled romp! (ticketmaster.com/friends-the-musical-parody-new-york)
FRIGID Festival (Kraine Theater, 85 E. 4th St. & UNDER St. Marks, 94 St. Marks Pl.) This 17th annual open and uncensored theater festival gives artists an opportunity to let their ingenuity thrive in a venue that values freedom of expression and artistic determination. 2/15 thru 5/5/2023. (frigid.nyc/events)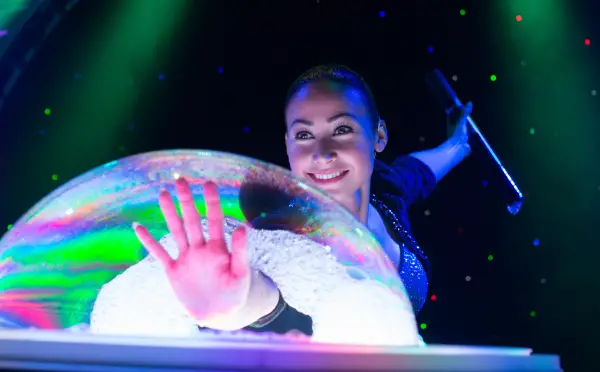 Gazillion Bubble Show (New World Stages, 340 W. 50th St.) A family phenom for your family from the Yang family of bubble virtuosos. "We are so thrilled to be bringing bubbles back to the stage and smiles to our audiences," says master bubble maker Melody Yang. (gazilllionbubbleshow.com)
The Gett (Rattlestick Theatre, 224 Waverly Pl.) A tale of the dirty and the divine, drawing on everything from the Torah to bad sex. It's about the tacky menorah in your lobby behind the Christmas tree and the lover whose phone number you can't forget and that voicemail from your mother you haven't listened to yet. As sacred as it is profane, this is a play about recreating a self. Herself. Thru 12/11. (rattlestick.org)
George Kaplan (New Ohio Theatre, 154 Christopher St.) A comedy. A thriller. A hoax … while George Kaplan (the character) is the fictional spy in Hitchcock's 'North by Northwest,' the play is a hilarious and dizzying look into the way fiction interacts with political narrative and identity. 11/15 thru 12/3. (newohiotheatre.org)
Grief (The Kitchen at Westbeth's West Side Loft, 163 Bank St., 4th Floor) A solo exhibition of work by celebrated composer, pianist, vocalist, filmmaker, and multidisciplinary artist Samora Pinderhughes, whose album of the same name is the point of departure for a sprawling multimedia presentation. Converging songcraft, film, ritual, and conversation, the piece grapples with the dense emotion at its core, unfurling the barrage of damages inflicted by mass incarceration and systemic racism. 11/10 thru 1/24/23. (thekitchen.org)
Heaven (59E59 Theaters, 59 E. 59th St., Theater B) Set in County Offaly, Ireland during the weekend of a local wedding, guests Mairead and Mal are struggling to keep their marriage together. Perhaps attending a wedding will help, or it might raise questions that are difficult to answer. 1/11 thru 1/29/23 (59e59.org)
H.M.S. Pinafore (Kaye Playhouse at Hunter College, E. 68th St. btw. Park & Lexington Aves.) Gilbert & Sullivan's rollicking hit lampoons overblown nationalism, class distinction, party politics, and classic melodrama. No wonder the New York Gilbert & Sullivan Players include references to contemporary matters while staying true to the values and traditions of the original. 12/30 thru 1/8/23. (nygasp.org)
Hip Hop Cinderella (New Victory Theater, 209 W. 42nd St.) Growing up on Planet Centra, Cinderella felt as limitless as the stars, but now her jealous stepmother and two selfish stepsisters have her questioning her potential. Will the Prince's Galactic Hip Hop Mask Ball help her trust in the power of her voice? A futuristic musical that teleports the classic fairy tale across the cosmos and reminds us to reach for the farthest moon. 2/10 thru 2/26/23. (newvictory.org)
The Hunting Gun (Baryshnikov Arts Center, Jerome Robbins Theater, 450 W. 37th St.) Josuke Misugi receives three letters: from his wife, his mistress, and her daughter. Japanese author Yarushi Inoue turns what could have been a mundane account of adultery into a love story considered a classic of world literature. This stage adaptation is a monologue for three voices, with a single actress embodying all three women. 3/16 thru 4/15/23. (thehuntinggun.org)
I Just Want to Tell Somebody (Theater for the New City, 155 First Ave.) Ronald "Smokey" Stevens's solo show/adaptation of his autobiographical novel dramatizes the author's career and lifelong battle with drugs. Playing both himself and his nemesis, a doppelgänger called "D MAN," Smokey ushers us through modern moments of theater history and the drug usage that was nearly his undoing. 6/1 thru 6/18/23. (theaterforthenewcity.net)
The Immortal Jellyfish Girl (59E59 Theaters, 59 E. 59th St., Theater A) In this hilarious and virtuosic work, it's 2555 and large swaths of the earth's surface are considered dead zones—global extinction has begun. Yet in this dystopian age of loneliness and destruction there is still hope; the show takes audiences on a wild journey through a post-apocalyptic future. 1/10 thru 2/12/23 (59e59.org)
Jack was Kind (Irish Rep Theatre, 132 W. 22nd St.) Tracy Thorne's one-woman show gives an imagined, painfully human backstory to an actual American event that will affect the country for generations to come. This intimate confessional story examines long-seated issues of privilege and complicity at the core of America, as well as our current and explosive political moment. 11/9 thru 12/18. (irishrep.org)
The Journey of Jazz (59E59 Theaters, 59 E. 59th St., Theater A) Spanning ragtime and blues to swing, bebop, bossa nova, cool jazz, and third-stream, Peter & Will Anderson and their quintet trace the century-long development of American jazz, taking audiences down a musical memory lane to experience how these styles evolved and became intertwined with the music of Broadway and popular culture. 11/29 thru 12/11. (59e59.org)
Kate (Connelly Theater, 220 E. 4th St.) In her acclaimed one-woman show, Kate Berlant explores the events of her life that have brought her to this moment. Embodying many characters in this tour de force performance, she expertly morphs before our eyes and exposes a truth she has, until now, kept hidden. 12/20 thru 2/10/23. (connellytheater.org)
King James (Manhattan Theatre Club at New York City Center—Stage I, 131 W. 55th St.) One of the greatest NBA players to ever hit the court, "King" LeBron James was just the hero that Cleveland needed, his influence on the city looming large for the 12 years of his reign. Playwright Rajiv Joseph's funny and moving new play chronicles the unexpected friendship between two men whose intertwined fortunes are tied to those of their idol. Directed by Tony winner Kenny Leon. From 5/2/23. (manhattantheatreclub.com)
King Lear (The Center at West Park, 165 W. 86th St.) This fresh and urgent production infuses Shakespeare's timeless and timely tragedy with the Hamlet Isn't Dead theatre company's trademark music, wit, and love. 12/2 thru 12/10. (centeratwestpark.org)
The Knight of the Burning Pestle (Lucille Lortel Theatre. 121 Christopher St.) In this Elizabethan comedy, a play about the elopement of star-crossed lovers is interrupted so the actors invent a new story which takes over the stage in hilariously disruptive ways. Everyone shares in the triumph of love, adventure, and the anything-can-happen nature of live theater. 4/18/23 thru 5/14/23. (fiascotheater.com)
Latina Christmas Special (SoHo Playhouse, 15 Vandam St.) Downing plenty of tequila and dishing about everything from moms to cucarachas to Farrah Fawcett, three BFFs share the funny and intimate stories of childhood Christmas "dramas" that make them uniquely American, undoubtedly Latina, and most of all, friends. 12/7 thru 12/11 (latinachristmasspecial.com)
Les Ballets Trockadero de Monte Carlo (The Joyce Theater, 175 Eighth Ave.) The Trocks make things merry and bright with two holiday programs: Program A sweeps you into the mystical world of swans (and other birds) in the company's signature work, Act II of Swan Lake, followed by a sultry Spanish spin in Majisimas; Program B highlights the company's mastery of classical dance in Paquita, and the dreamy melancholy of ChopEniana. Both programs are rounded out by a pas de deux TBA and their Dying Swan. 12/20 thru 1/8/23. (joyce.org)
Lewberger & The Wizard of Friendship: The Musical (Theatre Row, 410 W. 42nd St.) When best friends and comedy band Lewberger get into a fight, the rift in their friendship grows so large that it breaks the heart of the Wizard of Friendship. Lewberger is sent on a musical quest in NoFriendia, a wild land where they must venture to the intimidatingly Handsome Forest, through the Adults-only Haunted House, and more amazing places, guided by a giant sausage man. 2/23 thru 3/26/23. (theatrerow.org)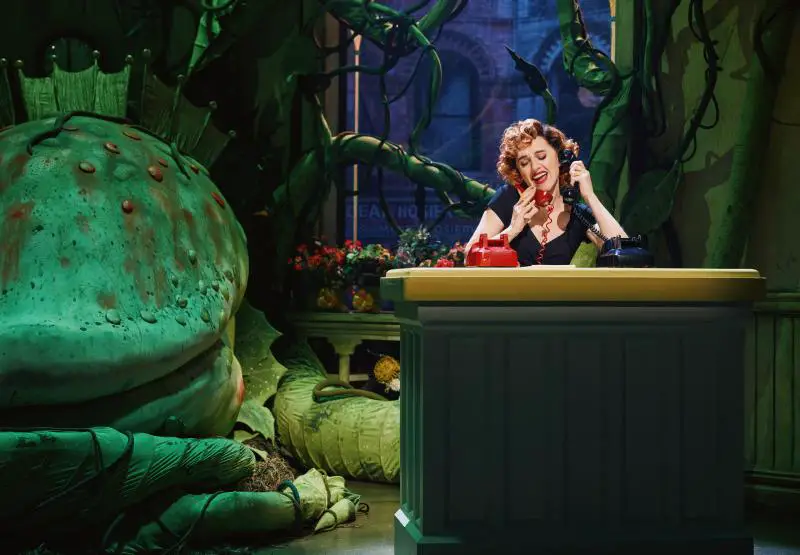 Lena Hall as Audrey. Credit: Emilio Madrid.
Little Shop of Horrors (West Side Theatre, 407 W. 43rd St.) The wildly acclaimed Tony-winning musical revival is now a long-running Off-Broadway hit! The story follows hapless flower-shop employee, Seymour, who finds himself trapped under the blood-thirsty fronds of the plant he's named Audrey II, after the girl of his dreams. (littleshopnyc.com)
The Magical Journey of Arlekina (Theatre Row, 410 W. 42nd St.) This musical in the style of commedia dell'arte tells the story of an amusement park that has lost its happiness. But in this innovative and immersive show, Arlenkina will save the day with innocent happiness that teaches us that money isn't the most important thing in life. 12/1 thru 2/5/23. (theatrerow.org)
Mama, I Want To Sing! (El Teatro at El Museo del Bario 1230 Fifth Ave. @ 104th St.) Written by Vy Higginsen and Ken Wydro, the legendary Black Gospel musical, based on Mama Vy's sister, Doris Troy, and her journey to fulfilling her dream of becoming a singer, returns to the stage for its 40th anniversary during Black History Month 2023. 2/23 thru 3/5/23. (mamafoundation.org)
Merrily We Roll Along (New York Theatre Workshop, 79 E. 4th St.) Spanning three showbiz decades, this Stephen Sondheim-George Furth musical charts the turbulent relationship between composer Franklin Shepard and his two lifelong friends—writer Mary and lyricist and playwright Charley. An inventive cult-classic ahead of its time, the show features some of Sondheim's most celebrated and personal songs. Starring Daniel Radcliffe. 11/21 thru 1/21/23. (nytw.org)
A Midsummer Night's Dream (92nd Street Y, 1395 Lexington Ave.) An all-new original musical retelling of William Shakespeare's comedy about love's enchantment for kids 7+ and teens. The show's original songs and choreography come together to make Shakespeare fun, accessible, and inspiring. 4/16 thru 4/23/23. (92ny.org)
Millennials Are Killing Musicals (Theatre 71 at the Church of the Blessed Sacrament, 152 W. 71st St.) An irreverently funny centering on Millennial single mom Brenda who wants to do better "adulting" like Jake's Mom at her daughter's school. She's finally ready for love and creativity in her life when her kid sister shows up, eight months pregnant, totally unprepared for motherhood. 5/9 thru 5/28/23. (ootbtheatrics.com)
Moby Dick (NYU Skirball, 566 LaGuardia Place) An adaptation of Herman Melville's mythical work, halfway between theater and puppet show, featuring seven actors, fifty puppets, video projections, a drowned orchestra and whale-sized whale.  From the Norwegian theater company Plexus Polaire. 1/12 thru 1/14/23. (nyuskirball.org)
Modern Swimwear (The Tank, 312 W. 36th St.) On December 10, 2010, celebrated swimwear designer Sylvie Cachay was found dead in a bathtub at a members-only club in the Meatpacking District. This new play follows the last night of her life and the cost of female ambition. Before she was murdered, Sylvie had been actively designing her next collection and seeking investors for her line. 1/20 thru 2/12/23. (thetanknyc.org)
My First Nutcracker (Theatre Row, 410 W. 42nd St.) You've been invited to Clara-Marie's holiday party! Join Clara-Marie and the Prince as they travel to a magical kingdom filled with delicious treats, dancing flowers, and a pesky mouse king in this interactive holiday classic reimagined for your youngest theatergoers. A dance theater production that celebrates and explores imagination, family, tradition and female empowerment. 12/3 thru 12/22. (theatrerow.org)
The Night Falls  (NYU Skirball, 566 LaGuardia Pl.) An adaptation of Herman Melville's mythical work, halfway between theater and puppet show, featuring seven actors, fifty puppets, video projections, a drowned orchestra, and whale-sized whale. From the Norwegian theater company Plexus Polaire. 1/12 thru 1/14/23. (nyuskirball.org)
NOWISWHENWEARE (the stars) (BAM Fisher Fishman Space, 321 Ashland Place Brooklyn) A new immersive experience from theater/technology pioneer Andrew Schneider. Through a darkened space, an unseen narrator guides you through a personal and collective cosmos. Five thousand programmed points of light—inspired by seeing the Milky Way for the first time, Yayoi Kusama's Infinity Mirror Room, and so much more—respond to each individual. 11/29 thru 12/22. (bam.org)
Off Peak (59E59 Theaters, 59 E. 59th St., Theater B) Martin and Sarita's relationship came to a stormy end over a decade ago. When they bump into each other on the evening commute, they try to find a way to set things straight but differing views of the same past threaten to derail their connection. 11/26 thru 12/23. (59e59.org)
Origin 1st Irish 2023 (Various venues throughout the city) The only festival devoted to producing and presenting theatrical works by contemporary Irish playwrights from around the world returns to a mostly in-person format this year. The festival will present a mix of new shows, readings, and workshops produced locally, and acclaimed productions from Ireland. For a complete list of shows, dates, and locations, please visit website. 1/9 thru 1/31/23. (origintheatre.org)
Othello (Casa Clara, 218 E. 25th St.) In a former foundry with skylights, balconies, and statuary, this Shakespearean tragedy unfolds offering a searing look at shame, manipulation, and the devastation it provokes. With music, movement, swordplay, and language, this production offers a fresh take on the timeless story. 2/1 thru 2/25/23. (newplaceplayers.org)
Our Town But Wilder (Actors Temple Theater, 339 W. 47th St.) Set in a small New England town in the 1980s, this new comedy tells the story of high school student Bentley Cramer, a sexually confused theater kid. When he's cast as the stage manager in his school's production of Thornton Wilder's Our Town, a series of comic mishaps lead him on a journey of self-discover, illuminating the fragile coexistence of beauty/community and intolerance/divisiveness that often co-exist in small town America. Thru 12/31. (ourtownbutwilder.com)
Perfect Crime (Anne Bernstein Theater at The Theater Center, 210 W. 50th St.) This ultra-long-running murder mystery is the story of brilliant but money hungry psychiatrist/ suspected cold-blooded killer Margaret Brent, her wealthy husband, deranged patient, and the handsome detective who's falling in love with her while trying to solve the crime. (perfect-crime.com)
Peter Pan-S3xual (Don't Tell Mama, 343 W. 46th St.) Join Peter and Drag Queen Gina Tonic as they burst out of the nursery and discover Neverland on acid with a pottty-mouthed Tink, pirates of subway, and that big old sexy crocodile! Chock full of pop parodies and holiday classics, slapstick calamities, and political satire wrapped up in a rainbow-colored bow. 12/3 thru 12/11. (donttellmama.com)
Photo by Jeremy Daniel.
The Play That Goes Wrong (New World Stages/Stage 4, 340 W. 50th St.) (2 hrs.) A madcap hybrid of Monty Python and Sherlock Holmes, this award-winning comedy is bringing down the house—literally—Off-Broadway. It's opening night of The Murder at Haversham Manor where an unconscious leading lady, corpse that can't play dead, and actors who trip over everything are only some of the hilarious mishaps. (broadwaygoeswrong.com)
Primary Trust (Laura Pels Theatre, Harold & Miriam Steinberg Center for Theatre, 111 W. 46th St.) In this world-premiere by playwright Eboni Booth, Kenneth, a 36-year-old bookstore worker who spends his evenings sipping mai tais with his best friend Bert at a local tiki bar. When he's suddenly laid off, Kenneth is encouraged by a quirky waiter to face a world he's long avoided—with transformative and even comical results. 5/4 thru 7/2/23. (roundabouttheatre.org)
Queerly Festival (Kraine Theater, 85 E. 4th St. & UNDER St. Marks, 94 St. Marks Pl.) The 9th annual celebration of all things LGBTQ+ returns in Pride Month, 2023. 6/18 thru 7/2, 2023. (frigid.nyc/events)
The Rat Trap (New York City Center Stage II, 131 W. 55th St.) In the U.S. premiere of this early Noel Coward drama of caustic realism with flashes of biting wit, a newlywed couple—two promising writers who vow to support and love each other through creative and professional endeavors—find the challenges even worse than you might imagine. 11/1 thru 12/10. (minttheater.org)
Rodgers & Hammerstein's Cinderella (92nd Street Y, 1395 Lexington Ave.) The timeless magic of the beloved fairy tale is captured in this adaptation of the original Broadway production featuring new characters, a hilarious libretto, surprising twists, and an unforgettable score by two musical theatre giants: Richard Rodgers and Oscar Hammerstein II. 3/12 thru 4/2/23. (92ny.org)
Rough Trade (The Tank, 312 W. 36th St.) Living together was going just great for gay besties Bunting and Finch: balancing ruthless day jobs with aspiring visual arts careers, while still finding time to blackout after one too many vodka sodas. But when Finch starts dating a wealthy pharma daddy finance bro, the intertwining web of Gay New York proves just how toxic and self-destructive it can be. 3/17 thru 4/8/23. (thetanknyc.org)
Sancocho (WP Theater, 2162 Broadway) Forced to confront the reality of their father's rapidly declining health, Puerto Rican sisters Renata and Caridad clash over cultural divides, unearth old wounds, and reveal long-buried secrets. As Caridad's sancocho bubbles on the stove, will the two reconcile their past resentments to face their uncertain futures together? 3/11 thru 4/9/23. (wptheater.org)
Sandra (Vineyard, 108 E. 18th St.) In this one-woman thriller Sandra seeks to get to the bottom of the mysterious disappearance of her closest friend, a young pianist and composer, who went on a trip to Mexico and never returned. Her search for clues leads her into both a highly charged love affair, and increasingly dangerous territory. Featuring an original piano score by Matthew Dean Marsh. Thru 12/18. (vineyardtheatre.org)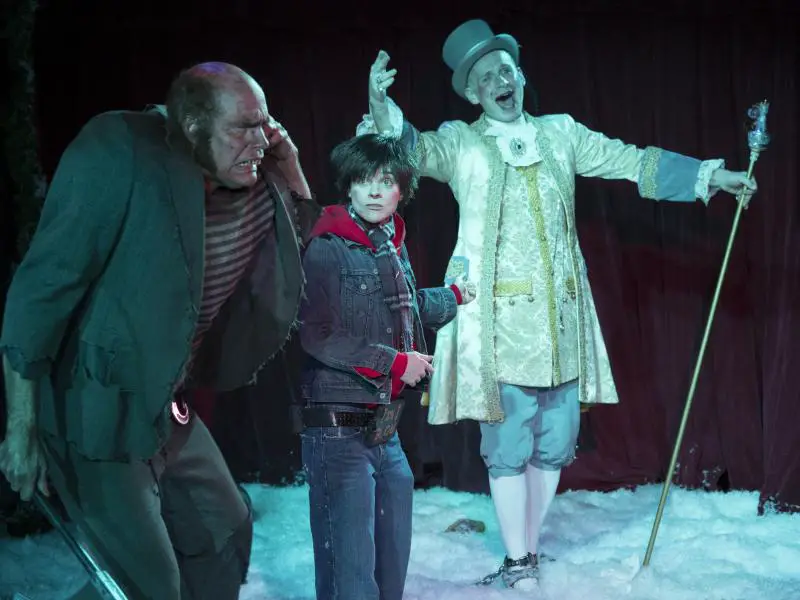 Seven In One Blow, or The Brave Little Kid (Axis Theatre Company, 1 Sheridan Sq.) Adapted from the classic Brothers Grimm fairy tale, this annual holiday event is a family-friendly (ages 4 & up) show capturing the magic of winter as it follows "the Kid" on a topsy-turvy journey filled with challenges, surprises, and unforgettable characters! Fun extends to interactive singing and "shout-outs" from the audience! 12/2 thru 2/18. (axiscompany.org)
Shakespeare Festival (Kraine Theater, 85 E. 4th St. & UNDER St. Marks, 94 St. Marks Pl.) FRIGID's annual summer Shakespeare festival. Visit website for dates and details. July/August, 2023. (frigid.nyc/events)
Shakespeare's Stars (New Victory Theater, 209 W. 42nd St.) Created by Spellbound Theatre this unique production invites tiny hands and feet to discover infinite possibilities in an intimate multisensory experience. Bringing The Bard's best lines about the cosmos to life with starlit props, musical instruments, and mesmerizing movement, this gentle show reminds us that "we are such stuff as dreams are made on." 5/11 thru 5/21/23. (newvictory.org)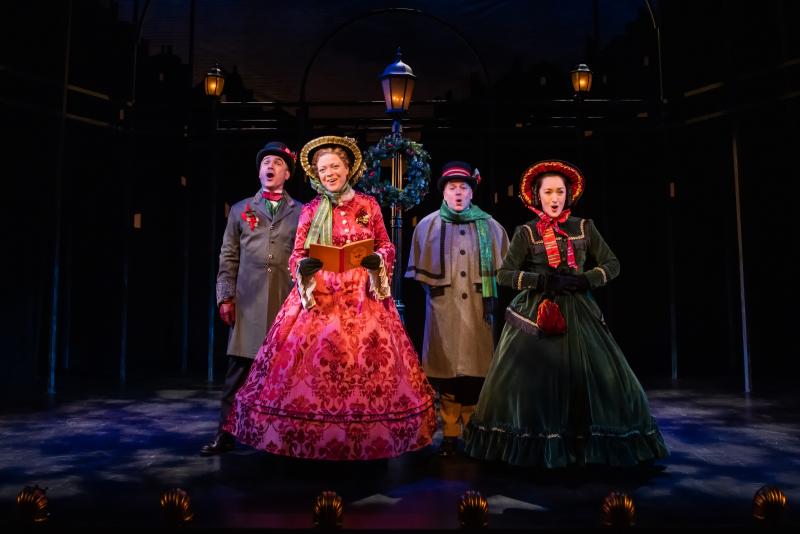 Photo by Evan Zimmerman/MurphyMade.
A Sherlock Carol (New World Stages, 340 W. 50th St.) When a grown-up Tiny Tim asks Sherlock Holmes to investigate the peculiar death of Ebenezer Scrooge, the Great Detective must use his tools of deduction to get to the bottom of the crime. But it is a dark and treacherous Christmas Eve, and once again the holiday is haunted by the spirits of the past, present, and future. 11/21 thru 1/1/23. (asherlockcarol.com)
The Sign in Sidney Brustein's Window (BAM's Harvey Theater, 651 Fulton St., Brooklyn) Set in Greenwich Village during the 1960s, Lorraine Hansberry paints a portrait of friends whose proclaimed progressive dreams can't quite match up with reality. At the center are Sidney and Iris Brustein, fighting to see if their marriage will be the final sacrifice to Sidney's ideals. From 2/4/23. Limited engagement. (bam.org)
A Simulacrum (Atlantic Stage 2, 330 w. 16th St.) Lucas is a playwright. Steve is a magician. Lucas asked Steve to show him some magic tricks. Steve did. And this is what happened. Tony Award nominee Lucas Hnath (Dana H.) directs this unique collaboration starring leading sleight of hand artist Steve Cuiffo. 5/25 thru 6/25/23. (atlantictheater.org)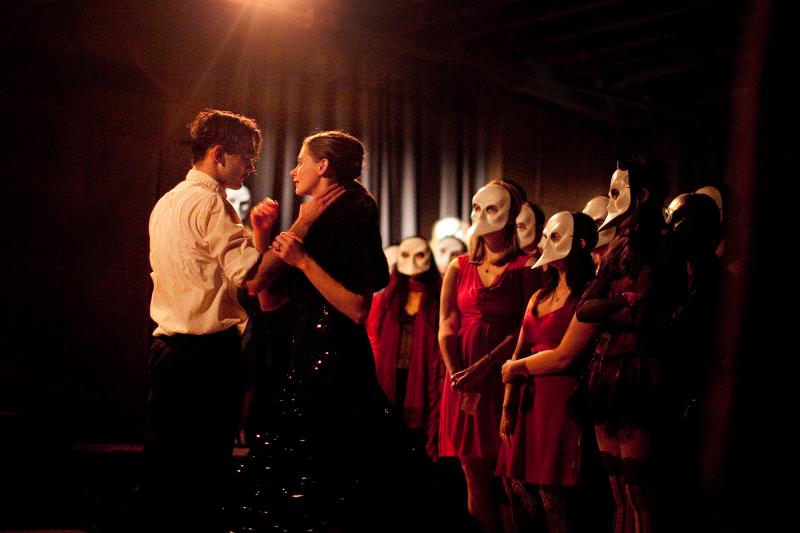 Photo by Robin Roemer.
Sleep No More (McKittrick Hotel, 530 W. 27th St.) This award-winning theatrical experience tells Shakespeare's classic tragedy Macbeth through a darkly cinematic lens. Audiences move freely through the epic world of the story at their own pace, choosing where to go and what to see, ensuring that everyone's journey is different and unique.(mckittrickhotel.com)
sleeper (The Tank, 312 W. 36th St.) Sleeper is a millennial archetype of an every-person, who, from a self-imposed, bedridden exile ponders the imperative of a lived existence. Ultimately, the key to Sleeper's liberation hinges on a visit from their mother and a return to their Indigenous Chickasaw roots, where dreams have the power to unlock the relationship between parent and child, descendant and ancestor, body and earth. 3/3 thru 3/26/23. (thetanknyc.org)
The Smuggler (Irish Repertory Theatre's W. Scott McLucas Studio Stage, 132 W. 22nd St.) Written in rhymed verse, this contemporary work centers on Tim Finnegan, an Irish immigrant working as a bartender and trying to make it as a writer in an affluent Massachusetts summer colony, where tensions flare between the migrant and local communities after a fatal car crash. When he loses his job, he gets drawn into the dark underbelly of the island. 1/26 thru 2/26/23. (atlantictheater.org)
Song of Joy (The Tank, 312 W. 36th St.) Throughout this autobiographical work, playwright/performer Carol Mazhuvancheril explores how perpetually immigrating as a child shapes an individual's family and definition of "home." From learning Carnatic music in in India, to auditioning to be a ballerina in Texas, Carol seeks acceptance from those he loves while coming into his newfound "American" identity. 1/6 thru 1/29/23. (thetanknyc.org)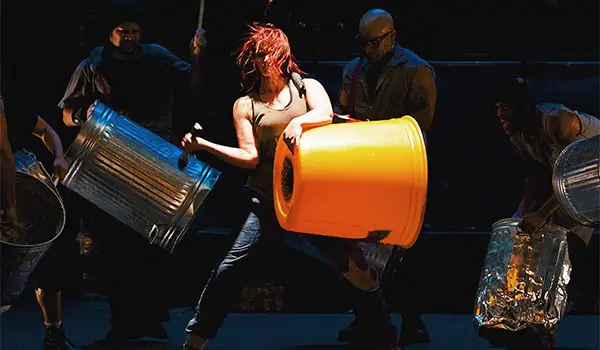 Stomp (Orpheum Theatre, 126 Second Ave.) (1 hr., 45 mins.) "For us, Stomp has always been about connecting with the audience, having a shared experience with them and celebrating rhythm together. We can't wait to bring Stomp and New York audiences back together again," says show co-creators Steve McNicholas and Luke Cresswell. Clearly, the exuberance of cacophony has returned. (stomponline.com)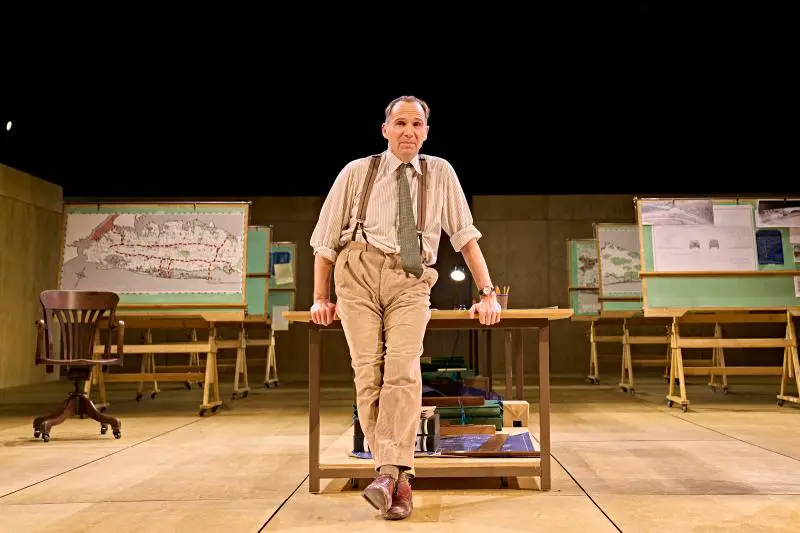 Straight Line Crazy (The Shed, 545 W. 30th St.) David Hare's new play offers an imagined retelling of the arc of Robert Moses's (Ralph Fiennes) controversial career in two decisive moments: his rise to power in the late 1920s and the public outcry against the corrosive effects of that power in the mid-1950s. It homes in on the power Moses had to manipulate and intimate his way to remaking the city's parks, bridges and expressways, often at the expenses of disempowered New Yorkers. 10/18 thru 12/18. (theshed.org)
Stranger Sings! The Parody Musical (Playhouse 46 at St. Luke's, 308 W. 46th St.) A wild send-up of the hit Netflix series Stranger Things. Take a trip back to Hawkins, Indiana, 1983, when times were simpler, hair was bigger, and unsupervised kids were getting snatched by inter-dimensional creatures. Get ready for a night of pubescent angst, heavy synth, poor parenting, convoluted love triangles, cheap effects, and dancing monsters. 9/12 thru 1/1/23. (strangersings.com)
The Tao of Glass (NYU Skirball, 566 LaGuardia Pl.) Composer Philip Glass and performer-director Phelim McDermott's latest collaboration is inspired by a dream, marries 10 meditations on life, death, and Taoist wisdom with 10 pieces of music from Glass, presented by McDermott with an ensemble of musicians and puppeteers. Part-concert, part-performance, the production is a compelling storytelling tapestry. 3/30 thru 4/8/23. (nyuskirball.org)
The Tempest (92nd Street Y, 1395 Lexington Ave.) The Bard's stormy story of redemption and forgiveness in an enthralling and accessible production for kids and teens! Told through music and dance, Shakespeare's play becomes easy to access for young audiences, helping to build their confidence as readers, writers, and theater-lovers. For families with children and teens ages 7+. 4/30 thru 5/7/23. (92ny.org)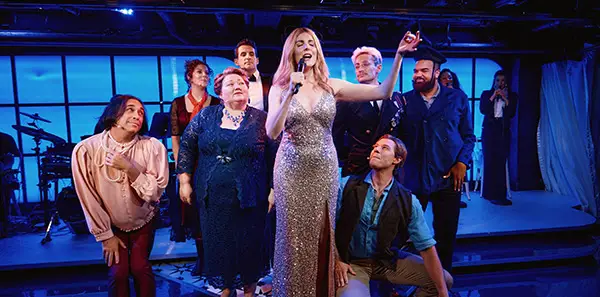 Titanique (Daryl Roth Theatre, 101 E. 15th St.) A musical celebration that turns one of the greatest love stories of all time into a hysterical and joyful slay-fest. Want to find out what really happened to Jack and Rose on that fateful night? Leave it to Céline Dion to casually hijack a Titanic Museum tour and enchant the audience with her totally wild take, recharting the course of Titanic's beloved moments and characters with her iconic song catalog. Thru 2/19/23. (titaniquemusical.com)
Trevor (Stage 42, 422 W. 42nd St.) In this timely musical, 13-year-old Trevor struggles with what it means to become a teenager, including the challenges of harnessing his imagination and homing in on just how to fit in. Thru 12/19. (trevorthemusical.com)
Truman Capote's A Christmas Memory (Hudson New York's Park Theater, 723 Warren St.) An intimate theatre is transformed into a world of Christmas trees, lights, and bistro tables, where a live radio play, set in Alabama in the 1930s, unfolds. It's the story of 8-year-old Truman and his best friend/distant cousin, a 60-something spinster, as they cross the generational divide via their annual tradition of making fruitcakes together. 12/1 thru 12/18. (achristmasmemory.com)
Twelfth Night (NYU Skirball, 566 LaGuardia Place) Classical Theatre of Harlem remounts its raucous, critically acclaimed production of this Shakespearean comedy, continuing its mission to place diversity at the forefront of their performances. This Twelfth Night engages with the global conversation around equity and inclusion and features a majority-Black team of artists. 2/19 thru 2/19/23. (nyuskirball.org)
UGLY Part 3: BLUE (Chelsea Factory, 547 W. 26th St.)  Conceived, directed, and performed by Raja Feather Kelly, this final installment of his unique odyssey of artist and audience has him bridging his highly personal journey to one that is both universal and Alien. 12/8 thru 12/10. (chelseafactory.org)
Under the Radar Festival (Pubic Theater, 425 Lafayette St.) The Public Theater's UTR 2023 is built around the enormous changes in theater and performance since 2020. Joyous, outrageous, witty, and powerful, the festival is partnering with stages across the city to highlight and celebrate the innovation and provocation of national and international artists. 1/9 thru 1/22/23. (publictheater.org)
The Very Last Dance of Homeless Joe (Theater for the New City, 155 First Ave.)  When she wants to write about New York's homeless, copy editor Charlie encounters nine diverse people who tell her that a man named Homeless Joe has a story that trumps all of theirs. Charlie's quest to find him is the trip of the play. 12/1 thru 12/18. (theaterforthenewcity.net)
The Wanderers (Laura Pels Theater in the Harold and Miriam Steinberg Center for Theatre, 111 W. 46th St.) Orthodox Jews Esther and Schmuli are newly married, and their future is written in the laws of the Torah. Secular Jew Abe is a famous novelist who believes he can write his own future…until an unexpected email from movie star Julia Cheever (Katie Holmes) puts his marriage to the test and threatens to prove him wrong. 1/26 thru 3/26/23. (roundabouttheatre.org)
The Weak and the Strong (LaMaMa, 155 First Ave.) Inspired by Paul's letters to the Romans and Hebrews, Erik Ehn's new play mixes dance, theatre, puppetry, and visual effects to tell the story of a rodeo rider, too old to be riding, but continues to ride as his mind and body slip, and his family struggles with the right ways to care. 12/8 thru 12/18. (lamama.org)
The White Blacks (Theater for the New City, 155 First Ave.) The story of playwright Melanie Maria Goodreaux's Southern "Creole" family—a culture proud of its Black heritage, though burdened with grief over those seen as "passing as white" to flee racism and seek opportunity. The themes of this story are familiar and told with humor and authenticity. 11/10 thru 12/2. (theaterforthenewcity.net)
White Girl in Danger (Second Stage's Tony Kiser Theater, 305 W. 43rd St.) A new musical from Michael R. Jackson (A Strange Loop). While the citizens of the soap opera town Allwhite face high-stakes drama and intrigue all the days of their lives, Keesha and the other Blackgrounds have been relegated to backburner stories of slavery and police violence. Keesha is determined to step into the juiciest storylines, but can she handle the Allwhite attention? 3/15 thru 5/21/23. (2ST.com)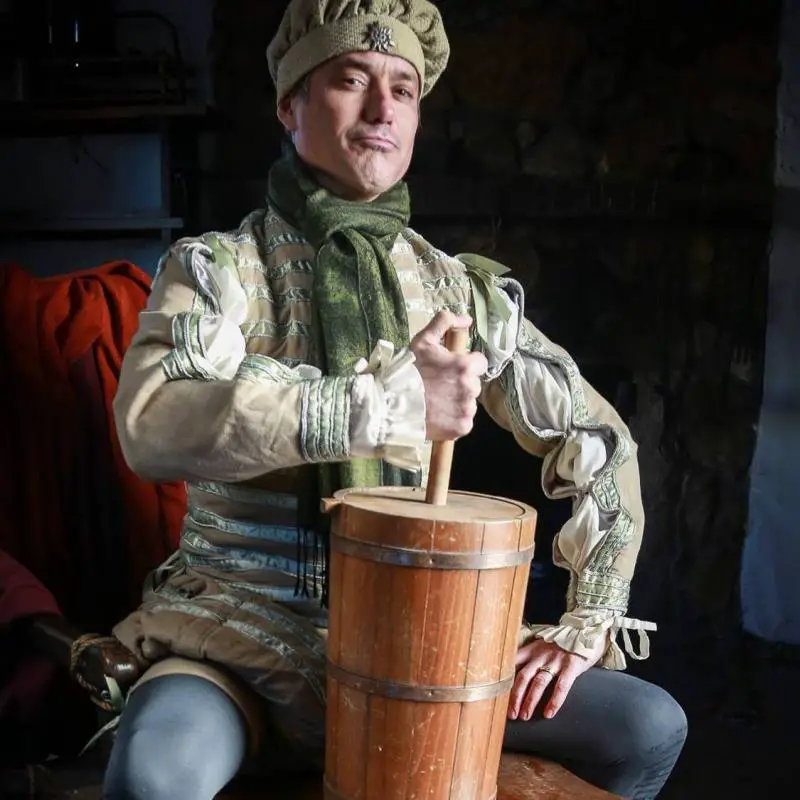 The Wildly Inappropriate Poetry of Arthur Greenleaf Holmes (The Tank, 312 W. 36th St.) (75 mins., no intermission) England's preeminent 16th-century poet of the perverse fuses irresponsible humor with a deep love of language, poetry, and the humanities. Blending the profane with the elegant, the wholly original libertine title character takes the stage to bring us such hits as the insightful "Ode to an Extremely Provocative Knothole" and the prepubescent lament "Mother, Will My Stones Drop?" Thru 2/9/23. (thetanknyc.org)
Wink (New Victory Theater, 209 W. 42nd St.) Fall fast asleep and wake up in the world of Wink, where mountains morph into oceans, stars turn into fish, and ships sail into the night sky. With playful shadow puppetry and magical movement, Spellbound Theatre brings you the sweet dreams of a small girl and her teddy as they adventure across land, sea, and air. After all, anything is possible under moonlight's spell! 4/22 thru 5/7/23. (newvictory.org)
Winter Rhythms 2022 (Urban Stages, 259 W. 30th St) Urban Stages welcomes noted musical artists to its stage during the holiday period. This year the series, produced by MAC award-winning songwriter Tom Toce and co-produced by Bistro & MAC Award winner Sue Matsuki, will feature 20 shows. 12/6 thru 12/18. (urbanstages.org)
Without You (New World Stages, 340 W. 50th St.) Based on his bestseller of the same name, and backed by a five-piece rock band, Anthony Rapp's acclaimed one-man musical is an intimate evening of unsurpassed joy and unspeakable loss as the actor recounts his real-life story that began in 1994 when he auditioned for a new musical by a young writer named Jonathan Larson—Rent. 1/14 thru 4/30/23. (withoutyoumusical.com)
Ye Bear & Ye Cubb (59E59 Theaters, 59 E. 59th St., Theater C) In this high-octane reimagining of the first known English-language play in North America, it's 1665 in the Fowkes Tavern in the colony of Virginia as a ragtag troupe of amateur thespians puts on a play. A bear waxes poetic, a cannon explodes, and the American Theatre is born. 12/8 thru 12/23 (59e59.org)
The Yorkville Nutcracker (The Kaye Playhouse at Hunter College, E. 68th St. btw. Park & Lexington Aves.) This year will be the 26th anniversary of The Yorkville Nutcracker, set in 1895, which includes lavish sets and costumes and takes the audience on a tour through Olde New York's most beloved landmarks, including a holiday party at Gracie Mansion, dancing at the Crystal Palace in the New York Botanical Garden, and skating in Central Park. 12/9 thru 12/11. (dancespatrelle.org)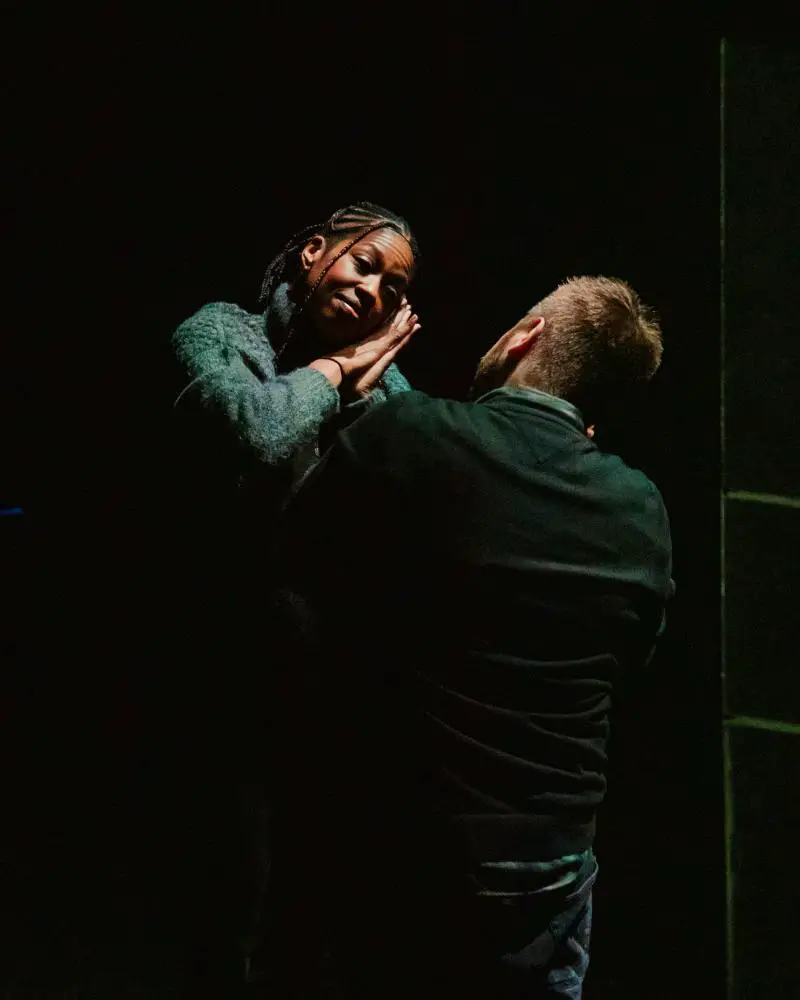 Marinda Anderson, Nate Miller in You Will Get Sick. Photo: Justin J Wee, 2022,
You Will Get Sick (Laura Pel Theatre, Harold and Miriam Steinberg Center for Theatre, 111 W. 45th St.) In this humane and piercing new play by Noah Diaz, Tony winner Linda Lavin stars as an older woman hired to break the news of a young man's life-changing diagnosis to his family and friends—thus setting in motion a series of events that will reshape both their lives. 11/6 thru 12/11.  (roundabouttheatre.org)
You're a Good Man, Charlie Brown (92nd Street Y, 1395 Lexington Ave.) Charlie Brown and the Peanuts gang explore life's great questions by way of baseball, crushes, Lucy's 5-cent psychiatry booth, and friendship in this heart-warming musical adaptation of the award-winning Broadway production based on the comic strip Peanuts by Charles M. Schulz. 12/17 & 12/18. (92ny.org)
Your Own Personal Exegesis (Lincoln Center Theaters' Claire Tow Theater, 150 W. 65th St.) In this funny and slyly devastating collision of coming-of-age eroticism and religious ecstasy set in a liberal parish, Brian angles for power, Addie attempts transfiguration, Beatrice battles with obscurity, and youth pastor Kat can't stop gazing into the troubled eyes of her congregant Chris. With music by Brian Cavanagh-Strong. 11/19 thru 12/31 (lct.org)
Zephyr (New Victory Theater, 209 W. 42nd St.) Set on a rotating turntable, there's practically nothing in Zephyr that won't spin as the adrenaline-driven daredevils of Cirque Mechanics brazenly balance atop the windmill's blades and fearlessly face the Wheel of Destiny. A turbine tug of war between man, nature and machine. Zephyr is a whirlwind of circus that'll blow you away. 3/24 thru 4/16/23. (newvictory.org)
Be sure to check websites for Covid-related performance cancellations before heading to the theatre, and do have a back-up show or two on your must-see radar!
For the latest news on Broadway scheduling and cancellations, check out this great resource from the Broadway League.
Vaccination and Mask Policy for Broadway and Off-Broadway Shows in NYC
For information regarding safety and safety protocols, please consult your show's official website or the website of the theatre you are planning to visit. Please verify the theatre policies and requirements before making your purchase.
More information is available here.—The Broadway League
Sq..S