Where to Dine on Scandinavian Fare in NYC
April 12, 2019 - by Regina Molaro
Although New York City is warming up, this is still a great season for embracing "hygge"—a Danish and Norwegian word that suggests a vibe or mood of coziness and comfortable conviviality. The Swedish have a similar concept called "fika." It's a coffee break that's more about socializing than simply drinking coffee. Bring some more warmth inside by exploring these lifestyle concepts at one of New York's many Scandinavian-style coffee houses, cafes, or restaurants. Here are a few choices.
Agern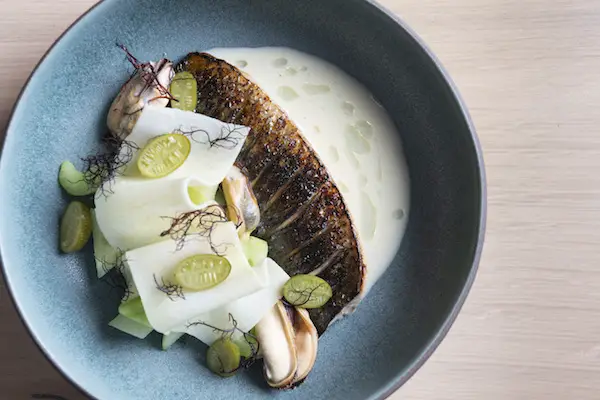 Agern is a seasonally-inspired restaurant and bar in Grand Central Terminal. Gunnar Gíslason, who hails from Iceland, is head chef of the stylish locale. The culinary talent creates dishes with flavors that are rooted in Nordic Cuisine. He utilizes farmed and wild ingredients from New York State and employs time-honored techniques to create his signature dishes. 89 E. 42ndSt., 646-568-4018, agernrestaurant.com
Aquavit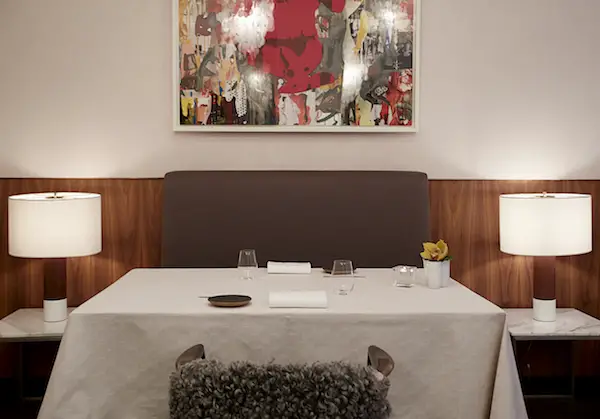 Photo: Signe Brick.
Manhattan's Aquavit is a mod Nordic restaurant that traces its history back to 1987. At the helm is Executive Chef Emma Bengtsson, whose culinary talent has garnered two Michelin Stars for this Nordic locale. Other accolades include nabbing three stars from the New York Times. Aquavit focuses on seasonal cuisine that is strongly rooted in traditional Nordic flavor profiles, in addition to Scandinavian classics such as gravlax, herring, and Swedish meatballs available at lunch and in the lounge. A dish not to be missed is Bengtsson's signature Arctic Bird's Nest. Last year, Bengtsson added a City Harvest Lunch menu ($43 per person) and for every meal, Aquavit donates $3 to City Harvest and its efforts to end hunger in New York. Aquavit also serves a wide selection of its namesake spirit, including its own brand, Aquavit New York White Cranberry, and several house-infused flavors such as anise-caraway-fennel and horseradish. 65 E. 55th St., 212-307-7311, aquavit.org
Aska, Edda Bar
Aska, which is Swedish for "ashes," is a two-star Michelin-rated restaurant in Brooklyn that was inspired by nature. It fuses elements from its location—ingredients that hail from America's Northeastern region—with a Swedish sensibility. At the helm is Chef Fredrik Berselius, who was raised in Sweden. Naturally, his philosophy is rooted in Nordic cuisine and flavors. Aska offers a more formal dining experience and multi-course tasting menu, as well as a more casual experience at its intimate cellar bar. Here, wine, beer, and cocktails are offered alongside a curated menu of shareable dishes. There's also a caviar service. The Scandinavian hideaway near the Williamsburg Bridge is situated in a cool 1860's restored warehouse. 47 S. 5thSt., Brooklyn, 929-337-6792, askanyc.com
FIKA
Sweden's tradition and appreciation of a coffee-centric lifestyle inspired Lars Åkerlund, founder and co-owner of FIKA to open its doors in 2006. Åkerlund envisioned FIKA as a company born in Sweden and raised in New York—a cultural ambassador that presents Scandinavian traditions with a bit of a Manhattan flair. The menu is heavily inspired by Swedish heritage and flavors, but boasts an innovative, contemporary twist. Whenever possible, FIKA partners with local suppliers. Everything is made in house, by hand. FIKA has several locations in Manhattan and hosts a variety of events and musical performances. 41 W. 58thSt., 212-832-0022, fikanyc.com
Smorgas Chef
Smörgås Chef brings Scandinavia and a bit of country life to Manhattan. The airy, vibrant café offers a menu of delectable items—eggs, meats, and fish—that are based on the principles of new Nordic cuisine. It utilizes local, sustainable, and all-natural ingredients—many hail from its 150-acre farm in the Catskills. Kick off your day with a Norwegian Benedict (gravlaks, dill carlsberg hollandaise) made with eggs from Smörgås Chef's own coop. Indulge in a waffles and bacon dish that is drizzled with Smörgås Chef's house-made maple syrup or enjoy a tasty dish of Swedish meatballs. Soaring ceilings, an enormous birch tree, and colorful Arne Jacobsen chairs usher in a Scandinavian aesthetic. 53 Park Ave., 212-847-9745, smorgas.com
Looking for Free Group Planning Services?
Get free advice on planning your group's trip to New York.
RESTAURANTS

Multi-concept restaurant offering modern Japanese cuisine, a...

THEATER

In a heartbeat, 38 planes with 6,579 passengers were strand...

SHOPPING

The world's largest source of cameras, camcorders, and more ...

SIGHTSEEING

Manhattan's premier all-glass, European-inspired dining crui...