Inside Scoop: Gray Line CitySightseeing New York
You'll experience an unforgettable tour of the city when you take a ride with Gray Line CitySightseeing New York. Daily tours of Manhattan are available on open-top deluxe double deckers (enclosed during the winter) and luxury coaches. With a hop-on and hop-off approach to sightseeing, you can spend more time exploring the destinations that interest you while still getting an encompassing view of New York throughout your day.
Tour options range from the Freestyle New York, a 72-hour hop-on hop-off tour that covers Manhattan and Brooklyn to the All Around Town 48 Hour Tour + 1 Attraction that includes the choice of a ticket to great attractions like the One World Observatory, Ripley's Believe It or Not!, or the 9/11 Memorial and Museum. Also worth checking out are the Downtown Tour, Uptown Tour, Brooklyn Tour, and the Night Tour/Holiday Lights Tour, all of which offer localized explorations of the city. All tours offer commentary in a host of languages: English, French, German, Spanish, Italian, Japanese, Korean, Mandarin, Russian, or Hebrew. And of course, there's a licensed guide on board who'll give you the whole story live. 
You can even tour New York by air or sea with Gray Line Sightseeing New York, with both cruise tours and helicopter tours available to the public. Discounts are available for children.
Gray Line CitySightseeing New York Photos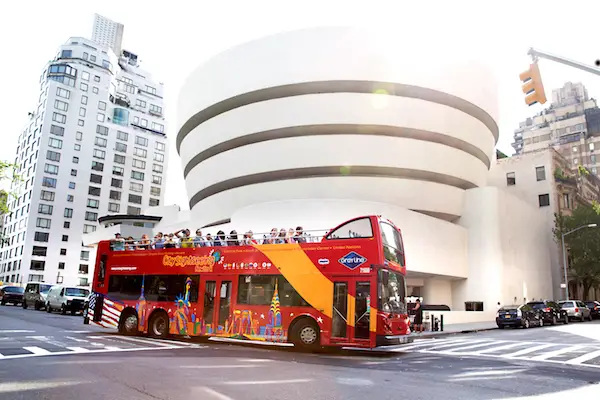 Gray Line CitySightseeing New York Video
Gray Line CitySightseeing New York Reviews
"My husband and I were in New York last week and did the tour bus as our main transportation through the city. We loved it all the tour guides were very informative and helpful. We especially liked Alfredo he was amazing. He even remembered my name. We would recommend this tour to anyone, it was great."–Sarah Mayer
"I just wanted to let this company know that these two gentlemen are amazing at their jobs! Reggie is an awesome bus driver, very caring and sincere! Lee knows his stuff and is funny as heck! I had an amazing time on this tour and even got engaged at the end of it! Please let these men know that all the way from San Antonio, Texas they will not be forgotten!"–Deborah Garcia 
"I was on the Night Tour at 6pm. Our driver Mike and our tour guide Willi was amazing, it was fantastic he is a really good tour guide. Even though it was raining and cold he made this trip perfect. Thanks Willi for a perfect night tour through NYC. With him we would do the night tour again so much fun we had."–Patricia Schiller
Follow Gray Line CitySightseeing New York on Facebook, Instagram, YouTube, and Twitter.