5 Unique Ice Cream Shops in NYC
July 1, 2019 - by Samantha Aronson
For unique ice cream, New York City is hard to beat. From unicorn ice cream to ice cream shaped like flowers, innovations are everywhere in the city's dessert scene. Read on for our picks for the best of unique ice cream shops in New York City.
5 Unique Ice Cream Shops in NYC: Chinatown
If you love soft-serve, try out Taiyaki NYC! This Chinatown destination mixes classic soft serve flavors (vanilla, chocolate, strawberry, black sesame, and matcha) with a traditional Japanese treat known as taiyaki. A fish-shaped waffle filled with red bean paste is what makes up this sweet pastry and it is just out of this world. To get the full Taiyaki experience, order the Unicorn. It's a blend of vanilla and strawberry soft serve, topped with marshmallow unicorn decals, and served in the traditional taiyaki cone. (Don't feel constricted by the pre-set flavors. You can order the unicorn with black sesame ice cream for an even more bespoke experience.) 119 Baxter St., 212-966-2882, taiyakinyc.com
5 Unique Ice Cream Shops in NYC: Lower East Side
Another waffle-based treat that is worth a trip is Wowfulls. This Instagrammable shop uses a Hong Kong-style egg waffle base that comes in regular or chocolate. Add a scoop of ice cream doused in toppings and you've got a jraw-dropping explosion of flavor. A brick and mortar spot can be found on the Lower East Side and they're also at the weekly Brooklyn food fair Smorgasbord. 309 E. Houston St., [email protected], wowfulls.com
5 Unique Ice Cream Shops in NYC: Chinatown
Minus 10 has a unique take on ice cream. Not only do they handcraft each of their ice creams in front of you, but they also roll it to on the spot to create a new texturized experience. The result is lighter and creamier than most frozen desserts around. To get the full Minus 10 vibe, try their innovative black rose taco—you'll find it at their storefront location in Chinatown. 10 Mott St., minus10icecream.com
5 Unique Ice Cream Shops in NYC: Times Square

If sometimes ice cream imitates art, Amorino's desserts are masterpieces. Each Amorino's cone is crafted out of the finest gelato to create a stunning rose shape. What could be better than that? Maybe that each one comes with the option to be topped off with a macaron! With eight macaron flavors and 26 gelato flavors, the combinations are endless. We recommend the Stracciatella (a milk ice cream base with chocolate shavings) and Sorbet al Cioccolato Bio (chocolate) with Macaron Cioccolato Amorino (chocolate macaron) for a decadent experience. 721 Eighth Ave., 212-445-0101, amorino.com/us/
5 Unique Ice Cream Shops in NYC: Midtown East
If you're a fan of Godiva's Chocolate, then the Godiva Cafe is a must-stop destination. Godiva Cafe features ice cream toped with a square of rich dark chocolate! Surprisingly, chocolate is not the only flavor available. Vanilla is also an option! Try a swirl for an absolute masterpiece as the sweet vanilla compliments the decadent chocolate perfectly. Also, if you go on national ice cream day (Sunday, July 21st), the cafe is having a BOGO 50% off deal! 560 Lexington, 212-980-9810, godiva.com
Bonus
5 Unique Ice Cream Shops in NYC: Grand Bazaar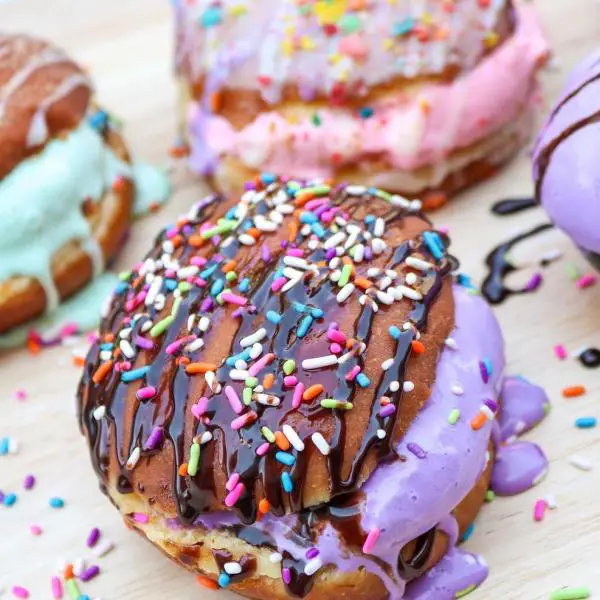 Enjoy a "blizzard" this summer, on national ice cream day (Sunday, July 21st) with the best selection of ice cream from the finest shops all in one place at Grand Bazaar! Stop by for ice cream from Stax Ice Cream, Stuffed Ice Cream, Taiyaki NYC, Bona Bona Ice Cream, Malai Ice Cream, Minus Celcius, Blue Marble, Sam's Fried Ice Cream, Melt Bakery, La Newyorkina, Mud, Dolce Brooklyn, Twister Cake, and more! Columbus Ave betw. 76 - 77 St., grandbazaarnyc.org
Looking for Free Group Planning Services?
Get free advice on planning your group's trip to New York.
RESTAURANTS

Multi-concept restaurant offering modern Japanese cuisine, a...

THEATER

Gaston Leroux's famous period thriller is now one of Broadwa...

SHOPPING

Specializing in the great vineyards of California, France, A...

SIGHTSEEING

Hop aboard these environmentally friendly twin-hulled catama...