New York City's largest outdoor festival,
Harlem Week
, returns with yet another spectacular lineup of exciting concerts, events, and activities in honor of its 33rd anniversary. Themed Discover: "Our Harlem," this year's event is a personal invitation to re-discover the people and places that make up one of the world's most celebrated, historic neighborhoods.
On Saturday, August 18, the
Uptown Saturday Nite Music Festival
commands the spotlight. This day-long extravaganza, "Dancing in the Streets," features a 16-piece orchestra and professional dance instructors. Segments include: a "Swing Jazz" set featuring the music of Count Basie, Duke Ellington, Cab Calloway, and others; a "Latin" set that includes the music of Tito Puente, Eddie Palmieri, Joe Cuba, and others; and an "Electric Slide/Chicago Step" set that includes the music of R. Kelly, a live performance by Mr. C, and more. A live Historical Black Colleges & Universities Step Show follows, as does a "Quiet Storm" segment featuring classic R&B and a special tribute to the legendary Vaughn Harper. After the festive dance segments, Harlem Week, in concert with ImageNation, presents free outdoor vintage dance film screenings showcasing renowned dancers at St. Nicholas Park.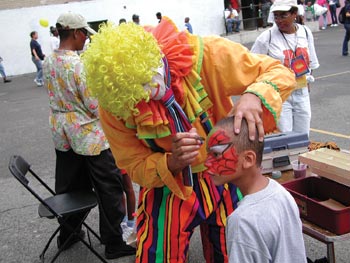 Patrons can partake in arts & crafts, exotic foods, and live entertainment on two different stages along
135th St. btw. Malcolm X Blvd. & St. Nicholas Ave.
The annual
Children's Day Festival
features a petting zoo, storytelling, and interactive arts, all with a strong emphasis on education and achievement; the
New York City Health Fair & Expo
offers free health screenings, information, and referrals; and the
National Historic Black College Fair & Expo
, where students and families can pick up the latest admissions and scholarship information for over 60 colleges and universities, also take place on this day.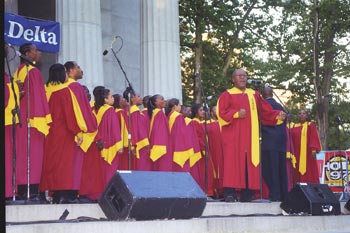 On Sunday, August 19,
Harlem Day
, Harlemites and others travel uptown. The fun-filled day includes live entertainment from three added stages, cultural vending, exotic dishes, demonstrations, and exciting exhibits. Not to be missed is the
18th Annual Upper Manhattan Auto Show
, which includes a variety of vintage cars, trucks, and vehicles, newer SUVs and specialty cars, and antique buses, and the annual
Children's Festival Fashion Show
, featuring the latest back-to-school fashions for children and teens.
At virtually every Harlem Week, Harlem Jazz & Music Festival, and National Black Sports & Entertainment Hall of Fame event, scholarships and grants are awarded. Harlem Week also hosts events focusing on economic development and on the welfare of senior citizens. Perhaps this is why mayors, governors, senators, members of Congress, foreign leaders, and other inspirational figures, travel uptown to address Harlem Week audiences each year.
For more information about the excitement and culture that is HARLEM WEEK, log on to www.HarlemDiscover.com.