It's July and Show Time in Bryant Park
June 25, 2019 - by Regina Molaro
Thanks to Bryant Park Presents—a private, not-for-profit in midtown—there are lots of fun, free, cultural music and theater events to enjoy through October. The lineup includes performances of Shakespeare plays by The Drilling Company; a preview of an opera production and selections from classics as played by the New York City Opera; the Accordions Around the World festival, which spotlights acclaimed local and international musicians; the indie-rock-focused Emerging Music Festival; a participatory Latin Dance Festival featuring salsa, bachata, and merengue bands; and a series with New York's top arts organizations.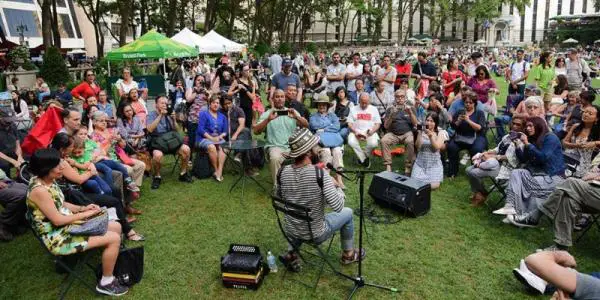 The scenic Midtown Manhattan park, which is visited by more than six million people each year, is located behind the New York Public Library between 40th and 42nd Streets, and Fifth and Sixth Avenues. The sprawling park offers guests movable chairs and tables, cafe umbrellas to shade the sun, and a variety of food kiosks and restaurants, as well as restrooms. All events are free; tickets are not required. Here's the lineup for July.
July 5, 6-8pm, David Dorfman, Francesca Harper, Urban Tribe, and Earl Mosley's Institute of the Arts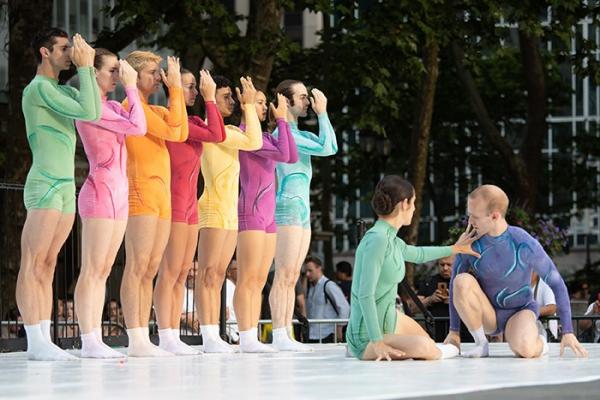 Adam Jason Photography.
This contemporary dance number spotlights a series of innovative artists. It's curated by Tiffany Rea-Fisher.
July 12, 6-7:30pm, Le Vent du Nord
Carnegie Hall Citywide features Le Vent du Nord—an energetic brand of French-Canadian and Celtic dance tunes, traditional songs, and original pieces. Catchy vocals debut in its soulful ballads, mouth music, and French-Canadian form of scat singing. Colorful instrumentals include spirited contributions on fiddle, button accordion, guitar, hurdy-gurdy, and the Quebecois percussion tradition of foot-tapping on a wooden board. It's an Old Québec style house party experience right here in New York City.
July 19, 6-7:30pm, A Day of Inspiration with Ray and Vivian Chew

Carnegie Hall Citywide presents the dynamic musical duo of Ray and Vivian Chew. They have worked with Carnegie Hall for the past five seasons to produce A Night of Inspiration and Sing Along: The Music of Stevie Wonder. They'll lead a host of great musicians for an evening of inspirational music from diverse traditions. Outstanding soloists, a great instrumental ensemble, and some surprises await.
July 26, 6-7:30pm, Cha Wa
Carnegie Hall Citywide presents Cha Wa's high voltage music, which fuses fat funky beats with New Orleans-style brass and Mardi Gras Indian spectacle. Lead singer J'Wan Boudreaux's gritty vocals are steeped in the Crescent City's legendary Mardi Gras tradition where African-American men march in Native American dress and inspire a vibrant street music scene. While Cha Wa honors the tradition with pulse-quickening and foot stomping rhythms, it also adds a socially conscious element with songs that address injustice. It'll offer a vibe similar to a jubilant New Orleans second line parade.
July 31, 5:30pm, Accordions Around the World
This musical journey represents cultures that hail from all over the globe. The four-week series kicks off on July 31 and will run through August 14. It spotlights dozens of accordionists, as well as bandoneón, bayan, concertina, and harmonium players of different musical genres. Audiences can experience the range of this often-overlooked instrument in an intimate performance setting. Wander the park to explore different musical stylings or set up a picnic in one location and experience different artists as they rotate around the park. Accordions Around the World is curated by Ariana Hellerman.
---
For more information, visit bryantpark.org.
Looking for Free Group Planning Services?
Get free advice on planning your group's trip to New York.
RESTAURANTS

Multi-concept restaurant offering modern Japanese cuisine, a...

THEATER

In a heartbeat, 38 planes with 6,579 passengers were strand...

SHOPPING

Specializing in the great vineyards of California, France, A...

SIGHTSEEING

Located in Times Square in the heart of New York City, Riple...