Where to Eat in Tribeca
July 16, 2015 - by City Guide
Tribeca is home to myriad higher-end dining spots as befitting its proximity to the Financial District. Whether you are craving a gourmet French feast, a decadent evening of the freshest sushi or the latest in molecular gastronomy you will find it here. You're also sure to spot some of the neighborhood's resident celebrities (there are several stars that call Tribeca home). However, if you just want some down-home cooking like fried chicken or cherry pie, you can find that too.
Ninja New York
For what is surely one of NYC's most entertaining dining experiences, check out this one-of-a-kind Japanese spot that is a recreation of an 18th-century Japanese ninja village. The only thing more spectacular than the contemporary Japanese cuisine is the fully-costumed ninja waitstaff.
25 Hudson St., 212-274-8500, ninjanewyork.com
Atera
A small, ultra contemporary tasting menu spot that does things like edible rock desserts and scallop mouse over a two-and-a-half-hour seating. They're also hiding an excellent cocktail lounge (with one of the city's best burgers) in the basement.
77 Worth St., 212-226-1444, ateranyc.com
Bouley
The romantic French flagship of renowned chef David Bouley's empire. It's on the pricey side, but you can expect that when you're enjoying Michelin-starred Kobe sirloin and six-course tasting menus.
163 Duane St., 212-964-2525, davidbouley.com
Brushstroke
David Bouley's second restaurant in the neighborhood is an elegant, classicly Japanese-looking spot (large slabs of blonde wood, an inviting sushi bar, etc.) for excellent Kaiseke dinners, sushi and sake.
30 Hudson St., 212-791-3771, davidbouley.com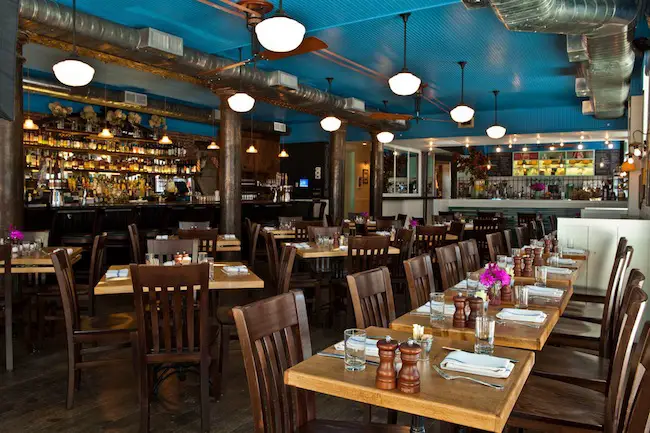 Bubby's
There's nothing quite like the smell of bacon in the air, and you can smell some of the best from about 20 feet outside of this huge pie and comfort food favorite. Come for an early brunch with friends and family.
120 Hudson St., 212-219-0666, bubbys.com
Distilled
A massive corner spot that's packed late into the night with young finance crowds experimenting with upscale whiskeys and fussed-over fried chicken plates.
211 W. Broadway, 212-601-9514, distilledny.com
Ear Inn
Dive bar perfection in a house that, when it opened in 1817 was right on the Hudson. It smells funny, it's dirty and you need to go there, if only for the no-cell-phone policy they've installed.
326 Spring St., 212-226-9060, earinn.com
Khe-Yo
A low-key but ultra hip home for modern Laotian (needless to say, a rarity even in Manhattan). Get experimental here with duck salads, ginseng-infused cocktails.
157 Duane St., 212-587-1089, kheyo.com
Kori
An unassuming but attractive, orchid-filled spot for excellent contemporary takes Korean food. Think caramelized rib eye and short rib stew with a solid, small bar scene as well.
253 Church St., 212-334-0908, korinyc.com
Lazy Point
A fun, beachy spot for cocktails and better-than-they-need-to-be dishes like oyster pot pie and bloody Mary oysters. It's a one-of-a-kind place in this neighborhood.
310 Spring St., No number, lazypointnyc.com
Little Park
A hotspot for delicate seasonal dishes and post-work cocktails at the Smyth Hotel. It's also hiding a speakeasy behind the lobby, with its own cocktail menu and a mean duck rillettes plate.
85 W. Broadway, 212-220-4110, littlepark.com
Locanda Verde
Andrew Carmellini's (and Robert De Niro's) immensely popular modern seasonal Italian spot. Bring a date for sheep's milk ricotta crostini and lamb misti.
377 Greenwich St., 212-925-3797, locandaverdenyc.com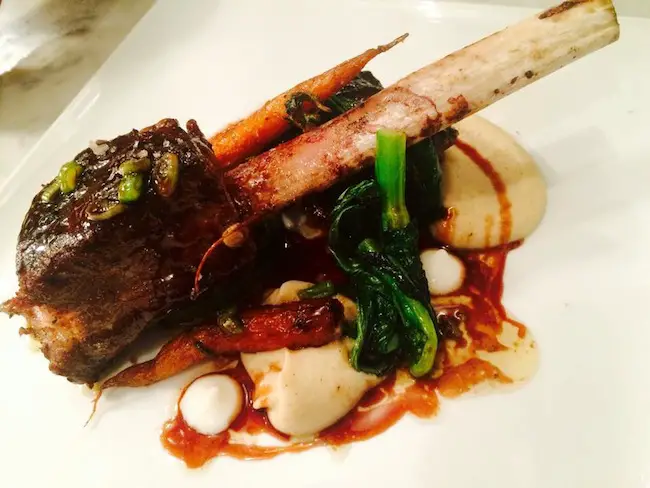 Marc Forgione
A hip, rustic wooded spot for dates or communal dinners of New American takes on kampachi tartare and chili lobster on Texas toast.
134 Reade St., 212-941-9401, marcforgione.com
Maxwell's Bar & Restaurant
A rare Irish pub holdover from the days before multi-million dollar lofts dominated the neighborhood. Grab a Guinness and a bowl of chili and take a long lunch.
59 Reade St., 917-261-6917, maxwellsnyc.com
Palm
The Tribeca version of the Midtown steakhouse legend has a bit more of a modern feel, but still supplies prime-aged steaks and lobsters to its finance crowd regulars.
206 West St., 646-395-6393, thepalm.com
Pepolino
A bright, beautiful Italian farmhouse-style spot that opens its French doors on warm nights and serves up veal-ragu-topped pastas and stuffed rabbit to flirting couples.
281 W. Broadway, 212-966-9983, pepolino.com
Racines
A spacious, airy wine bar and restaurant by way of France. Have some mangalitsa pork from a Michelin-starred chef while you choose between the 9000 bottles in their cellar.
94 Chambers St., 212-227-3400, racinesny.com
Sarabeth's Tribeca
The neat, chic downtown outpost of the breakfast-lunch-and-dinner spot. The expanse of windows that stretch across the space makes it great for morning pumpkin waffles and pork and apricot sausages.
339 Greenwich St., 212-966-0421, sarabethrestaurants.com
Sazon
A lively Puerto Rican spot with tufted leather walls and potted palms. You'll come here for neuvo takes on Puerto Rican sushi rolls and lobster mofongo.
105 Reade St., 212-406-1900, sazonnyc.com
Square Diner
The quintessential train car diner. Passing by, it's hard to believe it's survived so long in this upscale part of the city, but it's still chugging along with a loyal base of black coffee consumers and newspaper readers. As you might have guess, it's cash-only.
33 Leonard St., 212-925-7188, No website
Sushi of Gari
In a small, bright two-floor space on West Broadway, the downtown location of Sushi of Gari serves up perfect pieces of uni and shimaaji. Great for intimate first dates.
130 W. Broadway, 212-285-0130, sushiofgari.com
Takahachi Tribeca
With an easy, modern vibe, this is one of the more casual sushi spots in the neighborhood. The appeal here is with its specialty rolls— try the Bee Movie, which includes pumpkin tempura and eel.
145 Duane St., 212-571-1830, takahachi.net
Tamarind
The massive, minimalist Tamarind does excellent, artfully plated versions of Indian favorites like chili crab and lamb pasanda. It's Indian for the financial sector, which is not a bad thing.
99 Hudson St., 212-775-9000, tamarindrestaurantsnyc.com
Terroir Tribeca
A simple but sophisticated spot for oenophiles coming up from the Financial District for top-notch, post-work vino, cheese plates and the occasional duck frisée salad.
24 Harrison St., 212-625-9463, wineisterroir.com
Thalassa
A bi-level cocktail spot and restaurant with upscale Greek options like seafood saganaki and royal dorado. Head upstairs for dates and keep down at the bar for everything else.
179 Franklin St., 212-941-7661, thalassanyc.com
The Odeon
One of the essential dining scenes of the '80s, Odeon was on the cover illustration of Jay McInerney's Bright Lights, Big City, and is still going strong with late-night martinis and bivalves.
145 W. Broadway, 212-233-0507, theodeonrestaurant.com
Tiny's
A dark, comfortable 200-year-old townhouse that's now the all-day home of New American favorites like marinated shrimp with cavatelli and salmon and beet salads.
135 W. Broadway, 212-374-1135, tinysnyc.com
Tribeca Grill
A massive wine list, celebrity sightings and American Nouveau versions of duck breast and baby beet salad are what you'll find at this forever buzzy spot— the first in the neighborhood opened by Robert De Niro.
375 Greenwich St., 212-941-3900, myriadrestaurantgroup.com
Walker's
A laid-back corner tavern serving up unpretentious, well-loved fare like burgers and French Dips. Stop in, grab a seat at the bar and have a beer or three.
16 N. Moore St., 212-941-0142, walkerstribeca.com
Wolfgang's Steakhouse Tribeca
A classic Midtown steakhouse joyously trapped in a huge, arched-ceilinged Tribeca space. It's all about FiDi expense accounts here, with multi-person cuts of steak and a lobster that weighs in at 3 ½ pounds.
409 Greenwich St., 212-925-0350, wolfgangssteakhouse.net
Looking for Free Group Planning Services?
Get free advice on planning your group's trip to New York.
RESTAURANTS

Multi-concept restaurant offering modern Japanese cuisine, a...

THEATER

Gaston Leroux's famous period thriller is now one of Broadwa...

SHOPPING

The sweetest experience in Times Square!...

SIGHTSEEING

The 9/11 Memorial honors the nearly 3,000 people killed in t...