5 Cucumber Cocktails to Try Right Now in NYC
May 22, 2019 - by Regina Molaro
When the sun's rays start to shine a bit brighter, many of us will be yearning to get outside, and the perfect pairing is one of New York's new wave of cucumber cocktails. For the best of NYC mixology, check out our lineup of innovative drinks all made with this refreshing garden veggie. These cocktail creations hail from some of New York's most acclaimed bartenders and are affiliated with some topnotch drinking spots that won't disappoint.
Arlo Collins at Arlo Hotel
When Hendricks Gin mingles with a splash of lime, refreshing cucumber juice, some club soda, and thyme syrup, the result is the Arlo Collins, which also features a few daring dashes of a black pepper tincture. The cocktail, available at Soho's snappy Arlo Lobby Bar, is garnished with a sprig of thyme and a fun cucumber wheel. 231 Hudson St., 646-518-8882, arlohotels.com/arlo-soho
Sirocco Cocktail at Dante
This charming establishment, which traces its history back to 1915, was named one of the world's leading nightspots by "The World's 50 Best Bars" (FYI, the esteemed list provides an annual ranking of bars, which all received votes and accolades by more than 500 drink experts across the globe). While taking in all Dante has to offer, sip on a Sirocco cocktail, which was created by beverage talent Naren Young. It boasts Fonseca white port, a few dashes of cucumber bitters, and some Fever Tree Elderflower Tonic, along with a cucumber ribbon—a thinly sliced piece of cucumber used as garnish. 79-81 MacDougal St., 212-982-5275, dante-nyc.com
Maid to Order at The Happiest Hour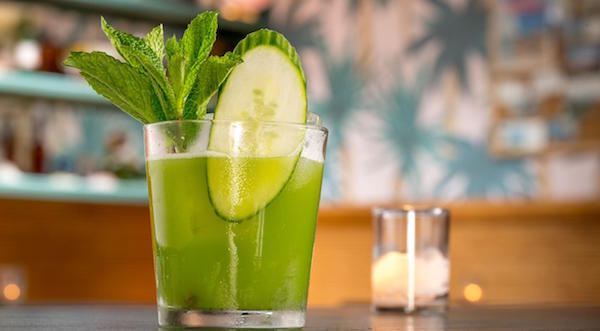 Whimsical cocktail bar The Happiest Hour is a top destination for a retro-inspired spring fling. Its interior is adorned with cartoon palm trees, which evoke the vibe of the Californian and Floridian resorts of yesteryear. Its cocktail philosophy, "You pick 'em, we pour 'em" inspires a wild lineup of drinks. Master mixologist Jim Kearns is the visionary behind the Maid To Order, which boasts the guest's choice of gin, rum, or tequila along with splashes of cucumber juice, lime juice, and more. This refreshing elixir is shaken, served over ice, and garnished with a slice of cucumber and some mint. 121 W. 10thSt., 212-243-2827, happiesthournyc.com
No Big Whoop at the Hunky Dory
Brooklyn's Hunky Dory celebrates food, friends, and cocktails. Mixologist Claire Sprouse is serving up the No Big Whoop, which marries Laird's apple brandy with citrusy lemon juice, cucumber seed puree, and some amontillado sherry. The interesting concoction is topped off with a splash of red wine. This springtime cocktail is served in a Hurricane glass and garnished with festive lemon curls. 747 Franklin Ave., Brooklyn, 516-418-2063, hunkydorybk.com
Smokin' Maid at Tijuana Picnic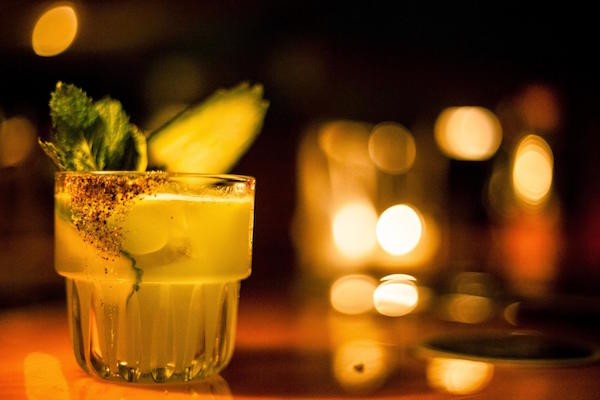 Cocktail innovator Jim Kearns is also the power behind Tijuana Picnic's Smokin' Maid—a fusion of mezcal, jalapeño tequila, cucumber juice, and agave syrup. Lime and mint polish off the Maid's ingredient list. After being shaken and stirred, this springtime refresher is served in a swanky highball glass and further garnished with mint spring and a cucumber slice. For extra appeal and a festive touch, a bit of salt and a dash of pepper line half of the rim. 151 Essex St., 212-219-2000, tijuana-picnic.com
Looking for Free Group Planning Services?
Get free advice on planning your group's trip to New York.
RESTAURANTS

Multi-concept restaurant offering modern Japanese cuisine, a...

THEATER

Gaston Leroux's famous period thriller is now one of Broadwa...

SHOPPING

Specializing in the great vineyards of California, France, A...

SIGHTSEEING

Hop aboard these environmentally friendly twin-hulled catama...