Do It for the Gram: 16 Instagrammable Exhibits in NYC
April 23, 2019 - by Merrill Lee Girardeau
Instagrammable moments, or should we say "immersive experiences," are taking over New York. They're not quite art exhibits and not quite museums, but these photo ops are awfully pretty and fabulous fun to visit. These walk-through installations are based on themes as diverse as life-size dollhouses, the art of M.C. Escher, and Soviet spies. There's the selfie-friendly Color Factory, pop-up installations inside major retail stores, and offbeat picks like the red "dazzle ship" floating in the Hudson River. Each of these 16 experiences will make great fodder for your Insta feed, only in the endlessly photographable New York City.
Instagrammable Experiences in NYC: Color Factory
Color Factory, a massive interactive art space, began in August 2017 in San Francisco. Wildly popular, the project has set up shop in Soho and is sure to inspire lines as long as the cronut did at nearby Dominique Ansel Bakery. Designed by a wide spectrum of artists, Color Factory walks visitors through 16 rooms devoted to the wonder of color. You're invited to compliment someone using color words, discover your signature color, and read wishes for the world written by NYC school children on varicolored balloons. Each room is equipped with a camera that can take a picture of you and send it to your phone: the better to post with! On view now. 251 Spring St., [email protected], colorfactory.co, @colorfactoryco
Instagrammable Experiences in NYC: The Forgotten East
Inspired by the Silk Road of centuries past, The Forgotten East will usher visitors into a world that's part history, part mystery, all magic. Opening May 4, this new Chinatown experience promises an exciting journey through caves, desert, a silk market, and even a hidden treasure at the end. The experience will not only get you some awesome pics, but will also educate you about lesser-known Asian history. Tickets available now on Eventbrite. May 4 through July 28. 310 Canal St., eventbrite.com, @forgotteneast
Instagrammable Experiences in NYC: STORY at Macy's Herald Square
STORY at Macy's combines a pop-up installation with an engaging shopping experience. This new store inside the flagship Macy's on 34th Street tells a new retail story every 6-8 weeks with a themed suite of small-business products for sale. Right now, it's all about color at STORY, with a lit rainbow tunnel leading you into the large pop-up space. Products are arranged on the shelves by color, and there's a huge Lite-Brite wall and a ping pong table just for fun. Also fun is the M.A.C. station inside, where you can customize a palette of eyeshadow. Open now. 151 W. 34th St., 212-695-4400, macys.com, #storyatmacys
Instagrammable Experiences in NYC: Rosé Mansion
That's right, it's rosé all day once again. Rosé Mansion is back for another summer residency in NYC after a successful run last year. The designs in all 14 rooms will be brand-new, and the mansion will be twice the size of last year's iteration. You'll get tastings of 8 different pink wines as you travel through a champagne ball pit, a mini-theme park called Roséland, and a tree house! There will also be two different rosé wine bars where you can hang out, plus grub from Taco Dumbo on hand. Tickets on sale now. 111 W. 32nd St., rosewinemansion.com, @rosewinemansion
Instagrammable Experiences in NYC: Lost and Found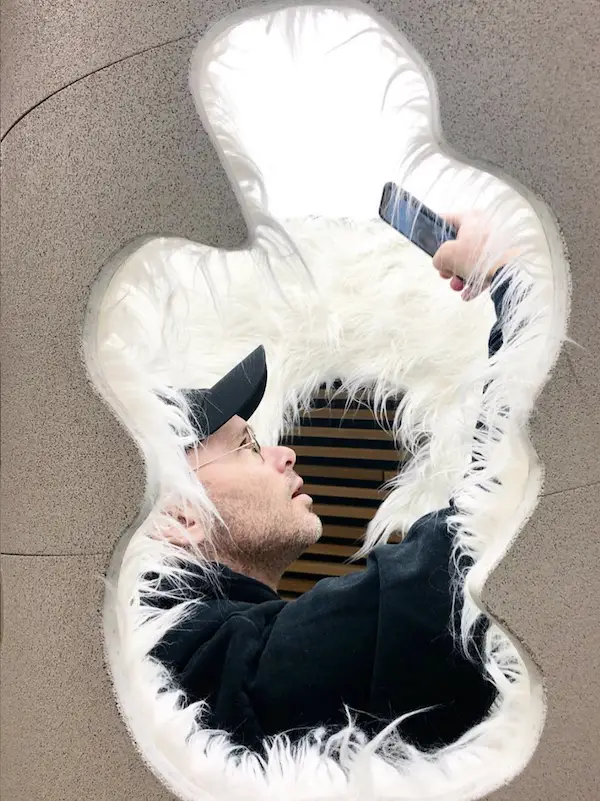 Now open at Hudson Yards, Snarkitecture's Lost and Found is an enchanted labyrinth you'll never want to escape. Secrets abound in this large, involved installation, where you'll find a mirrored room and other magical twists and turns. There are also Kith Treats on site for desserts full of your favorite cereals. Lost and Found is the first exhibition at the brand-new Snark Park, which will host many other immersive, IG-friendly installations in the future. Their motto? "Please do touch the art." On view now through August 2019. 20 Hudson Yards, snarkpark.com, @snarkpark
Instagrammable Experiences in NYC: Too Fast to Live, Too Young to Die at MAD
Get graphic at Too Fast to Live, Too Young to Die: Punk Rock Graphics, an ode to graphic design in the punk era at the Museum of Arts and Design. Take pictures in front of a large wall of posters from Blondie, the Sex Pistols, The Ramones, The Stooges, and many, many more. The exhibition takes a look at design trends used to represent the punk spirit, like expropriated, pastiche, and comic-book imagery. On view April 9 to August 18. 2 Columbus Cir., 212-299-7777, madmuseum.org, #punkgraphics
Instagrammable Experiences in NYC: 007 x SPYSCAPE
Midtown's spy museum takes a new look at the world's most famous secret agent: James Bond. Visit SPYSCAPE to snag a pic with Bond's Aston Martin DB5 in this thrilling exhibition about the world of 007 himself. Visit Q's lab to see gadgets used throughout the Bond film franchise, and get a look behind the scenes of the finale in Skyfall. You'll even see concept art from Sir Ken Adams, the Oscar-winning production designer who worked on seven Bond films. Open now. 928 Eighth Ave., 212-549-1941, spyscape.com/events/007, #007xspyscape
Instagrammable Experiences in NYC | Jump for Joy: Bouncy Castle of Breasts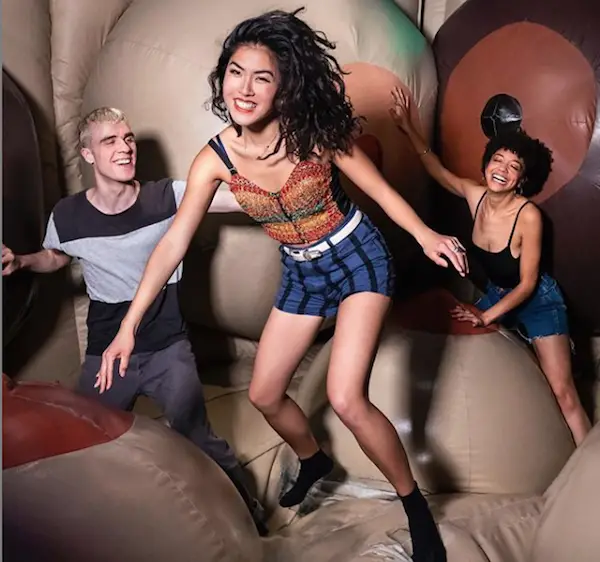 Museum of Sex Instagram
Playful and kinky, the Bouncy House of Breasts will make a perfect Instagram story or video. Inside this unique art installation, you can jump around like a child in a bouncy castle—except the inflatable forms are all breast-shaped (and it's for adults only). This ongoing installation at Flatiron's Museum of Sex was designed by Bompas & Parr, who drew on the hidden eroticism of historic traveling fairs. The designers also encourage body awareness among visitors in the midst of this exuberant anatomical environment. Tickets to the bouncy house are $3.50 in addition to regular museum admission. On view now. 233 Fifth Ave., 212-689-6337, museumofsex.com
Instagrammable Experiences in NYC: Museum of Illusions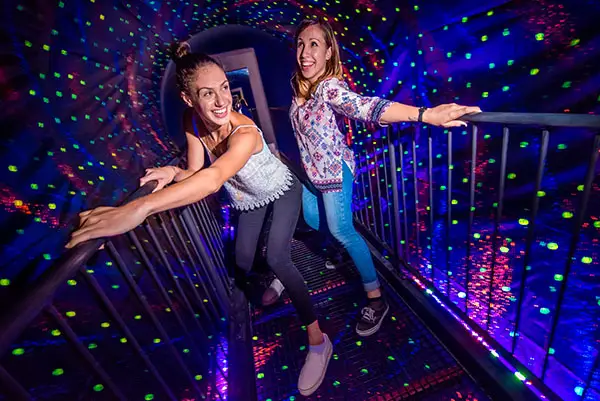 The Museum of Illusions has opened in seven countries around the world with more on the way! The Museum of Illusions NYC will prove to be great photographic fun, as you'll be able to laugh, scream, run, take selfies, and generally do the kinds of things they don't allow in other museums. You (or your prankster friend) can even become a head on a platter. There's also an Anti-Gravity Room, an Infinity Room (a hall of mirrors for the 21st century), and a room where you'll walk on walls. Nothing is as it seems; it's all illusion, and all incredible! The Museum of Illusions opened September 20 on the border of Chelsea and the Meatpacking District. On view now. 77 Eighth Ave., 212-645-3230, newyork.museumofillusions.us, @moi_newyork
Instagrammable Experiences in NYC: The Winky Lux Experience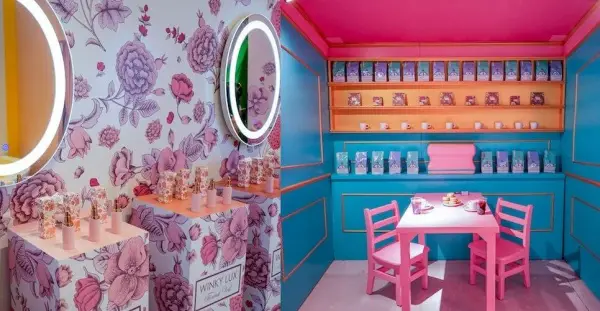 Winky Lux, the smash-hit beauty brand, has opened a pop-up experience in tandem with their Soho retail store. The Winky Lux Experience leads you through seven brightly colored rooms full of fur pillows, splashy rose wallpaper, large flowers, and makeup, of course. Their cheeky philosophy, according to the Winky Lux site: If it didn't happen on Instagram, it didn't happen. Your $10 ticket goes toward the purchase of a beauty product at the end of your journey. The success of this popup has led to additional Experience Stores in Chicago, Tysons Corner, Virginia, and another coming up in Nashville. NYC Experience Store on view now. 430 W Broadway, 646-952-0380, winkylux.com, #winkyluxnyc
Instagrammable Experiences in NYC | National Geographic Encounter: Ocean Odyssey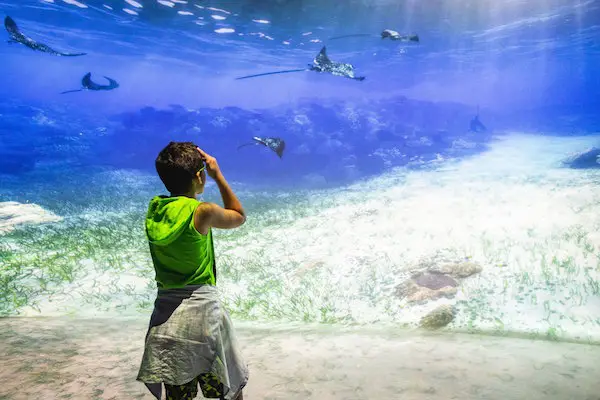 Take a portal from the heart of Times Square into the depths of the sea at National Geographic Encounter: Ocean Odyssey. This immersive experience explores ocean life using state-of-the-art projections in walk-through screening rooms that surround you and your family with the deep blue sea. You'll get panoramic views of a blue whale, sharks, schools of fish, and coral reef. The experience also challenges visitors to rethink ocean conservation and reduce plastic use. 226 W. 44th St., natgeoencounter.com
Instagrammable Experiences in NYC: Sony Square
Sony Square in the Flatiron offers a rotating set of interactive installations, plus product launches, performances, and other exciting events. Right now, become your favorite musician by recreating a few album covers at the Sony Square store. Sony 360 features installations inspired by the album cover of Future's new album WIZRD and the music of Sony artist H.E.R. 25 Madison Ave., 212-833-8800, sony.com, @sonysquarenyc
Instagrammable Experiences in NYC: Dolce & Gabbana Clubhouse for Millennials
The dressing room at a retail store is decent Instagram fodder if you have the right outfit, but you're usually working with poor lighting and boring backgrounds. Take your personal fashion show to the stratosphere at Dolce & Gabbana's Soho store, a.k.a. the Clubhouse for Millennials. Floor to ceiling, this store is wild and colorful, full of textures and patterns only the dynamic duo of Domenico Dolce and Stefano Gabbana could dream up. There are iridescent brick walls, a hand-painted sofa, and a second floor covered in leopard print from the rug to the wallpaper. On view now. 155 Mercer St., 212-716-1247, dolcegabbana.com
Instagrammable Experiences in NYC: Find Your Match
Remember that time last year when everyone posted their fine-art doppelgänger? The Museum of the Dog gets cuddlier with its face-matching installation, Find Your Match. At this new museum in midtown, you can find out whether you look more like a cocker spaniel or a Siberian husky after the digital installation analyzes your face. While you're around, you can also pet a virtual lab puppy and see canine-related artwork throughout history. On view now. 101 Park Ave., 212-696-8360, museumofthedog.org, @museumofthedog
Instagrammable Experiences in NYC: KGB Spy Museum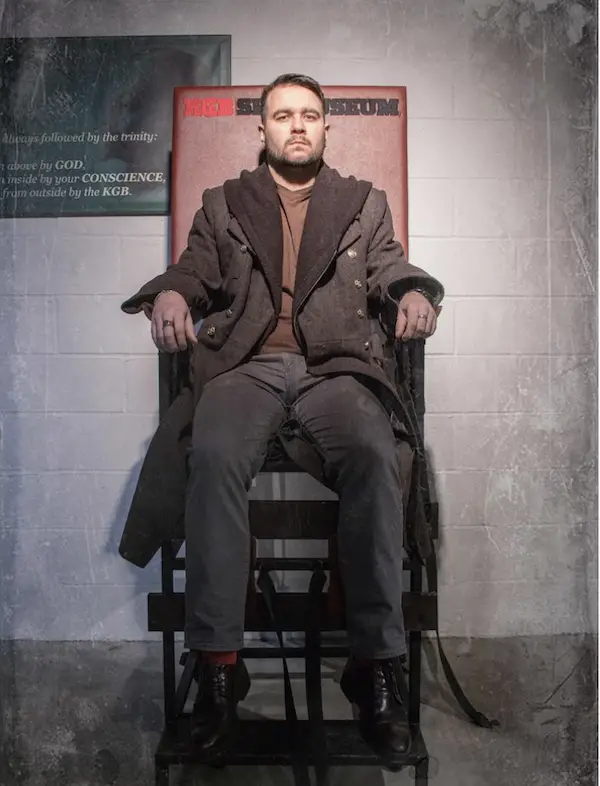 New to Chelsea, the KGB Spy Museum explores the secret world of Soviet intelligence. Not only are there listening devices and lipstick pistols on view, but immersive rooms where you can be a spy, a KGB boss, or the unlucky object of Soviet suspicion. There's a Soviet official's office where you can pretend to answer the secure rotary phone, as well as an interrogation chair and a KGB prison cell where you can sit on the bed. The eeriest space might be the KGB dentist's office, complete with dental chair and instruments. On view now. 245 W. 14th St., 917-388-2332, kgbspymuseum.org, @kgbspymuseum
Instagrammable Experiences in NYC: Everybody Knows Bob
Come experience pop art in a new, exciting way with interactive details! Everybody Knows Bob is a pop up experience you don't want to miss! Visit for the opportunity to take Insta worthy pictures with a giant pink throne— the millennial version of the Iron Throne from Game of thrones— a vault with filled with cash, and much more! On view now until August 8th. 78 Grand St., everybodyknowsbob.com, @everybody_knows_bob
---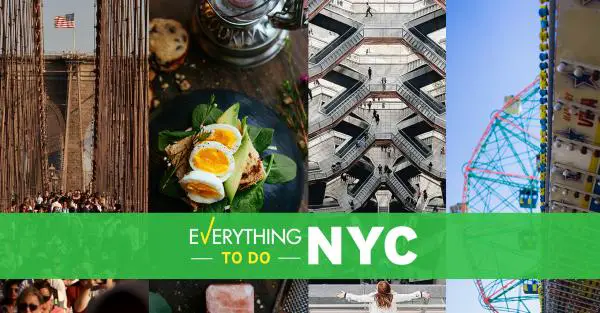 Want free advice on what to do and see in New York? Join our Facebook group Everything to Do NYC, a place for people to ask questions and get tips on how to make the most of the city.
Looking for Free Group Planning Services?
Get free advice on planning your group's trip to New York.
RESTAURANTS

Multi-concept restaurant offering modern Japanese cuisine, a...

THEATER

Gaston Leroux's famous period thriller is now one of Broadwa...

SHOPPING

The sweetest experience in Times Square!...

SIGHTSEEING

Rosé Mansion is back for another summer residency in NYC aft...