Turistas do Brasil Ganham o City Guide 2016-2017 em Português
April 27, 2016 - by City Guide News Desk
Cerca de um milhão de turistas brasileiros visitam a cidade de Nova York todos os anos. Agora eles contam com ajuda em português dos melhores experts de Nova York em como explorar a cidade. Davler Media Group, que publica o City Guide, acaba de lançar a segunda versão annual de City Guide em português, um guia 2016-2017 completo das atrações, teatro, cultura, compras e restaurantes. O guia gratis de 80 páginas traz descrições das 15 regiões mais importantes de Manhattan, além de mapas com atrações, teatros e trânsito. Uma seção de roteiro no final reúne telefones, endereços, e sites de centenas de destinos essenciais de Nova York.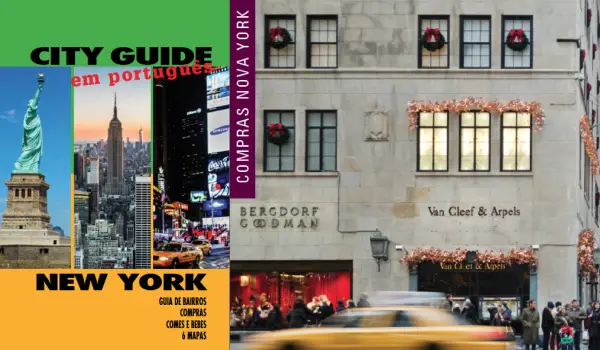 City Guide é uma empresa de marketing de turismo de Nova York, ajudando visitantes a tomarem decisões bem informadas através de uma edição quinzenal e de um site completo. Mais de 10.000 cópias de City Guide em português foram impressas e distribuídas para operadoras de turismo brasileiras que trabalham tanto em NYC quanto no Brasil, além de centros de visitantes, hotéis, restaurantes brasileiros e outros pontos de turismo. A revista é rápida de ser lida e pode ser carregada no bolso do visitante durante toda a viagem. Ela vem cheia de dicas essenciais e ideias para diversas atividades.
O presidente do Davler Media Group, David Miller, diz: "Nós continuamos a reconhecer e servir todos os visitantes de NYC através da mídia impressa e digital. City Guide em português demonstra nosso compromisso com o crescente público brasileiro, o grupo que nossos anunciantes querem tanto atrair."
Looking for Free Group Planning Services?
Get free advice on planning your group's trip to New York.
RESTAURANTS

Multi-concept restaurant offering modern Japanese cuisine, a...

THEATER

In a heartbeat, 38 planes with 6,579 passengers were strand...

SHOPPING

An array of quality branded merchandise showcasing HBO's® aw...

SIGHTSEEING

The only provider of ferry transportation to the Statue of L...