Where to Shop, Eat, and Play for Homesick Visitors From Japan
January 31, 2017 - by Chelsey Grasso
New York City has it all, including a huge range of Japanese-inspired restaurants, shopping centers, and community centers. If you're visiting from Japan and have a hankering for a taste of home, then you're going to want to be sure to check out these five hot spots rounded up below. Take a scroll and learn where to dine on the city's best ramen, learn about American and Japanese cultural relations, and indulge in some sweet Japanese desserts while you're staying in Manhattan.
NYC for Visitors from Japan: Ippudo NY (East Village)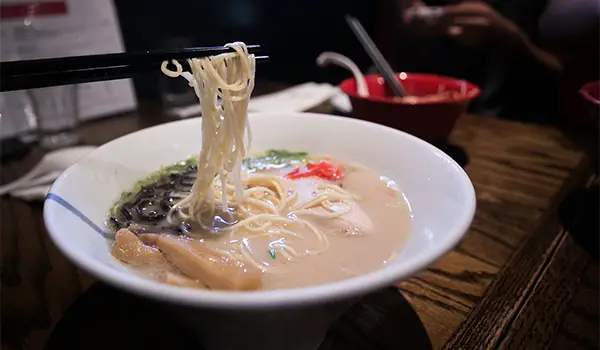 Ippudo NY has earned a top-notch reputation in New York City, quickly becoming one of Manhattan's most popular spots to score a bowl of ramen. The selection of soup bowls is quite diverse here, with everything from Wasabi Shoyu Ramen and Miso Ramen to BBQ Tonkotsu Ramen and Shiromaru Hakata Classic Ramen on the menu. Make sure you arrive early, because it's not uncommon for wait times to go over two hours. Additional location in Midtown West. 65 Fourth Ave., 212-388-0088, ippudony.com
NYC for Visitors from Japan: Kinokuniya (Midtown West)

This triple-story Japanese bookstore is the type of place you can easily spend hours exploring. Filled with both English and Japanese books, an extensive magazine collection, Japanese stationary, and office supplies galore, Kinokuniya is great for picking out gifts and souvenir shopping. You'll even find a wide array of New York City specialty items that range from pizza maps to Manhattan inspired journals and keychains. If you need a snack, head to the top level to enjoy some traditional Japanese cuisine. 1073 Ave. of the Americas, 212-869-1700, kinokuniya.com
NYC for Visitors from Japan: Japan Society (Midtown East)

Japan Society is a Japanese cultural center whose mission it is to "deepen the mutual understanding between the United States and Japan in a global context." This nonprofit organization works to bring the community together though artist exhibitions, dance performances, film screenings, book clubs, educational lectures, and even Japanese language lessons. Begun in the early 20th century, Japan Society was a pioneer in the world of cultural exchange, and it continues to inspire and educate visitors today. 333 E. 47th St., 212-832-1155, japansociety.org
NYC for Visitors from Japan: Morimoto (Chelsea)

Bring on the sashimi at Morimoto! Home to New York City's most famed and most delicious sushi, this restaurant is filled with timeless, beautiful décor and a menu that is any fish-lover's ultimate dream come true. You'll find an extensive sashimi, maki, and sushi menu at Morimoto, along with main courses that include Slow Cooked King Salmon, Sea Bass, Beef Sukiyaki, and Seafood Toban Yaki. Yes, it is all as delicious as it sounds. 88 Tenth Ave., 212-989-8883, morimotonyc.com
NYC for Visitors from Japan: Cha-An (East Village)

While you can enjoy a full meal at Cha-An, it's the desserts that leave customers coming back time and time again. Homemade mochi is served here, along with Hojicha Anmitsu (green tea jelly with sweet black syrup), Yukimi Zenzai (shiratama mocha with sweet, red bean porridge), and Black Sesame Crème Brulée. If you want to try everything, order the Chef's Selection Dessert Sampler to appease your curious appetite. 230 E. 9th St., 212-228-8030, chaanteahouse.com
Looking for Free Group Planning Services?
Get free advice on planning your group's trip to New York.
RESTAURANTS

Multi-concept restaurant offering modern Japanese cuisine, a...

THEATER

In a heartbeat, 38 planes with 6,579 passengers were strand...

SHOPPING

The sweetest experience in Times Square!...

SIGHTSEEING

The only provider of ferry transportation to the Statue of L...