The emergence and flowering of psychedelic art coincided with one of the most revolutionary and tumultuous periods of the 20th century. Forty years after the legendary summer of 1967, the
Whitney Museum of American Art
revisits the period with
Summer of Love: Art of the Psychedelic Era
, an exhibition tracing the explosion of contemporary art and popular culture brought about by the civil unrest and pervasive social change of the 1960s and early '70s. On view through Sept. 16, it celebrates a psychedelic aesthetic that emerged in art, music, film, architecture, graphic design, and fashion. This is the only U.S. showing of the exhibition.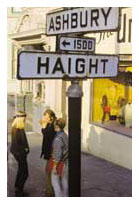 Psychedelic art, distinguished by its use of exuberant color, ornamental forms, and formally complex, obsessively detailed compositions, represented expanded or altered states of consciousness induced by music, light, meditation, and hallucinogenic drugs. In recent years, psychedelic art has experienced a revival and re-captured the imaginations of artists, designers, and filmmakers. Summer of Love reconstructs the original creative impulse and utopian ambitions of psychedelia and locates it within the wider cultural and political context of counterculture and the civil rights movement, the Cold War, and the Vietnam War. The show demonstrates how the psychedelic aesthetic permeated many aspects of popular culture and how artists, immersed in countercultural activity, fluidly crossed the boundaries between disciplines, genres, and media.

Summer of Love
features paintings, photographs and sculptures by Isaac Abrams, Richard Avedon, Lynda Benglis, Richard Hamilton, Jimi Hendrix, Robert Indiana, Yayoi Kusama, Elliott Landy, Richard Lindner, John McCracken, and Andy Warhol, among others, as well as a rich selection of important posters, album covers, and underground magazines. Special emphasis is placed on film, video, and multimedia environments, replicating the immersive experience of psychedelic light shows and performances, and including works by Jordan Belson, Stan VanDerBeek, James Whitney, and Lamonte Young and Marian Zazeela. Also shown are a multiple projection installation of the Boyle Family's films, first used in light shows for the psychedelic band The Soft Machine, and a liquid crystal projection by Gustav Metzger. Major environments include Mati Klarwein's New Aleph Sanctuary 1963-71, which brings together many of his motifs (which he also used in his designs for Santana album covers) in a spectacular installation, and Vernon Panton's brightly colored crawl-in furniture landscape.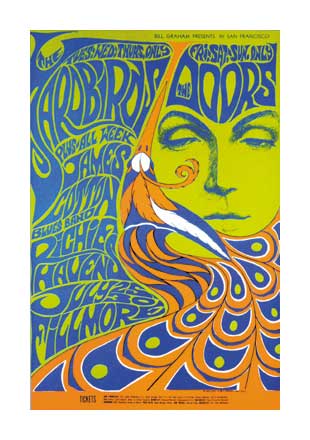 The art is contextualized through a wealth of documentary material, highlighting events, people and places in San Francisco, New York, and London. The sections include photographs, protest and concert films, light shows, as well as events at places such as the UFO nightclub in London, the Fillmore Auditorium in San Francisco, and the Human Be-In in that city's Golden Gate Park, featuring Allen Ginsberg and Timothy Leary. The underground press, emerging during the 1960s as an instrument of alternative communication and democratization, is represented through
Oz
magazine,
International Times
,
East Village Other
, and
The San Francisco Oracle
, along with many other publications and documents.
About the Whitney
The Whitney Museum of American Art is the leading advocate of 20th- and 21st-century American art. Founded in 1930, the museum is regarded as the preeminent collection of American art and includes major works and materials from the estate of Edward Hopper, the largest public collection of works by Alexander Calder, Louise Nevelson, and Lucas Samaras, as well as significant works by Jasper Johns, Donald Judd, Agnes Martin, Bruce Nauman, Georgia O'Keeffe, Claes Oldenburg, Kiki Smith, and Andy Warhol, among other artists. With its history of exhibiting the most promising and influential American artists and provoking intense debate, the Whitney's signature show, the Biennial, has become the most important survey of the state of contemporary art in America today. The Whitney is located at
945 Madison Ave. at 75th St., 1-800-WHITNEY
. The museum is open Wed.-Thurs. & Sat.-Sun., 11am-6pm and Fri., 1-9pm. For more information, visit
www.whitney.org
.