(1/21-1/27) Looking for what to do in New York? We've got the latest on all the goings-on in NYC, from concerts to museum exhibitions to comedy to the best in city sightseeing. Read on for our picks for the best of this week in New York City.
THE BIG EVENT
Credit: © 2019 Joan Marcus.
(1/21-2/9) NYC 2-for-1 Broadway Week returns. Grab a friend and save on shows including Mean Girls, Come From Away, Laura Linney in the new My Name Is Lucy Barton, and Book of Mormon!
PLUS
(1/24) Lunar New Year Celebration at Staten Island's Snug Harbor Cultural Center & Botanical Garden. Storytelling, crafts, a parade, food, and more.
(1/24-1/26) Chinese New Year NYC: Dinner Specials to Celebrate Year of the Rat.
(1/21-2/9) NYC Restaurant Week. Two course lunch $26, three course dinner $42 at hundreds of participating restaurants.
(1/24-1/26) BroadwayCon 2020 at the New York Hilton Midtown. It's a three-day meet & greet fest with your favorite Broadway stars!
(1/24-2/2) The Winter Antiques Show at the Park Avenue Armory is the leading art, antiques, and design fair in America, featuring 72 of the world's top experts in the fine and decorative arts.
(1/24-1/26) NY Times Travel Show at Jacob Javits Center.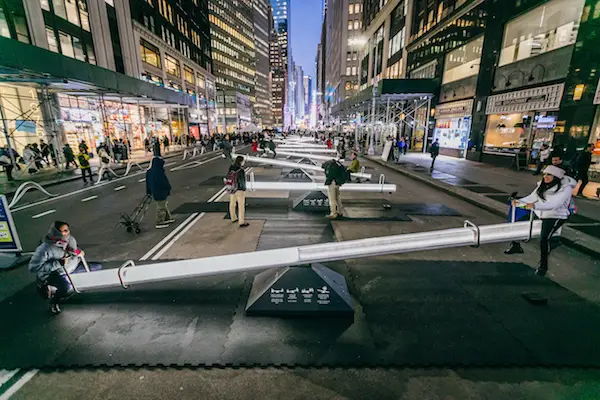 Photo: Alexandre Ayer.
(Now-1/31) Stop by the Garment District between 37th and 38th Streets and indulge your inner child on Impulse, an interactive musical art installation comprised of 12 illuminated seesaws. FREE! (A similar second set of seesaws can be found in the Seaport District.)
(1/26) Every Sunday on the Upper West Side you can check out Grand Bazaar NYC, the city's largest curated market—and most distinctive! Browse 100+ vendors both inside and out as they show off one-of-a-kind art, fashion, vintage, collectibles, jewelry, antiques, global treasures, and furniture you can't find anywhere else. This Sunday you'll also find The Jewelry Box Pop-Up with local, global, and vintage statement pieces. Offerings range from one-of-a-kind hand-crafted paper resin necklaces, custom gold and silver rings with precious stones, delicate macramé bracelets, and upcycled earrings made from recycled watches to rare 40's-80's vintage clip-on earrings. Come hungry: artisanal food entrepreneurs are here as well. 10am-5:30pm.
EXHIBITS

JR (French, born 1983). The Chronicles of New York City, 2018–19 (detail). © JR-ART.NET.
(Through 5/3/2020) JR is a consummate 21st-century artist. As a young man, he began taking pictures of his fellow street-artist friends and posting them around his native France. Later, his photography projects expanded in scope and deepened in tone without losing their populist flair. Now, this celebrated artist has received the first major North American retrospective with JR: Chronicles at the Brooklyn Museum. What makes JR such a distinct voice is the way he displays his photographs, often wheat-pasting large-scale versions of his portraits, in public spaces as if they were advertisements. The exhibition is named for the artist's new mural of New York City, which appears in the Great Hall of the museum. The image is the result of scores of interviews and photography sessions with New Yorkers during the summer of 2018, recruiting from all five of the city's boroughs. The resulting mural features more than 1,000 New Yorkers. What better introduction to the city could you ask for? brooklynmuseum.org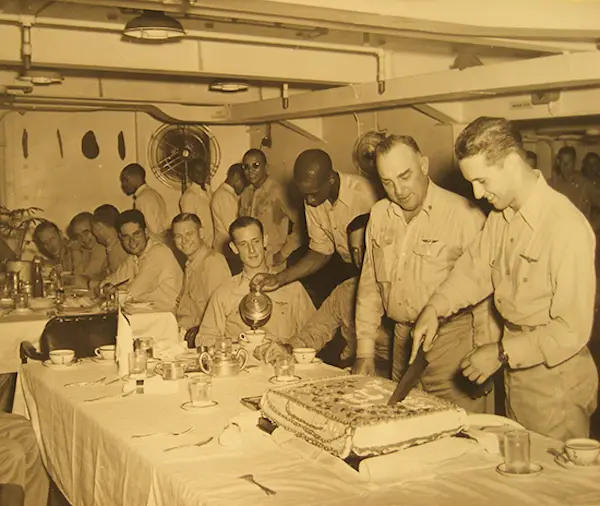 Dinner and cake in Intrepid's wardroom in October 1944. Photo from National Archives and Records Administration.
(Ongoing) Making a beautiful cake is pretty challenging, but what if you had to make it on a Navy ship, for a crew of thousands? The Intrepid Sea, Air & Space Museum's new exhibition, Navy Cakes: A Slice of History, explores the history of naval personnel and their incredible cakes.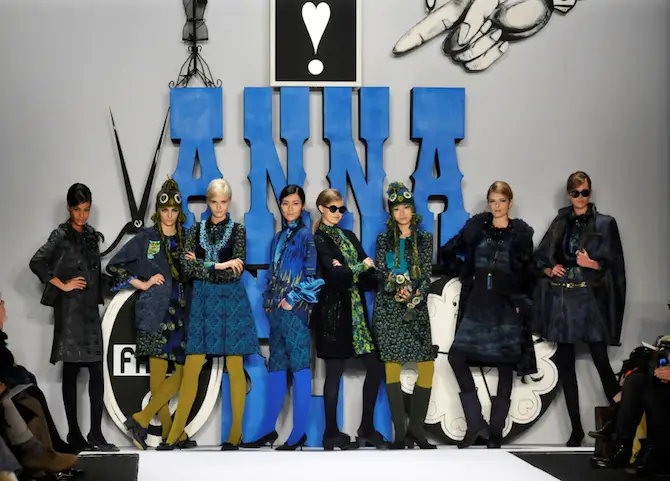 Photograph by Thomas Lau, courtesy of Anna Sui.
(Now-2/23/2020) The World of Anna Sui celebrates one of the country's top designers at the Museum of Arts and Design . The 75 fashion looks on display in this exhibition will showcase Anna Sui's decades-long career, beginning with the groundbreaking fashion show in 1991 that introduced the world to her one-of-a-kind eclectic aesthetic.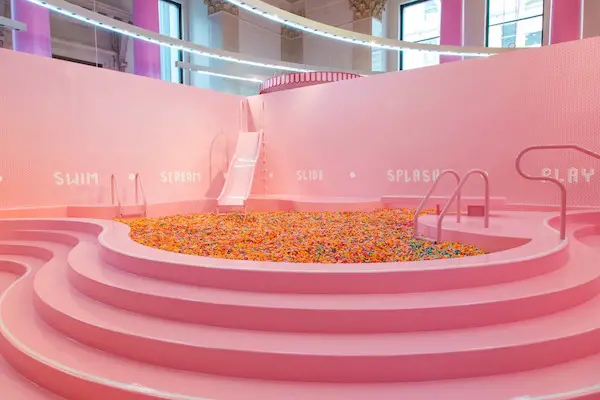 (Ongoing) The popular pop-up the Museum of Ice Cream returns. Tickets start at $39.
(Ongoing) The most significant site of the Holocaust, Auschwitz was not a single entity, but a complex of 48 concentration, forced labor, and extermination camps, at which 1 million Jews—and tens of thousands of others—were murdered. Auschwitz. Not long ago. Not far away., a new exhibition at the Museum of Jewish Heritage—A Living Memorial to the Holocaust, explores the legacy of history's deadliest mass murder site. More than 700 original objects and 400 photographs are on display, many for the first time in North America. Among the artifacts: personal possessions, fragments of a barrack, a gas mask used by the SS, and an original German-made Model 2 freight wagon used for the deportation of Jews to the ghettos and extermination camps in occupied Poland.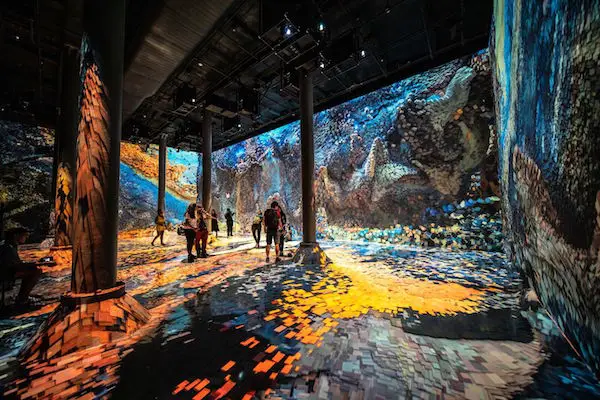 (Now-2/2) Imagine yourself awash in waves of color, light, and sound. Artechouse, now at Chelsea Market, invites visitors underneath the popular marketplace for incredible digital installations that offer complete immersion in boundary-pushing worlds. (Not to mention, the Insta potential is endless.) Until February 2, Artechouse is showing the installation Machine Hallucination by Refik Anadol. Machine Hallucination employs the incredible technological resources of Artechouse NYC. You'll be immersed in clear, vibrant images in 16K resolution, with 150 megapixels, generated with the help of laser projection. There are also 32 different sound channels using L'ISA Immersive Hyperreal Sound to enhance the sonic variations possible in each new experience at Artechouse.
(Permanent) The Jim Henson Exhibition at the Museum of the Moving Image celebrates the life and legacy of the famed Muppet creator, exploring both his prolific career and the enduring effect his work has on pop culture to this day. Visitors can expect to learn more about the creation of such beloved works as The Muppet Show, Sesame Street, Fraggle Rock, The Dark Crystal, and Labryinth, as well as to discover the cutting-edge experimental works Henson made throughout his career.
(Permanent) The Museum of the City of New York presents NY at Its Core. Ten years in the making, New York at Its Core presents the compelling story of New York's rise from a striving Dutch village to today's "Capital of the World." The exhibition captures the human energy that drove New York to become a city like no other and a subject of fascination the world over. Entertaining, inspiring, important, and at times bemusing, New York City "big personalities," including Alexander Hamilton, Walt Whitman, Boss Tweed, Emma Goldman, JP Morgan, Fiorello La Guardia, Jane Jacobs, Jay-Z, and dozens more, parade through the exhibition.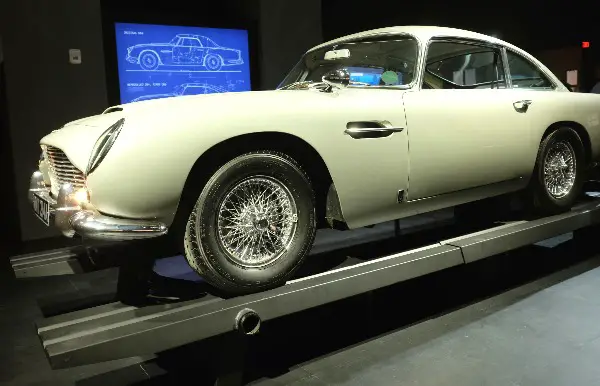 (Ongoing) You can experience the world of history's most famous spy at Driven: 007 x SPYSCAPE, a new exhibition inside New York's spy museum, SPYSCAPE. This immersive exhibition brings you into the Bond universe with sets, props, and insights about the creation of the ageless secret agent. Among the highlights: an Aston Martin DB5, the lab of Quartermaster (or Q), M16's gadget master, concept art from Oscar-winning production designer Sir Ken Adams, and an exploration of 2012 Bond film Skyfall's unforgettable final scene.
COMEDY
(1/24) Comedy Juice The Vintage Lounge at Gotham Comedy Club, with Paul Mecurio, Erin Jackson, Chris Millhouse, and more!
PLUS
(1/24) Great Moments in Weed History with special guest Ben Sinclair at Bell House, along with Abdullah Saeed and David Bienenstock.
(1/25) The Unofficial Expert Live at Union Hall.
(1/25) Keith Robinson at Fat Black Pussycat Lounge.
Click here for more "Comedy Shows in NYC This Weekend."
KIDS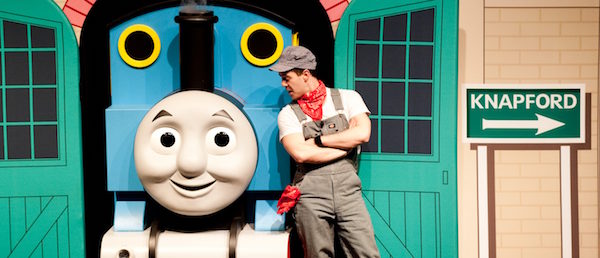 (1/25-1/26) All Aboard with Thomas & Friends at The New York Botanical Garden. Join Thomas and Driver Sam on a fun-filled, sing-along, mini-performance adventure. In Thomas' Budding Adventure, kids will help Thomas discover the steps to growing a beautiful garden. Seating is first-come, first-served, and begins 30 minutes prior to your show time. Admission to the Thomas & Friends performance is included with the purchase of select Holiday Train Show tickets; specific timed tickets must be reserved.
PLUS
(Now-1/31/20) Just extended! Color Factory, a massive interactive art space, began in August 2017 in San Francisco. Wildly popular, the project has set up shop in SoHo and is sure to inspire lines as long as the cronut did at nearby Dominique Ansel Bakery. Designed by a wide spectrum of artists, Color Factory walks visitors through 16 rooms devoted to the wonder of color. You're invited to compliment someone using color words, discover your signature color, and read wishes for the world written by NYC school children on varicolored balloons. Each room is equipped with a camera that can take a picture of you and send it to your phone: the better to post with! 251 Spring St.,
support@colorfactory.co,colorfactory.co, @colorfactoryco
(Ongoing) "Here Be Dragons," a new interactive scavenger hunt in the American Museum of Natural History offered by Fable & Lark: Storied Adventures, draws from the menageries of creatures in both Fantastic Beasts and Fantastic Beasts: Crimes of Grindelwald. Participants will explore galleries throughout the museum as they answer questions, solve clues, engage in creative activities, and track down the origins of some of the creatures from both the Fantastic Beasts stories as well as other classic myths and tales. Grab your nifflers and join! Advance registration required. fableandlark.com
Updated! Read about more Instagrammable pop-up exhibits in NYC here.
(Ongoing) Exhilarating Family Fun at Stomp NYC. Special discount packages available!
Click here for more Things to Do with Kids in NYC This Weekend.
For more kids activities, check out our sister site nymetroparents.com!
FOOD, MUSIC, NIGHTLIFE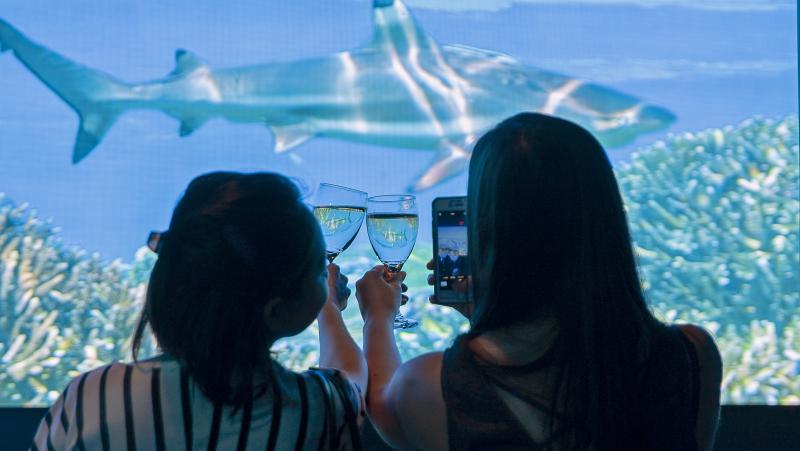 (1/24, 1/26) Sip 'n Sea Evenings at National Geographic Encounter: Ocean Odyssey. Visit Encounter on select Fridays and Sundays after 4pm and enjoy a complimentary glass of wine or a non-alcoholic beverage in the private event space at the end of the experience. Presented by Lillie's Victorian Establishment, immerse yourself in relaxation at a virtual ocean in Times Square!
PLUS
(1/22) Rufus Wainwright: Songs That Built Me at Alice Tully Hall at Lincoln Center.
(1/22-1/26) Brooklyn Podcast Festival at various venues.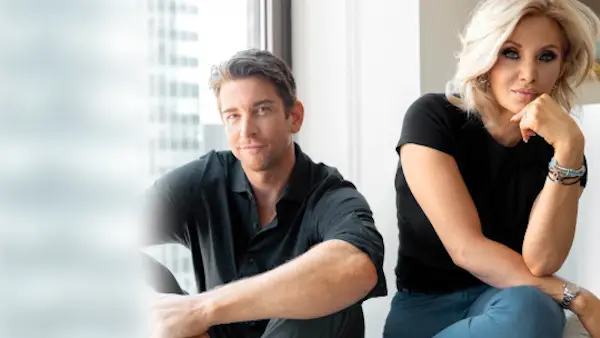 (1/23-1/27) Legally Bound: Orfeh and Andy Karl at 54 Below.
(1/24) Greensky Bluegrass at the Beacon Theatre.
(1/24, 1/28) At the Met Opera this week look for performances of the Gershwins' Porgy and Bess, featuring the sympathetic duo of Eric Owens and Angel Blue in the title roles. Conducted by David Robertson and directed by James Robinson, this marks the first time the American classic has been performed on the Met stage since 1990.
(Now-2/20) Bobby Cannavale and Rose Byrne star in Medea at the Brooklyn Academy of Music.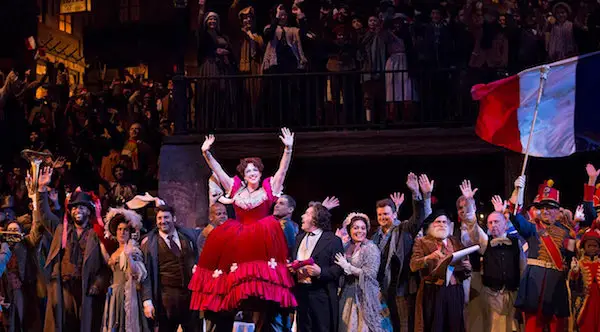 (1/25) La Bohème at the Metropolitan Opera. Giacomo Puccini's classic tragedy of bohemian friends and lovers is never better than in Franco Zeffirelli's immortal staging. It's just a part of an inspiring 2019-20 Met Opera season, packed with opera's most talented stars, performing across a wide range of repertoire.
(1/26) Chelsea Market's Pearl River Mart presents its annual Lunar New Year Celebration, which includes ribbon dances, book signings, lion dances, dumpling tasting, and happy hour. 3-6pm.
(Ongoing) Rosé Mansion, everyone's favorite excuse to sample rosé, continues its fabulous run. You get tastings of 8 different pink wines as you travel through a champagne ball pit, a mini-theme park called Roséland, and a tree house. There are also two rosé wine bars where you can hang out, plus grub from Taco Dumbo. rosewinemansion.com, @rosewinemansion

(Ongoing) Brooklyn Flea's Winter Flea +Smorgasburg is held indoors every Saturday and Sunday at 25 Kent Ave. in Williamsburg, Saturdays-Sundays, 10am-6pm. You'll find dozens of vintage/antique/other vendors. City Guide Insider Tip: food trends are always emerging at Smorgasburg, and today's pop-ups will blow up into tomorrow's successful restaurants. Get in on the ground floor!
Click here for more Nightlife in NYC This Weekend.
For more LGBTQ-friendly events, visit our brother site at metrosource.com!
SIGHTSEEING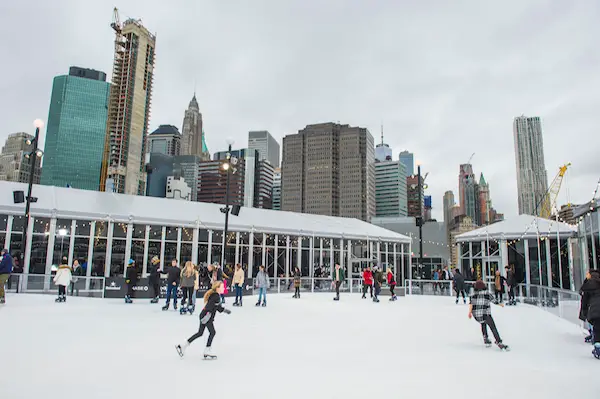 (Now-3/15/20) Grab a friend and skate your cares away downtown with rooftop views at Winterland at Pier 17.
Read here for more information on Ice Skating NYC.
New! Learn How to Strut the Runway with Victoria's Secret Angel Alessandra D'Ambrosio at Madame Tussauds New York! In "The Fashion Experience," Ambrosio offers her tips, tricks, and guidance on how to slay the runway—Ambrosio herself is represented in a lifelike figure in the gallery, wearing the iconic Julien Macdonald gown that wowed the red carpet at the 2019 Cannes Film Festival. All participants receive a video copy of their runway walk and are encouraged to share their videos with the hashtag #slaytherunway.
(Ongoing) A Slice of Brooklyn's Brooklyn Chocolate Tour visits artisanal chocolate sites Jacques Torres Chocolate in DUMBO, The Chocolate Room in Cobble Hill, Raaka in Red Hook, and Li-Lac Chocolates in Industry City, Sunset Park. Offered every Monday, Wednesday, Friday. All tours depart and return to Union Square.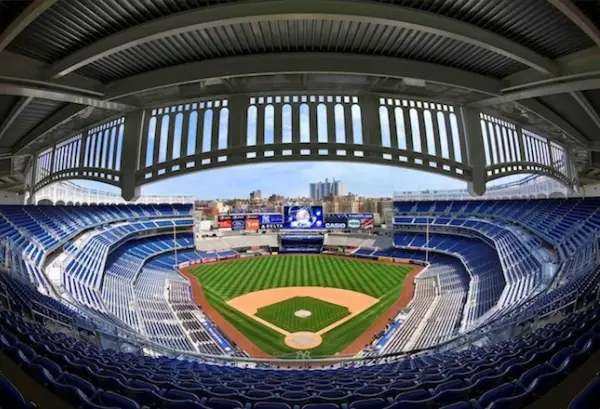 Get up close to the glory of the Yankees with Yankee Stadium Tours!
SNEAK PEEK, NEXT WEEK
(1/29) Bob Mould Sunshine Rock Winter 2020 Solo Electric.
(1/31) Nada Surf with Aaron Lee Tasjan at The Music Hall of Williamsburg.
(1/31, 2/1) Steve Byrne at Gotham Comedy Club.
Click here for more information on The Best Things to Do in January. We've got February covered, too!
---
EVERYTHING TO DO NYC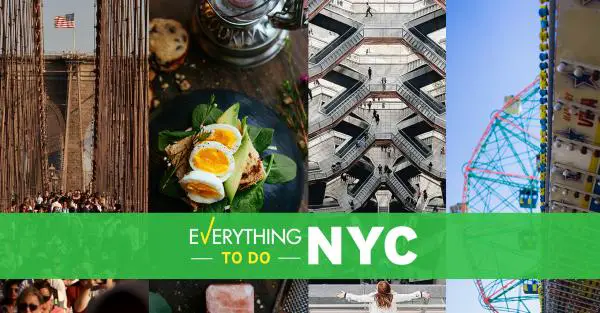 Want free advice on what to do and see in New York? Join our Facebook group Everything to Do NYC, a place for people to ask questions and get tips on how to make the most of the city.