Where to Eat in Chelsea
November 12, 2018 - by City Guide
Chelsea is home to an exciting array of restaurants that are perfect for dining after a day at the Highline, a night at the Joyce Theater or in between gallery hopping. Here are some of our favorites.
ABC Kitchen
The sun-tinged, all white, all fresh restaurant arm of the ABC Home juggernaut, from a Michelin-starred chef. Come for the sofas, stay for the scallops.
35 E. 18th St., 212-475-5829, abchome.com
Bareburger
Among a sea of creative burger chainlets, this one stands out for its huge variety of options, which include habanero-topped and black-bean-vegan versions.
153 8th Ave., 212-414-2273, bareburger.com
Beecher's
They make their famous flagship cheddar right onsite at this large corner fromagerie. And for lunch, you can grab a grilled cheese or a bowl of mac that features it. It's also hiding a post-work-drinks wine bar downstairs.
900 Broadway, 212-466-3340, beechershandmadecheese.com
Cafeteria
A nouveau diner scene that's great for those still hoping to arrive into Sex in the City-era Manhattan. You can't go wrong with any of their three types of mac 'n' cheese.
119 7th Ave., 212-414-1717, cafeteriagroup.com
The City Bakery
Think about your go-to lunch-hour buffet option. Now imagine it ten times better and stocked with mac and cheese, roasted chicken and envy-inducing cookies. It's also home to some of the city's best hot chocolate and the original pretzel croissant.
3 W. 18th St., 212-366-1414, thecitybakery.com
Corkbuzz Wine Bar
A charming vino spot that's a respite from the Chelsea Market crowds. Let the staff make recommendations for you, and try the sausage sandwich.
Chelsea Market, 75 9th Ave., 646-237-4847, corkbuzz.com
Craft
An outstanding spot for farm-to-table deliciousness from Mr. Top Chef himself, Tom Colicchio. Don't neglect the excellent wine list.
43 E. 19th St., 212-780-0880, craftrestaurantsinc.com
Doughnut Plant
The best of a handful of excellent donut options in the area, you're going to brave a long but efficient line for pudding-filled chocolate donuts and square-shaped coconut ones.
220 W. 23rd St., 212-505-3700, doughnutplant.com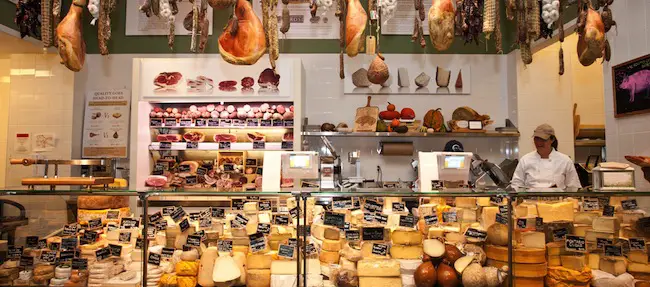 Eataly
Mario Batali and the Bastianich's gargantuan Italian food center. Stock up on rare cheeses and meats, and make sure to grab a prime rib sandwich on your way out.
200 5th Ave, 212=229-2560, eataly.com
Eisenberg's
An old-school neighborhood standby for tuna melts, pastrami sandwiches and egg creams, this spot is the platonic ideal of the classic bustling lunch counter.
174 Fifth Ave., 212-675-5096, eisenbergsnyc.com
Foragers City Table
A charming neighborhood spot that shares a space with a farm-to-shop grocery store, from which is culls all its ingredients. An excellent brunch destination.
300 W. 22nd St., 212-243-8888, foragersmarket.com
The Frying Pan
Just north of Chelsea Piers you'll see a large lightship by the name of The Frying Pan. Along the deck of that ship, you'll have burgers and beers on the Hudson. Open from May-October only, weather permitting.
530 W. 26th St., 212-9896363, fryingpan.com
Grey Dog
A solid neighborhood breakfast and brunch spot tucked away on a residential street. A place where you can have both pancakes and craft beer and feel just right.
242 W. 16th St., 212-229-2345, thegreydog.com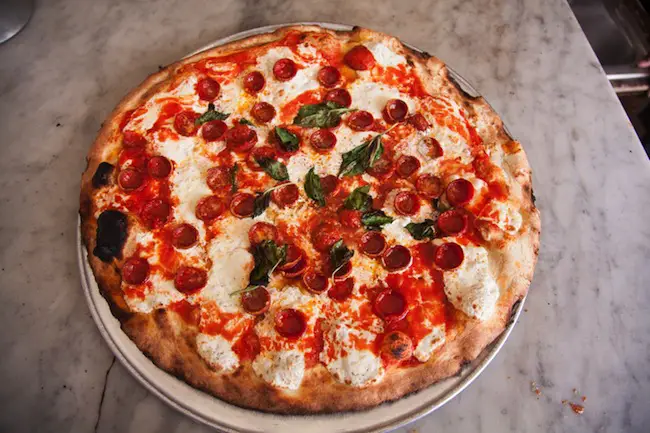 Grimaldi's
The Manhattan outpost of the legendary Brooklyn coal brick oven pizzeria. You're bringing friends and family, and you're getting a pie. No slices, ever.
Limelight Shops, 656 Ave. of the Americas, 646-484-5665, grimaldis-pizza.com
Laut
Hainanese chicken with sweet rice is the specialty at this unassuming Malaysian spot. The chef here has the equivalent of a Michelin star for reasonably priced restaurants. A lunch must if you're around Union Square.
15 E. 17th St., 212-206-8989, lautnyc.com
The Lobster Place
As NYC's lobster roll craze has settled into its adolescence, you see more places like this, which pulls fresh lobster straight from the fish market next door and puts it in Connecticut and Maine Lobster rolls. Not a bad thing.
Chelsea Market, 75 9th Ave., 212-255-5672, lobsterplace.com
The Meatball Shop
Walk in, have a drink at the bar while you inevitably wait, pick out a base, a type of meatball (the spicy pork are the way to go) and a sauce. It's a meatball shop called The Meatball Shop.
200 9th Ave., 212-257-4363, themeatballshop.com
Melt Shop
If you're the type who thinks a sandwich filled with tender chicken that's been fried and coated in buffalo sauce, then slathered in blue cheese still qualifies as "grilled cheese," you're going to love this.
55 W. 26th St., 212-447-6358, meltshop.com
Murray's Bagel's
Amidst the chaos of the city's rapidly eroding bagel establishment, Murray's stays strong with a serious smoked fish game and a firm no-toasting policy.
242 8th Ave., 646-638-1335 murraysbagelschelsea.com
New Legend
This unassuming bi-level Sichuan spot runs the gamut from General Tso's Chicken to sautéed pig intestine. But we can't leave without the ma po tofu.
88 7th Ave., 212-929-1778, legendbarandrestaurant.com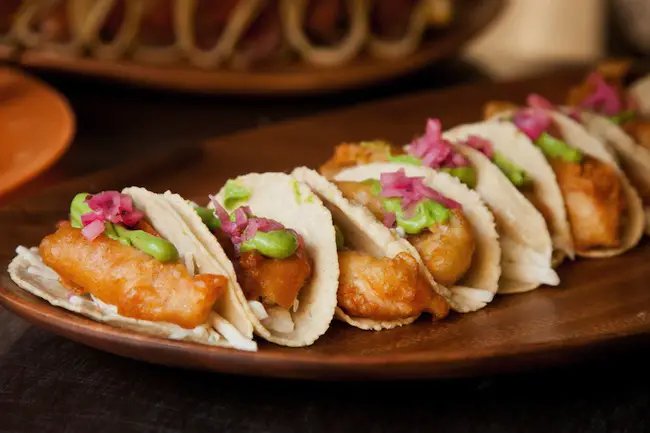 Rosa Mexicano
A superior form of Mexican chain. Make sure you get the table-side guac service and don't be ashamed to love the pomegranate margarita.
9 E. 18th St., 212-533-3350, rosamexicano.com
Tacombi Café El Presidente
A huge Mexican food hall that's got you covered with poblano cornbread and fresh juices in the morning to al pastor tacos and mezcal Cokes at night.
30 W. 24th St., 212-242-3491, tacombi.com
Tao Downtown
The mother of all club-restaurants. Expect massive Buddha statues, an enormous staircase entryway, excessive amounts of vodka and, oh yeah, ornate versions of Chinese classics.
Maritime Hotel, 92 9th Ave, 212-888-2724, taodowntown.com
Looking for Free Group Planning Services?
Get free advice on planning your group's trip to New York.
RESTAURANTS

Multi-concept restaurant offering modern Japanese cuisine, a...

THEATER

In a heartbeat, 38 planes with 6,579 passengers were strand...

SHOPPING

The world's largest source of cameras, camcorders, and more ...

SIGHTSEEING

Sweeping, unobstructed, open-air views of NYC from the top o...