It's time to start thinking about how you'll celebrate Valentine's Day in the Big Apple. New York City offers an extensive range of venues and a variety of different, innovative ways to celebrate. Whether you're seeking a traditional dinner out on the town, a posh high tea for two, a champagne tasting/class, or a photo shoot booked with a topnotch photographer, this city has it all. (We also some great gift ideas for those seeking out the ideal Valentine's Day gift.)
Bond No. 9 New York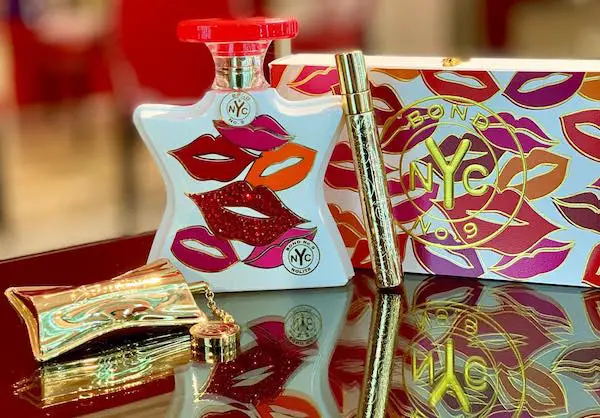 Gift her a fragrance that captures the essence of the buzzing metropolis that she adores. Bond No. 9 New York pays homage to the great city of New York. Various neighborhoods boast their own fragrances—from Wall Street to Astor Place, SoHo, Central Park South, Queens, and beyond. Bond No. 9 even has a Hamptons scent for those who enjoy weekends on the East End. Named for its NoHo-based founding headquarters at 9 Bond Street, the company fuses artistry with perfumery. 9 Bond St., 212-228-1732, bondno9.com
Central Park and Times Square Photo Shoot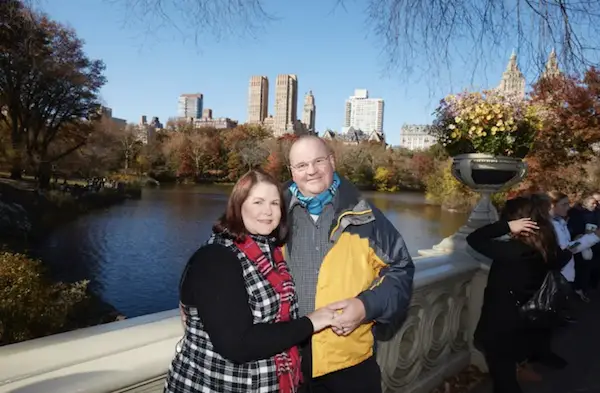 This Valentine's Day, get creative with your gift giving. Use New York City as the ideal backdrop of a dynamic photo shoot starring your sweetie (a couple's photo shoot is another great option). Through Airbnb Experiences, you can hire Thomas Michael—a New York-based photographer to capture your special someone in several different Manhattan locales. During his 30-plus year career, Thomas Michael has photographed stylish destinations worldwide. Previous stints include shooting fashion for glossy magazines and capturing the catwalks of New York, Paris, and Milan. During Airbnb's 2-to-3 hour photo shoot, he'll tap into his expertise and offer tips on posing. The result: magazine- and Instagram-worthy shots. After spending the morning in Central Park, you'll be whisked off to Time Square, Bryant Park, and Grand Central Station. Bookings begin after March 15. For more information or to schedule, visit here.


Diego at PUBLIC
This mod, intimate, sleek, and chic bar is an ideal hideaway for a low-key Valentine's Day date. It specializes in cocktails, which are handcrafted by internationally renowned mixologists. Vrrrm! On the menu is the Red Vespa, which was created by Ivy Mix. It boasts the flavors of Contratto, sweet vermouth, dry vermouth, and Tecate. It's also garnished with an orange wheel, which brings a festive touch. For lovebirds who are interested in dining at Diego, the original menu was created by two-Michelin star chef Jean-Georges. The stylish space boasts a contemporary vibe and is dotted with several sleek, jewel-colored sofas. A colorful mix of artwork and a cozy fireplace up the ambiance. 215 Chrystie St., 212-735-6000, publichotels.com/eat-and-drink/diego/cocktails
High Tea at The Williamsburg Hotel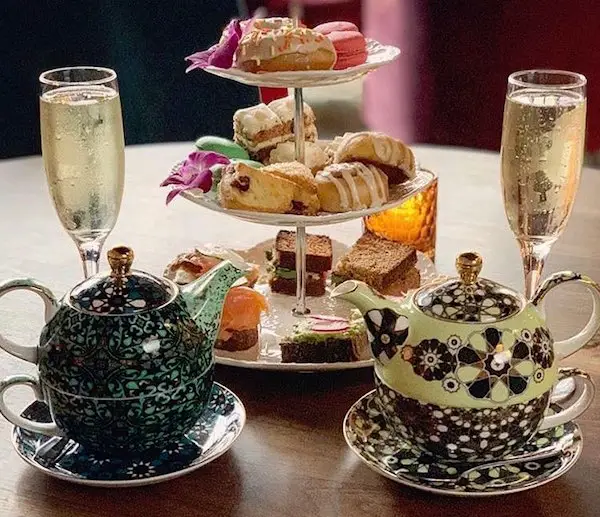 Brooklyn's Williamsburg Hotel offers a traditional high tea for two. The tea service, which has a chic Brooklyn flair, entices lovers and those with a sweet spot for tea. A selection of teas and coffees are offered, as well as sweet and savory treats that were crafted at Brooklyn Bread Lab. Guests can even indulge in a tea-inspired cocktail while unwinding on one of the hotel's cozy blue velvet banquettes. Gift cards are available, email info@thewilliamsburghotel.com. 96 Wythe Ave., 718-362-8100, thewilliamsburghotel.com
Legasea Seafood Brasserie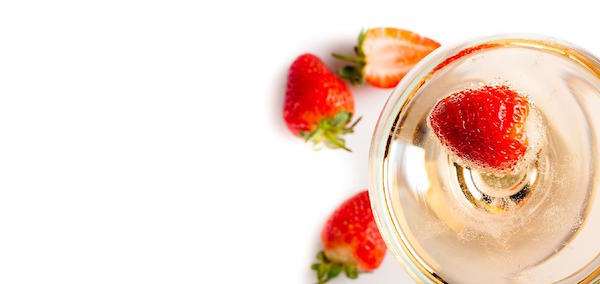 Celebrate love with a bit of bubbly! Legasea Seafood Brasserie is offering a Sips in the City champagne tasting class for Valentine's Day (7 to 8:30pm). Beverage Manager Nikki McCutcheon will be teaching the class, which is part of a monthly series. Sips in the City invites champagne enthusiasts to enjoy a comprehensive tasting and gain a more in depth understanding of this romantic go-to beverage. McCutcheon will lead guests through a variety of regions where champagne is produced. The class is ideal for lovers or friends. For more information on the lineup of champagnes, visit here. After the class, guests are welcome to dine in Legasea's main dining room, which will celebrate Valentine's Day all week long. Tantalizing offerings include an oysters and champagne starter (a dozen oysters and a bottle of Maison de Grand Esprit, L'Être Magique Crémant de Bourgogne or a dozen oysters and a bottle of Rosé Champagne, Veuve Clicquot), and a chocolate cherry bombe dessert special. Both will be available from February 10th to 17th. 485 7thAve., 212-268-1888, moxy-hotels.marriott.com/nyc/timessquare/dining/legasea-seafood-brasserie/
MarieBelle New York
Handcrafted, artisan chocolate and sweets boutique MarieBelle is committed to creating tasty treasures that are wrapped to perfection. Its decadent chocolates are packaged in gift-worthy, decorative jewel boxes and other fine wrappings. For Valentine's Day, MarieBelle is offering a lace-themed ganache collection, which is packaged in an ultra-feminine, pink box that is embellished with lace. Other Valentine's Day items are available including a truffle collection, novelty chocolate bars with vintage-style imagery, and beyond. 484 Broome St., 212-925-6999; second location: The Kitano Hotel New York, 66 Park Ave. (38th St.); mariebelle.com
MIFUNE New York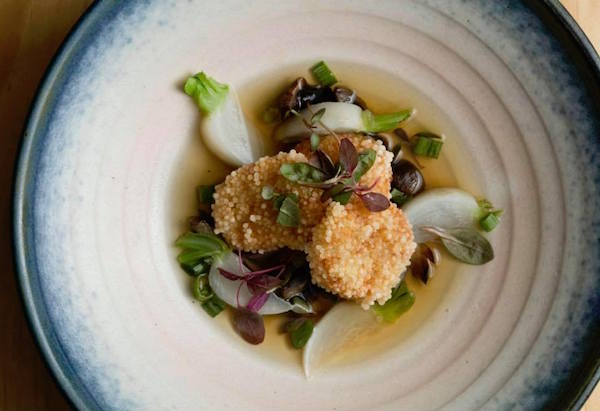 Named in honor of Japanese actor Toshiro Mifune, who is renowned for his stellar performances portraying samurai warriors, MIFUNE New York is fueled by a cast of topnotch chefs with Michelin-star experience. MIFUNE offers Washoku cuisine—traditional Japanese cooking that is driven by the seasonal bounty of the land and sea. For Valentine's Day, MIFUNE will feature a special menu. Some of the tasty offerings include raw oysters, amuse bouche (3 varieties); sautéed botan ebi shrimp; wild New York sea bass en yuzu croute with a vin blanc saikyo miso sauce, and more. Dinner seatings will be available from February 14 to 16 (5:30pm and 8:30pm, $110). Wine and sake pairings can be added for an additional $60. The special menu was crafted by head chef Yuu Shimano, who was honed his expertise at the three Michelin-starred Guy Savoy in Paris. 245 E. 44th St., 212-986-2800, mifune-restaurant.com
Refinery Rooftop
Bring your Valentine to the super stylish and swanky Refinery Rooftop for a cocktail or two. On the menu is the pretty, pink "POM-ises POM-ises," which drinks like a sexy pomegranate cosmo. The flavors of POM juice mingle with white cranberry juice and lime juice. The kick comes from the Absolut Elyx and Triple Sec. The festive drink, which is garnished with a lemon twist (which is zested and tossed away) is topped off with a fun lime wheel. 63 W. 38th St., 646-664-0372, refineryrooftop.com
Toby's Estate Brew School
Brewing a perfect cup of java is a true art form. The education team at Brooklyn-based Toby's Estate are eager to share their knowledge via their engaging Brew School classes. It's a fun idea for a memorable date night. Toby's Estate offers a selection of hands-on public and private classes, which are taught by seasoned Coffee Educatorsat its Brooklyn and West Village Cupping Labs. From a class on creating Insta-worthy latte art to an in-depth look at espresso, the Brew School offers a range of classes that are guaranteed to up anyone's coffee expertise. For more information, visit tobysestate.com/brew-school. West Village, 44 Charles St., 646-590-1924, tobysestate.com/locations/west-village , Williamsburg, Brooklyn, 125 N. 6thSt., 347-586-0063, tobysestate.com/locations/williamsburg/
For the coffee enthusiast in your life, give the gift of a Toby's Estate Specialty Coffee Subscription. Have the coffee beans delivered directly to his or her home. The Coffee Subscription Programs range from $26.50 to $34. Customers can select between a variety of curated, personalized blends. They can even choose the grind type and delivery frequency. To guarantee freshness, coffee beans are roasted every Sunday and shipped out on Monday. tobysestate.com/shop/#subscriptions
Tommy Bahama Restaurant & Bar
It's always island time at Tommy Bahama Restaurant & Bar in midtown. Whisk your Valentine off to enjoy a relaxed island getaway even if it's just for a few hours. Beyond the traditional menu, Valentine's Day weekend offerings will include special chef creations that highlight seasonal ingredients. Live music from local artists will usher in a casual yet romantic vibe. Indulge in the delectable New York strip steak while sipping on handcrafted hibiscus lime coolers (made with Kettle One vodka, Cointreau, freshly squeezed lime and pineapple juices, and hibiscus syrup). Finally, go for some decadence. Be sure to treat your Valentine to the Triple Chocolate Cake. Returning for a limited time, this dessert fave mingles layers of rich moist chocolate cake with a creamy chocolate icing. Since Tommy Bahama vows to keep it cool and casual, prices won't fluctuate during holiday time. 551 Fifth Ave., 212-537-0960, tommybahama.com
W New York-Downtown
Share a fun, colorful cocktail with your Valentine at W New York. Entice your inner child with the Bearly Liquid cocktail, which is hand crafted with vodka, splashes of St. Germain and simple syrup, and some lemon juice. The colorful cocktail is garnished with sugar gummy bears. Inspired by artist in residence Ivy Naté, Bearly Liquid is available at W New York-Downtown. 8 Albany St., 646-826-8600, whotelsnewyork.com/property/w-new-york-downtown
Beauty & Essex's Wonder Wheel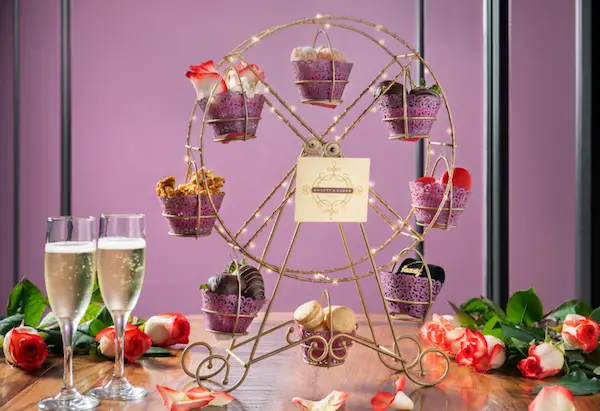 Beauty & Essex's famed Wonder Wheel dessert is getting a make-over for Valentine's Day at all their NY, LA and Las Vegas locations. Think: Champagne Gummy Hearts, Chocolate Covered Strawberries, Raspberry Heart Marshmallows, Strawberry & Cream Fudge, Pink Vanilla Cotton Candy, Passion Fruit Truffles spinning around. PLUS, the chance to upgrade your dessert to include a limited edition 'Beauty' necklace from the Pawn Shop – all for a cool $100 ($32 sans necklace). To make a reservation at any Beauty & Essex location, click HERE.
Sweet Fortune at TAO
Say it with a fortune: TAO restaurants across the country will be dressing their signature fortune cookie brushed with chocolate and sprinkled with mini hearts. Planning an engagement or want to confess your love? You will even be able to request custom fortunes with personal love notes at the time of your booking.
To make a reservation at TAO Downtown click HERE and for TAO Uptown click HERE.